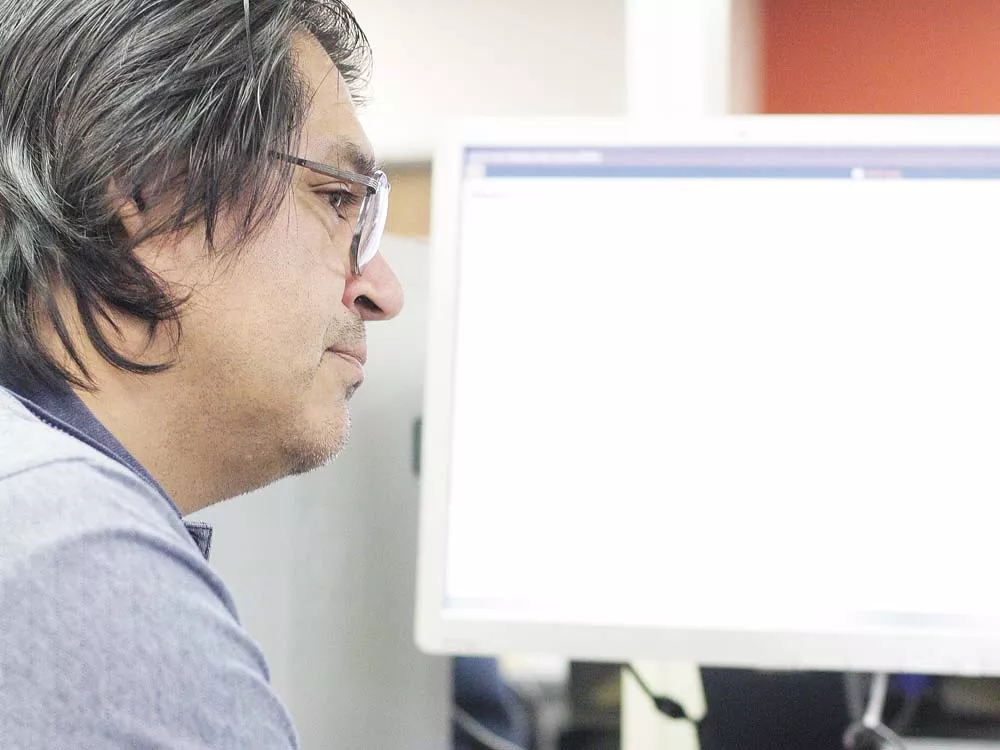 An errant piece of cardboard destroyed Nancy Randall's life. It landed her in the hospital and, then, the unemployment line. Now, it looks like she might lose her unemployment benefits, too.
A material processor for Boeing for 20 years, Randall was lugging a long metal part back from a warehouse when she stepped on a loose piece of cardboard. She fell, hitting the cement hard. She destroyed her elbow, her neck, her knee, her shoulder — and her career.
Luckily, the state insurance provider not only paid for her medical care, it paid for 80 percent of her salary for the next two years. It paid for her to go to community college, where she studied graphic design. When she graduated in December 2009, the insurance checks stopped coming. That's when unemployment filled the gap.
But now, like 240,000 Washington residents and 2 million Americans, she's in danger of losing that vital lifeline. Congress has extended emergency unemployment benefits seven times. But apparently, that's as far as they're willing to go.
Randall's husband, Chris, is a plumber. Without new construction, he can't find work either. Thanks to unemployment benefits, they've been able to keep afloat, barely. When those run out, they don't know what they'll do.
Traditionally, the unemployed could collect two types of benefits. The state issues up to 26 weeks of regular benefits. Then the unemployed can apply for 20 weeks of extended benefits, funded by a mix of federal and state money.
But in July of 2008, under the prospect of deep recession, Congress passed a plan to create "Emergency Unemployment Compensation," entirely funded by the federal government. Over the next two years, it made seven extensions to the length and scope of the program. By the time they were done, Washington residents could apply for a total of 99 weeks — nearly two years — of unemployment benefits.
Emergency unemployment compensation featured four tiers.
The first tier lasts up to 20 weeks. Then you would reapply for the next tier, which could last up to 14 weeks. Then Washington sent out letters to 230,000 unemployed Washington residents warning them that, unless Congress acted, they would not be able to apply for the next tier after Nov. 27.
Put simply: Emergency unemployment benefits are running out fast. The 99 weeks will be cut short. The unemployed who have already exhausted both their regular and extended benefits are out of luck.
Randall walks into WorkSource, in Spokane's University District. She's walking into an employment office, not an unemployment office.
Inside, more than 30 unemployed Spokanites are tapping away at computers, searching for someone, anyone, who will hire them.

Joe Ortiz, a 46-year-old former convenience store employee who hasn't had a full-time job since Aug. 24, 2008, works on an online application to Fred Meyer. Sixty-year-old former cook Kenneth Foster scrolls through Craigslist pages, searching for cook openings. With few jobs available in Spokane, he's looking at the postings for the west side.
Each week, every person on unemployment has to document at least three attempts to find a job — whether by making employer contacts or by completing "job-finding" activities at WorkSource.
But most of them have added challenges. Ortiz can't afford to buy a car, which means he can't work nights — there's no easily available public transportation when it gets late enough. Randall doesn't have enough education to get a job in graphic design, but doesn't have the money for a better degree. "That's not the people's fault that jobs are requiring more education and higher degrees," she says.
Politicians and economists continue to debate the consequences of unemployment insurance. Some worry lengthy unemployment benefits actually result in higher unemployment rates.
"In a well-functioning economy, you don't want to give people incentives for not searching for work," says Andrew Cassey, an assistant professor of economics at Washington State University. But, he says, this isn't a well-functioning economy.
"Jobs don't seem to be picking up," Cassey says. "Employment's increasing, but not fast enough." If there aren't enough jobs, in other words, it doesn't matter if the unemployed don't search as hard.
A recent MSNBC article, however, told the story of James Davis, a former construction worker from Washington state. He passed up several $10-an-hour jobs, because they couldn't match the $600 a week he was getting in unemployment benefits.
But Cassey says there can be a benefit for that. The economy hums along most efficiently when everyone has the job they'd be best at. A "doctor flipping hamburgers," he says, is not a good thing.
John Diamond, spokesperson for Sen. Maria Cantwell, says
the senator supports another extension of the program itself — though individuals would still be limited to 99 weeks of unemployment. The program is expensive, however. With the current levels of unemployment, Diamond says, it costs $6-7 billion a month to keep it going. For comparison, the Congressional Budget Office put the cost of conducting the Iraq war around $6-9 billion a month.
Senate Republican leader Mitch McConnell has said Republicans are all for extending benefits. They just don't want to increase the deficit to do so.
In the meantime, unemployment checks have been injecting spending cash straight into the economic engine.
"From a macroeconomic perspective, the loss of unemployment benefits would serve as fiscal tightening — which would slow down economic growth in the short run," says Arun Raha of the non-ideological State Economic Revenue and Forecasting Council.
Behind the numbers debated by wonks, of course, there are people like Randall, worried sick about what happens if they don't find a job in time.
"Well, we've got a camper," says Randall, gesturing to her husband. "We might have to park it on his cousin's property."