Maybe you're looking to drink a local bottle with dinner, or stir some spirits into a martini. Perhaps you're looking for a fun girls night out, or a date night. Whatever the case, our region's tasting rooms are just the place to discover new favorite local liquids.
Washington's wine scene is growing every year, you might be surprised to know that it's the second largest wine producer in the U.S. with 940+ wineries. Local tasting rooms put many of them right at our fingertips.
Our area isn't just great for grapes, all that waving grain makes for a wide variety of distilled beverages as well.
If you're new to tasting rooms, don't worry. The staff is always excited to geek out with you about what you're drinking. No question is too basic — this should be fun. Be sure to hydrate as you go, remember that you don't have to drink the entire pour — there's a dump bucket for that, and maybe even slip a snack into your bag (plain oyster crackers are great for this as they won't mess with your palate). Speaking of palate, try to avoid strong flavors and scents just before tasting: toothpaste, chapstick, perfume or a garlicky plate of pasta can all make it hard to appreciate the nuances of whatever you're sipping.
You'll also want to keep in mind that wine is driven by the seasons. Sometimes hours will change to accommodate longer or shorter production days. It never hurts to check in, especially when visiting a tasting room located at the winery.
If the list seems overwhelming, don't worry, the beauty of tasting is that you can take your time. Enjoy a few moments where you aren't rushing, just enjoying the process, down to the last drop.
WINE TASTING ROOMS
Arbor Crest Wine Cellars
Located on the grounds of a beautifully restored estate, Arbor Crest is the perfect backdrop for wine tasting (and a picnic). Choose from a variety of tasting options — the wine list is too extensive to try them all. 4705 N. Fruit Hill Rd., Spokane • May-Sept. hours: Mon-Wed & Fri-Sat noon-5 pm; Thu noon-8 pm (live music 5:30-7:30 pm, $5); Sun noon-8 pm (live music 5:30-8 pm, $10) • Oct.-April hours; Mon-Thu noon-5 pm; Fri-Sat noon-8 pm (live music 5:30-7:30, $5).
Barili Cellars
This winery sources grapes from several wine regions in Washington, showing off the character of the state. Syrah, Cabernet Sauvignon, Merlot — the gang's all here. Hours for this tasting room are limited, so get in when you can. 608 W. Second Ave., Spokane • First Fridays 4-9 pm; Second Saturdays noon-5 pm, and by appointment.
Barrister Winery
You can taste Barrister's wine (including a Cabernet Franc and a Petit Verdot) at the historic winery building, surrounded by barrels or at the window-walled tasting room right by Auntie's. Winery: 1213 W. Railroad Ave., Spokane downtown • Tasting Room: 203 N. Washington St., Spokane • Winery tasting: Daily noon-5 pm; downtown tasting room: Tue-Sat noon-8 pm; Sun-Mon noon-6 pm.
Bridgepress Cellars
Come taste small batch reds, made from Walla Walla and Oregon grapes. This small Spokane winery is new on the scene, they became fully licensed in 2009, but they are worth a trip. Depending on the day, you might get some live music along with your tasting. 39 W. Pacific Ave., Spokane • Thu 3-7 pm; Fri noon-9 pm; Sat noon-6 pm.
Coeur d'Alene Cellars
While you can do a classic tasting, this winery also offers paint nights and live music to mix things up. This small production winery is serious about their craft, offering a range of interesting reds and whites, both single varietal and blends. 3890 N. Schreiber Way, Coeur d'Alene • Tue-Thu noon-5 pm; Fri-Sat noon-7 pm (if you're bringing a group of six or more, please call at least 24 hours ahead).
Colter's Creek
If you're looking for somewhere to taste in Moscow, stop by this newly opened, light-filled tasting room. These award-winning wines are made from Lewis-Clark Valley grapes into everything from Viognier to a Bordeaux blend (but you won't want to skip the rosé). 215 S. Main St., Moscow, Idaho • Tue-Thu noon-7 pm; Fri-Sat noon-9 pm.
Cougar Crest Estate Winery
This Walla Walla winery has a tasting outpost in downtown Spokane. Come sample a wide array of varietals including Albarino, Malbec and a Port-style wine, along with the usual Washington wine suspects. 8 N. Post St. Suite 6, Spokane • Sun-Thu noon-6 pm; Fri-Sat noon-8 pm.
Craftsman Cellars
This tasting room is in the heart of Kendall Yards, perfect for a mid-Night Market break. You'll sample their range of Columbia Valley wines made in a traditional way (by hand instead of using electric pumps) and aged in French Oak barrels. 1194 W. Summit Pkwy., Spokane • Tue & Thu, 4-8 pm; Wed 4-9 pm; Fri-Sat 2-9 pm; Sun 11:30 am-3:30 pm (April-Aug. only).
Helix Wines
With eight different single varietals and four blends, you won't be bored visiting this Walla Walla-based winery location in Spokane. Made with fruit from the Columbia Valley, try some classic varietals like Merlot and Syrah, as well as some new favorites like Sangiovese and Petit Verdot. 824 W. Sprague Ave., Spokane • Sat-Thu 1-8 pm; Sun-Wed 1-6 pm.
Knipprath Cellars
If you're a fan of fortified wine, you'll want to check out Knipprath, specializing in New World Port-style wines and Iberian wine varietals (like Sherry) sourced from the Northwest. This is your chance to try locally made white, rosé, ruby and tawny Port-style wine made locally. 5634 E. Commerce Ave., Spokane • Wed-Sun noon-5 pm (or by appointment).
Latah Creek
One of the area's wine staples (they are among Washington's wine pioneers, dating back to the early '80s), you can visit Latah Creek daily. You might know them for their Riesling and Muscat Canelli-based Huckleberry d'Latah, but don't forget that they have a full range of reds and dry whites, including a few with reserve status. 13030 E. Indiana Ave., Spokane • Daily 9 am-5 pm.
Liberty Lake Wine Cellars
In the heart of Liberty Lake, come taste bold red wines from Washington's Red Mountain AVA, made right on site. Once located right on the lake, this tasting room offers more space, which they've used to branch out a little (you'll find some whites and more red wine variety now), as well as to host events (check out their book club). 23110 E. Knox Ave., Liberty Lake, Washington • Wed-Fri 4-8 pm; Sat-Sun noon-5 pm.
Maryhill
Although the winery is located in Goldendale, Washington, in the southern tip of the Columbia Valley, Maryhill's newest addition is a tasting room with a view in the Kendall Yards neighborhood. Sit on the spacious patio while you sip one of the large catalog of approachable wines, hailing from eight of Washington's 14 wine growing regions. If the weather isn't delightful, or if you just want to spend some quality time tasting at the bar, step into the lush, spacious tasting room (the rugs are especially cushy). The tasting bar spans the majority of the room, so you shouldn't ever have to worry about finding a spot. Whether you're inside or outside, it's tough to miss the beautiful views of downtown Spokane and the Spokane River. 1303 W. Summit Pkwy., Suite 100, Spokane • Mon-Tue noon-8 pm, Wed noon-9pm; Thu noon-8pm; Fri-Sat noon-9pm; Sun noon-8pm.
Overbluff Cellars
Find Overbluff in the Washington Cracker Building, home to Terrain and a variety of other events. Come taste limited production wines made in Spokane with grapes from the Walla Walla Valley. They are known for full-bodied whites, big reds and interesting blends. 304 W. Pacific Ave., Spokane • Fri-Sat noon-6 pm.
Petunia's Marketplace
Every Friday beginning at 4 pm, drop in to Petunia's for a wine tasting. Sometimes resident wine expert Matt Dolan will lead you through the tasting (think: wines of South Africa, wines to pair with grilled foods or Walla Walla wines), and sometimes he'll bring in a winemaker or wine representative. Either way, there's something new every time. 2010 N. Madison St., Spokane • Wine Tastings every Friday from 4-7 pm (tasting fee varies).
Regal Road Winery
Though they're only open by appointment, you won't want to miss this unique set up. Regal Road grows all of their grapes in their estate vineyard, Red Hawk Ranch, located on Moran Prairie. You'll find very small production Pinot Noir and Pinot Gris, made and bottled on site. One of a very few examples of Spokane-grown wine. 8224 S. Regal Rd., Spokane • Tastings by appointment only.
Robert Karl Cellars
You can find Robert Karl wines in an industrial space made eclectic with rotating local art. Though you probably know their popular Claret red blend, there are lots of other things to try at this boutique winery, including a refreshing Sauvignon Blanc, a Malbec, and a Cabernet Sauvignon. 115 W. Pacific Ave., Spokane • Thu-Fri 2-5 pm; Sat noon-4 pm, or by appointment.
Townshend Cellars
This Greenbluff classic took a break from the Bluff for a while, but now they're back. Taste your T3, Merlot and Malbec surrounded by natural beauty. This winery is known for Old World styles with a Washington twist. 8022 E. Greenbluff Rd., Colbert, Washington • Fri-Sun noon-5pm.
Va Piano
Located in the Historic Davenport Hotel, now you can taste this Walla Walla wine without leaving Spokane. You'll find a wide-variety to choose from, calling on Washington State favorites, both red and white (don't forget the rosé!). 10 S. Post St., Spokane • Thu-Sat 1-7 pm; Sun 11 am-4 pm.
Vino!
Maybe you're tasting under-appreciated varietals, or perhaps it's an afternoon with a visiting wine representative. Either way, there's always a few corks to be popped on Fridays and Saturdays for drop-in tastings at Vino!. In the relaxed wine store environment, you might make new friends. 222 S. Washington St., Spokane. • Drop in wine tastings every Friday and Saturday from 3-6:30 pm.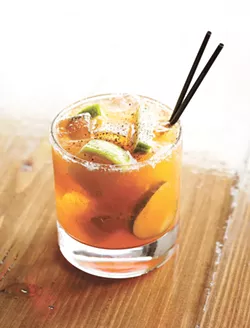 DISTILLERY TASTING ROOMS
2 Loons Distillery
Just 30 minutes outside of Spokane, two craft distillers are making vodka, gin and a variety of whiskeys (as well as a few corn-based liquors they refer to as "lightning" in a few different flavors). They use all local Washington fruits and grains in their products and they're always happy to show you around and give you a sip. 3950 Third Ave., Loon Lake, Washington • Regular Hours: Sept.-Dec. and March-May, Fri-Sat 11am-4 pm • Summer Hours (July-Aug.): Wed-Sat, 11am-5 pm; Sun noon-3 pm, or by appointment all year round.
Dry Fly Distilling
If you've been drinking in the area long, you know Dry Fly's name, and you probably have sampled some of their spirits, but have you been to the tasting room? This newly remodeled space, located onsite at the distillery, right on the Spokane River, offers lots of seating in an airy atmosphere filled with reclaimed wood. Belly up to the bar and learn from the experts, or sit at a table and compare spirits on your own (or try a cocktail sampler flight). If you're feeling particularly adventurous, why not sign up for a tour (they happen every Saturday at 4 pm, or by appointment). Bring your friends and enjoy the relaxed atmosphere, friendly staff and good spirits. 1003 E Trent Ave., Spokane • Mon-Sat noon-8 pm.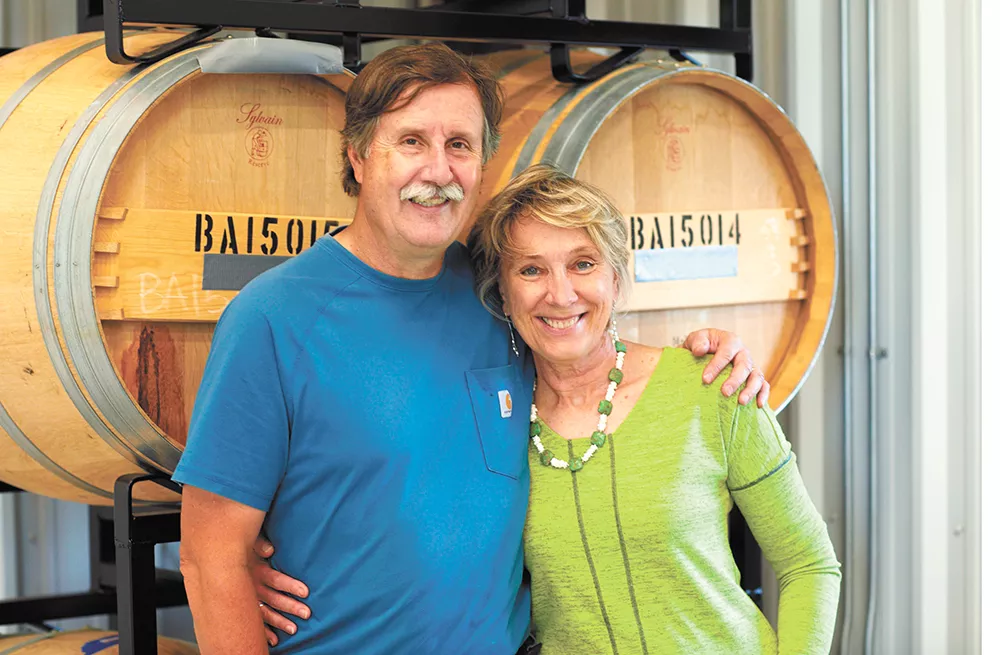 WINESCAPE WINERY
Winescape winery is perched on a hillside with expansive views of the rural Glenrose Prairie stretching to the west. It's hard to believe the bucolic setting is just a five-minute drive from the South Hill's bustling Lincoln Heights district.
Founded in 2015 by Patricia and Philip Butterfield, both WSU medical school professors at the time, the winery has resided in a 4,000-square-foot tasting room and production facility designed by renowned Seattle-based architect and Spokane native Tom Kundig since November 2017. (Kundig, whose repertoire includes designing winery production and tasting facilities in Washington and Canada, used to play in the Glenrose area as a youngster, say the Butterfields, who met the architect through a friend of a friend.)
Winescape wines are the result of collaborations with several vineyards, says the Butterfield's son Tristan, a Notre Dame physics graduate who decided to pursue winemaking. Tristan helps run the family winery in addition to his duties as enologist of Benton City's Kiona Vineyards, where he's worked since 2014. "We think the relationship between the winemaker and vineyard manager can have a big influence on the final product," Tristan explains.
"All the Red Mountain vineyards are within a 10-minute walk of my office at [Kiona]. Seeing the vintage unfold each day really informs our winemaking and I'm able to communicate things I see in the vineyard to the rest of the Winescape team up in Spokane."
Featured Winescape wines include a Columbia Valley chardonnay, a lovely gewürztraminer called Harvest Moon, as well as a Red Mountain syrah and cabernet. (CARRIE SCOZZARO)
Winescape • 6011 E. 32nd Ave., Spokane • Open Fri-Sun 1-6 pm • 474-0150