"A chicken in every pot and a car in every garage!" Used in the 1928 presidential campaign, and attributed to President Herbert Hoover, the idea of a car in every garage planted a seed that took root. Over the years, along with it came the idea of the spacious house with a yard, the white picket fence and the happy, quiet life in suburban America.
Fast forward to 2018, and nowadays trading in that house/yard combo for something geared toward urban living is gaining appeal.
Spokane currently boasts a 92 percent occupancy rate for all housing units, according to a recent survey, meaning finding housing is a challenge. Now some people are looking beyond traditional dwellings.
After selling urban condos as a local realtor specializing in urban living, Laurie Ross Allen and her husband, James, were won over by the trend, and the newlyweds recently moved into a downtown loft in Kendall Yards.
"For nearly 20 years, I lived on the South Hill in a traditional suburban development," says Laurie. "Prior to being in Spokane, I lived in the West Seattle area and worked downtown. James lived and worked in downtown Seattle, too, so we've both always been intrigued with downtown living."
Fellow downtowner Tim Westerhaus, the director of choirs and vocal studies at Gonzaga University, recently made the commitment to urban living when he bought a condo in the First and Washington building.
The Allens and Westerhaus realize urban living in Spokane is less about cramped apartments and compressed masses of humanity, and more about creative spaces that offer new opportunities to enjoy the city.
"The panoramic view is what really got us," says Laurie, "from the mist coming up off of the river in the morning, to spectacular sunsets at night. The purposeful design of large windowed walls really capture the views west to downtown and south to river, and the tall ceilings and open living concept is proving to be great for us for entertaining."
While the Allens' loft has a sleek modern feel, Westerhaus' is quite different. "I like the inspiring blend of historic with modern architecture; the original red bricks connect me with Spokane's past and modern design," he says. "The floors are made of bamboo, and in addition to the visual appeal, it's important to me that bamboo has a positive environmental impact. The large number of windows allow ample light in, which is important for energy, especially in the winter months, and I get a clear view of some beautiful buildings on one side and trains on the other."
For Westerhaus, living downtown actually expanded his opportunities to be outdoors. "I enjoy an active and artistic lifestyle where I live," he says. "I'm able to catch a morning run on the Centennial Trail, walk to yoga, or bike to the YMCA. I prefer to bike commute whenever weather permits, and it is often faster than driving from where I live because I don't have to search for parking."
While cities like Portland and Seattle are flush with urban living options, Spokane is slowly catching up.
"I can tell by the increased interest in my downtown condo listings and the amount of buyers seeking an urban lifestyle, that we're finally ready to embrace it," says Laurie. "A city thrives when people live in it. We're a little behind other cities, but Spokane is finally warming up to urban living."
As Spokane continues to embrace urban living, the livability of the area is catching up.
"Some aspects of urban living in Spokane are set up well," says Westerhaus, noting that both Main Market and My Fresh Basket are within walking distance. He says coffee shops and dining options are expanding, as are the hours those businesses are open, so there are options for after-work socializing, but he sees room for improvement. "Increasing bike lanes and creating safe crossings along the Spokane River will support bike safety and increase bike commuting, which is favorable for urban living," he says. "We lag significantly behind Portland and Seattle in downtown bike infrastructure."
Both Westerhaus and the Allens have experienced more manageable commutes since moving downtown, which translates to better health.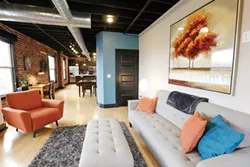 "There's definitely less driving,," says Laurie, "and we've had fun getting to know our neighbors and are impressed by the number of people exercising and dog walking, even with the chilly weather. The Centennial Trail provides easy walking access."
"I like being able to walk to local businesses for everyday needs," adds Westerhaus. "I spend far more time out with friends in the downtown area now that I live central to the city; I am more apt to go out and be social. I take greater advantage of the city's cultural offerings — art walks — and social settings. In addition, I'm walking distance from the STA hub station, so I take the bus more frequently.
"One of the things I lamented when I moved from Boston to Spokane was having to get a car to navigate; living downtown brings me closer to being able to live without a car," he continues. "Living downtown has positively transformed my experience of living in Spokane: I am more active in the community, I connect more with others, and I feel like I am a greater part of an innovating community."
Gone are the dreams of a car in every garage; now the dream may be a condo in every downtown building.
---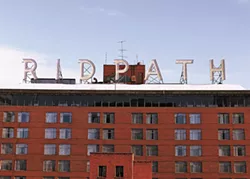 Want to Move Downtown?
Developers are racing to offer more downtown living options, according to Lars Gilberts, CEO of the University District, located just east of downtown. "The thing... that I'm hearing the most talk about," he says, "is bringing residential downtown."
The Ridpath In 2017, after nearly a decade of legal disputes, Spokane developer Ron Wells was able to finally start construction to transform the historic hotel into a new Ridpath apartment complex.
The M This mixed-use complex in the former Macy's building owned by the Cowles Company will include more than 100 apartment units. In April 2017, more than a half-dozen new apartments in the company's Chronicle building also came on the market.
The Falls Developer Larry Stone wants to turn the old YWCA property into hundreds of swanky apartments, hotel rooms and condos in a two-tower building with ultra-easy access to the redeveloped Riverfront Park.
Kendall Yards In addition to projects to the west of downtown, developer Greenstone is preparing to construct another 120 new apartments in a multi-use complex near their new My Fresh Basket grocery store off Monroe Street.
— DANIEL WALTERS