Though I've only owned my sunglasses for a week, they have already brought me so many moments of fascination and joy. Here are my top moments.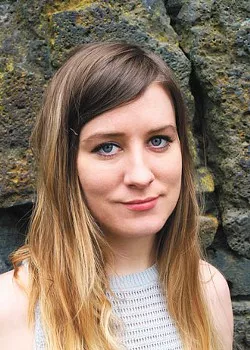 Making the purchase. I found the perfect sunglasses online. They were chunky, angular, bright yellow, and pretty expensive. I felt conflicted about spending so much money on them, but some superficial urge took over and I bought them despite the price. They look weird and awkward, but in a cool, arty way. Before today, I thought, the boldest thing about me was that I don't use toilet seat covers in gas station restrooms, but from this point forward, the boldest thing about me will be these sunglasses.
Overhearing the shit-talk of strangers. I was texting with a friend Alexis about my last-minute, unregistered bid for Spokane County sheriff when I overheard someone at the café quietly making fun of my glasses. I looked up from my phone and saw two of the most generic people of my life. I felt a surge of pride that these artless nobodies would hate my sunglasses, which were obviously cooler than anything they owned. It demonstrated that my imagination is broad and my style unique. So thank you, idiots! And please vote for me for county sheriff (you'll have to write my name in).
Taking a cool selfie. I took a cute-but-casual selfie the third day I wore them, which I posted on Instagram to the tune of 91 likes and only one unfollow. Yay!
Seeing my own reflection. A few hours after I received the sunglasses in the mail, I walked past a storefront and saw my reflection. I looked so cool! It was the first time that the pleasure of owning the sunglasses surpassed the guilt I felt for spending $82 on them while technically unemployed. If elected as county sheriff, I promise to bring this kind of emotional maturity to every aspect of the Sheriff's Office (or whatever it's called).
Hiding my emotions. I asked for an almond milk cappuccino at the café and the barista told me they couldn't do it because the almond milk wouldn't foam. I didn't enjoy being made to feel like I didn't understand the physical properties of almond milk. Having been a barista myself in the past, I already knew that milk alternatives didn't foam as well as cow's milk, but it was nowhere near impossible. I ordered a cow milk cappuccino and put my sunglasses on so no one would see the complicated emotions that were surely present on my face after remembering my troubled, customer-service laden past. There is truly nothing better than being able to hide behind a dark pair of shades when you need to.
Complimenting someone else's sunglasses. At the café again on another day, I ordered an almond milk latte instead of a cappuccino so there would be no discussion about foam. When the transaction was over I turned around and said "nice sunglasses" to someone standing behind me. "Thanks," she said, looking directly at my sunglasses, which were resting on my head. At first I felt insulted that she hadn't complimented my sunglasses after I complimented hers, but I tried to take her lack of ability to recognize cool glasses itself as kind of compliment. Her sunglasses were actually very plain and stupid. I had only complimented them to be nice. I was clearly the bigger person in this scenario and, if I'm being honest, most scenarios. I'd love to be in charge of all the cops.
Asking for your vote. A vote for me is a vote for someone with awesome taste in sunglasses. It would be my absolute honor to figure out what a county sheriff's job duties are that makes them worth six figures a year. Thanks for reading, and see you at the mail-in ballots! ♦