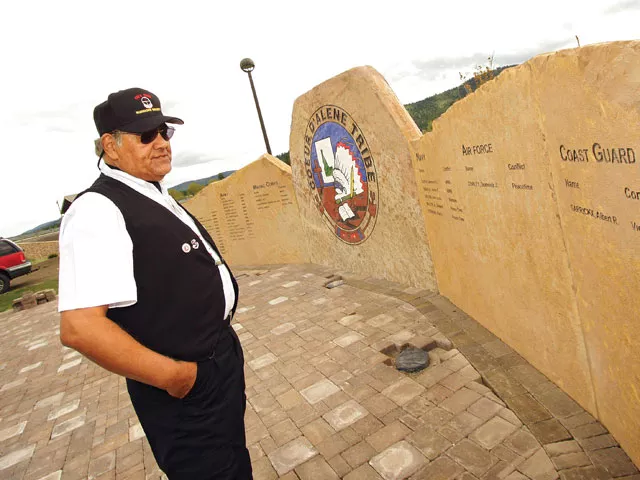 "I really wanted to let people know that the Coeur d'Alene Tribe has contributed over the years to their citizenship as Americans and that, even before this, there were freedom fighters who went into battle for their homeland."
That's Ernie Stensgar speaking. He is former longtime chairman of the Tribal Council, a U.S. Marine, and an American soldier wounded in combat in Vietnam.
Stensgar is one of the visionaries behind a unique veterans' memorial wall in Plummer, Idaho, that honors a long line of Indian warriors. The dedication, to be attended by Idaho Gov. Butch Otter and the state's senior U.S. Sen. Mike Crapo, begins at 11 am Saturday.
"We've signed treaties and agreements with the US of A and our men and our women have served their country and are still serving today. People should realize our people are out there on the lines and that we are proud to be Americans as well as Native Americans," Stensgar says.
John Abraham, a tribal member and Vietnam-era Air Force veteran, was showing a photographer around the memorial last week and could point to family members all over. Some on the column represented soldiers who fought in recent conflicts, from the First World War on to current times. Abraham also pointed to members of his family who fell in the battle of Tohotonimme, better known as the Battle of Steptoe Butte, in 1858.
Times were tense in 1858 as — in violation of treaties made just three years prior — increasing numbers of whites were pouring into the area chasing rumors of gold in the Colville area.
According to historians, Steptoe's dragoons were led by their Nez Perce guides on a route that intentionally took the soldiers into root-digging grounds where a thousand or more civilians of various tribes had gathered.
The incursion was seen as aggressive, and preliminary parleys broke down into battle, leaving dead on both sides, as the Indians eventually routed Steptoe.
The naming of some of these fallen warriors — Stellam, Pe'enchi, Melkapsi, Victor, Ajat — heals an old wound. The military's vengeance for the defeat of Steptoe was swift and brutal, and memories of these times were suppressed until fairly recently, Abraham says.
"The Steptoe battle wasn't really talked about by anybody. When I grew up, I learned about Indians from television and I would say, 'All these other Indians fought the cavalry, how come we never did?'" Abraham says.
This knowledge of their past has reemerged for the Coeur d'Alene and shows up in unexpected places. The artist George Flett has an elegant ledger drawing of a Coeur d'Alene warrior at full gallop on his warhorse, a dragoon's saber held behind him. This painting is based on a true story of a Coeur d'Alene family who had an ancestor who captured the saber in the Tohotonimme fighting.
"These warriors before us, they never heard Taps," Stensgar says.
That will change Saturday, as the dedication includes an Air Force color guard and a bugler playing the lament to fallen soldiers. There will also be the Tribe's Rose Creek Singers, a traditional drum group, singing honor songs in ancient Salish.
"The idea is to blend military protocol and traditional practices," says Tribal spokesman Marc Stewart.
Stensgar stresses that the column honoring indigenous warriors is about more than the Steptoe battle.
"That's just a small part," he says. Of bigger import, he adds, "A lot of young kids coming up are looking at their history now. Seeds planted by councils past are bringing forth knowledgeable people proud of their heritage."
HALLOWED GROUND
There may not have been enough military veterans around here to satisfy federal criteria for a facility such as the Tahoma National Cemetery in Western Washington's Maple Valley, but there is no shortage of former soldiers who consider it an honor to be buried in the state Veteran's Cemetery at Medical Lake, the first of its kind in Eastern Washington.
Gov. Christine Gregoire and Congresswoman Cathy McMorris Rodgers will be on hand to dedicate Washington's first state veterans' cemetery at Medical Lake at 10:30 am on Monday.
Already, the remains of 223 veterans are awaiting interment when the cemetery begins actual burials June 7. Another 623 vets have registered for themselves or their spouses to be buried there.
"Our phones are ringing constantly," says Theresa Patrick, administrative assistant for the cemetery.
The Tahoma National Cemetery serves some 410,000 veterans in the Seattle area. The Veterans' Cemetery at Medical Lake can hold 70,000 burial sites and serves a population of 143,000 vets in the region.
Don Head, an Army soldier captured by the Germans in the bitter winter Battle of the Bulge, is among the dwindling stalwarts of the local POW-MIA veterans' group. He will be among the group's membership on hand Monday to accept a POW flag from Gov. Gregoire — a flag that has flown above the state Capitol — and raise it at the cemetery.
Head has also made his desires known to be buried at the veterans' cemetery, a change in earlier plans to have his cremated remains scattered over favorite places.
"What the heck," he says. "I'll be out there with the rest of my buddies. I'm going to have a big blowout at the Spokane Club after I die with lots of shrimp and black olives, which I like. I want to have a couple of drinks."
And then, he says, he'll rest in hallowed ground with other soldiers.
"Once this fills in with all the crosses in years to come, it will look just like Arlington," Head says. "This will be a visual reminder of things past, and future generations will know there are people out there who served and died. I think it will be a good thing."