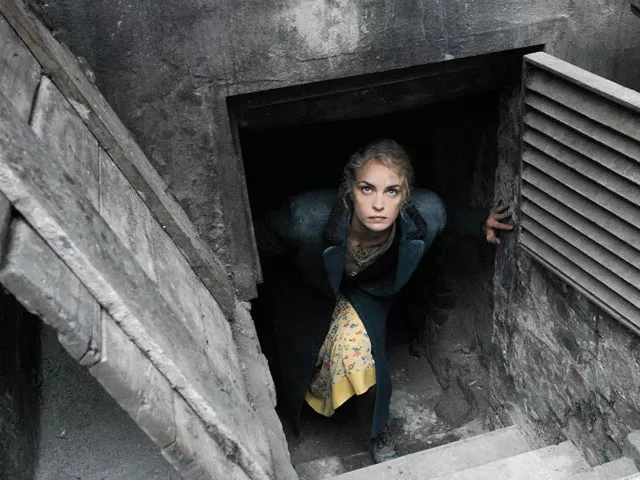 In the last days of the Third Reich, Russian soldiers' systematic rape of German women was never a secret. But when an anonymous diary by one of their victims was published in the 1950s, it was met with outrage, attacked by critics and pushed aside — evidence not only of Communist occupation in the East but of the shame associated with women speaking about sexual abuse.
Earlier in the war, that victim — a young German journalist — had returned to Berlin to see what she believed would be her country realizing its great destiny. Instead, she found herself hiding in cellars, raped repeatedly by soldiers — many of whom reminded her wryly of the great brutality their families have suffered at the hands of German men. To protect herself from their brutality, she established a standing sexual exchange with one sad, conflicted major named Andrej, whose own wife was brutalized and killed by German troops.
The diary was not republished until 2003, after the now-identified woman's death. German director Max Frberbck adapted it into a film, A Woman in Berlin. Frberbck carefully avoids sensationalizing victim and perpetrator, instead settling on a bleak, morally confusing picture.
The woman (Nina Hoss) narrates with diary entries read aloud. Often undecipherable scenes move quickly between hushed cellars thick with terror and the rubble-filled streets where Russian soldiers aimlessly alternate between arbitrary violence and boisterous celebration. We hear scurrying in the cellar and then screams when a soldier comes for a visit.
The stunningly beautiful, educated writer now maintains her dignity by negotiating the terms of her rape. Andrej mourns the loss of his wife while sleeping with a woman whose fiancé is a Nazi soldier. They and others like them sit around a table in a torn-apart apartment and laugh together in weird moments of near-normalcy. When the woman runs into an old friend, she asks her not if she had been brutalized, but simply, "How often?" Sparing no frankness in conveying the brutality, Frberbck's ever-evolving, quirky characters convey the total moral upset of war — and the ambiguity that results, in this case, as victims and perpetrators, whose own families are victims at home, navigate this standstill in time.