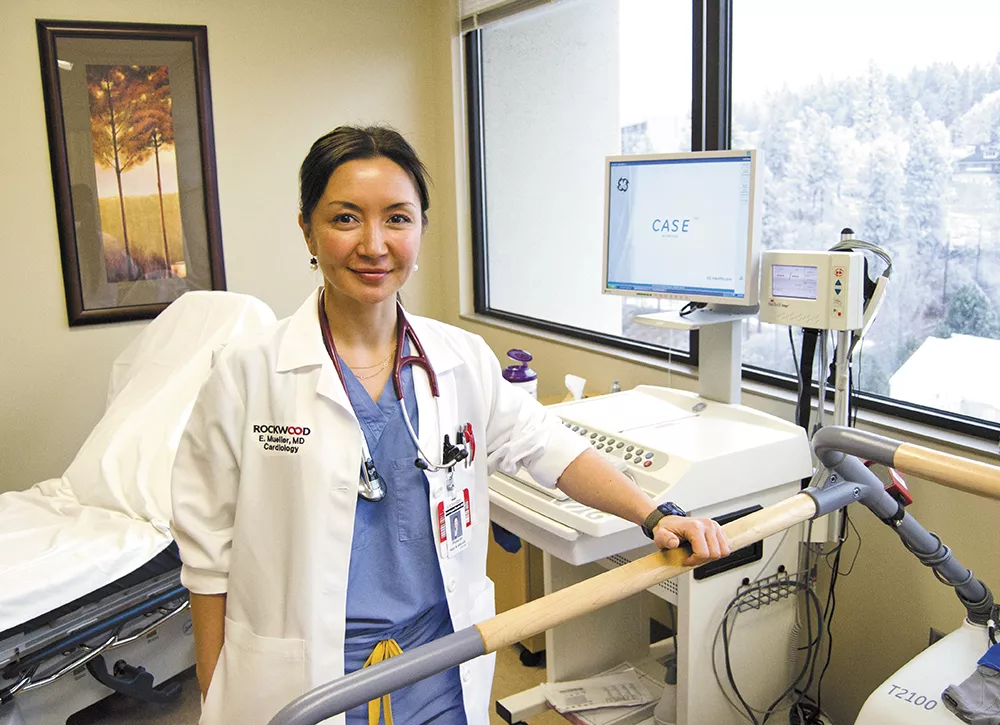 Think of the words "heart attack." You might picture a guy, late middle-aged, hair going gray. He probably has a bit of a gut. Maybe he's chomping a bacon double-cheeseburger when he suddenly clutches his chest or grabs his left arm. He collapses to the floor.
Heart attack victims and family members have a much more realistic perspective on the medical condition, but this popular stereotype still has an outsized effect on health care education, risk awareness, research and prevention efforts.
Dr. Enkhtuyaa "Ellie" Mueller, a cardiologist with the Rockwood Heart and Vascular Center, says many people tend to overlook the risks of heart disease for women, despite the fact the American Heart Association reports heart disease now kills one in every three women.
"There's all sorts of myths," Mueller says. "The general perception is that heart disease is for men. ... It is really a silent killer in women."
More than 290,000 women died from heart disease in the United States in 2010, according to the Centers for Disease Control. That's more than seven times the number of women expected to die from breast cancer each year, but many physicians and health outreach campaigns fail to convey the risks and challenges facing women with heart disease.
Mueller says doctors often emphasize the importance of mammograms, but they also need to start talking more about the heart.
"Everybody thinks, 'Breast cancer is the killer. Breast cancer is the killer,'" she says. "It doesn't even come close."
Much of the disparity between how men and women view heart disease may stem from how both sexes show symptoms. People expect heart disease to come with dramatic chest tightening, arm pains or heartbeat irregularities. For men that is often true, but women often present different, much more subtle symptoms.
Mueller clenches her left arm to her chest, mimicking the common heart attack warning sign, saying, "Women hardly ever get that symptom."
Many women might just feel nauseous, fatigued or short of breath. They could experience sweating or jaw pain, but the milder symptoms can be easily confused with a cold or flu. By the time more serious symptoms arise, heart problems could be much further along.
Research shows 64 percent of women who died suddenly from heart disease did not show symptoms ahead of time. Mueller says women also have a harder time recovering. After a heart attack, the Heart Foundation reports 42 percent of women died during the next year, compared to just 24 percent of men.
"Nobody talks about that," she says.
Approximately 435,000 women suffer heart attacks each year in the United States, according to the Heart Foundation. About 35,000 of those women were younger than 55.
Dr. Michael Ring, a cardiologist with the Providence Spokane Heart Institute, agrees that women face significant discrepancies in preventative care and outcomes in regard to heart disease. With research often focused on heart disease in men, the risks and warning signs for women tend to be harder to recognize.
"Their symptoms just seem to be less easy to diagnose" he says. "It may be confused with other things. ... Clearly women, during their lifetimes, are just as likely to develop heart disease as men."
In recent years, new resources have started to emerge for women. The American Heart Association now has a Go Red For Women campaign with outreach efforts each February. Heart disease rates for both men and women have declined, but approximately 8 million women still live with heart disease in the U.S.
Mueller says the Rockwood Heart and Vascular Center can conduct comprehensive cardiac assessments. She has also started working with other cardiologists and hospital administrators in hopes of opening a dedicated Women's Heart Clinic at Valley Hospital.
"We are working up proposals," she says, expecting more details to be available in the coming months.
The most important thing, Mueller says, is still personal awareness and reducing your individual risk factors. Women should track their cholesterol and lipid levels. They should manage their diet and abstain from smoking or excessive alcohol. They should exercise.
"Coronary artery disease is really, really preventable," she says, adding, "It's really simple. There's nothing complicated and there's no shortcut. You just exercise and you eat healthy." ♦