A year after Donald Trump took office, spurring millions of women and men to march around the country, protesters again took to downtown Spokane to stand against injustice, support women's and LGBTQ rights, call attention to violence against indigenous women and back a slew of social and environmental justice issues.
By noon, Sunday, Jan. 21, thousands had packed into Riverfront Park as they waited to start the Spokane Women's Persistence March route through downtown.
Before the march, Shawnee Bearcub stood in a red skirt near the corner of Stevens Street and Spokane Falls Boulevard holding one side of a large banner drawing attention to missing and murdered indigenous women.
Bearcub, a member of the Confederated Colville Tribes, joined women from area tribes over the weekend to make red outfits as a sign of support for the Red Skirt Project, which aims to call out the increased threat of violence and homicide against indigenous women.
"It's creating awareness for the issue at large, but also bringing some of the indigenous women in our community together," Bearcub said. "They become more aware that we are not here alone. In the urban environment we have sisters."
Some shared personal stories of grief and suffering. Julie Vargas, a Kalispel tribal member, held a photo of Margaret Cordova, a Native American woman who was murdered in 2004; her remains, partly eaten by animals, were later found in Spokane. Nearby stood Chantel Hill, whose cousin Lynn was burned alive and left for dead on the Crow Reservation in Montana in 2016. She survived in the hospital for months before dying from her injuries.
"There's hundreds of cases out there, and we just don't hear about them," Hill says.
Sprinkled throughout the crowd were hundreds of protest signs and some people dressed in costume, from pink tutus and pussy hats to a floor-length long-sleeve red dress worn by Alexandra Baxter, whose face was blocked from view by a large white bonnet that completed her Handmaid's Tale outfit.
"I am here today because women's rights are under attack and they have been by the Trump administration, and I am here with everybody else to help fight back," Baxter says. "In Handmaid's Tale, women are relegated to breeding stock... and men control the government, they have all the power. It is becoming increasingly relevant and obvious that women are being treated as second-class citizens."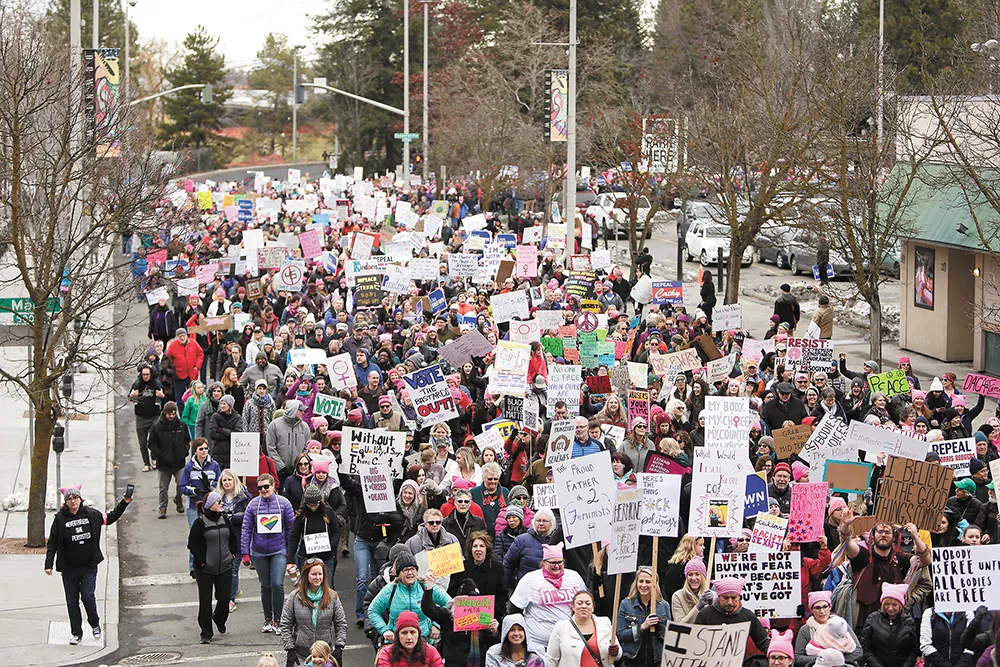 The crowd marched for the better part of an hour as they shouted chants such as "we want a leader, not a creepy tweeter," "dump Trump," and "no justice, no peace," before wrapping up the day with a rally at the Convention Center.