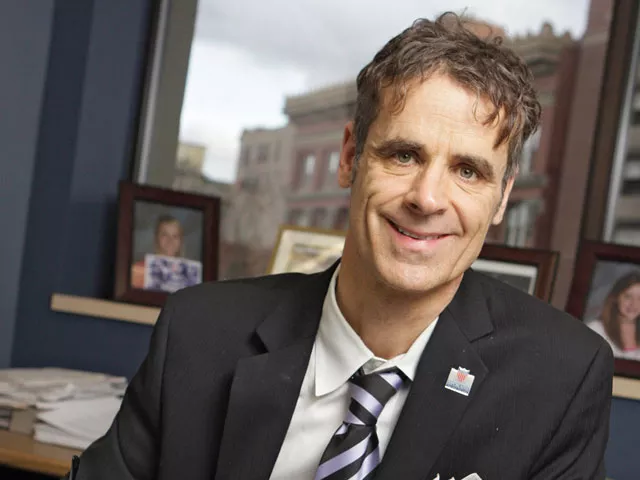 Gavin Cooley, the city of Spokane's chief financial officer, is smiling. Standard and Poor's just announced Spokane's bond rating: AA, S&P's third-highest rating. That's the rating Spokane had in 2000, before the River Park Square financial disaster sent the city plunging down to a BBB — a notch above worthless junk bond status.
If you're a financial wonk like Cooley, you know what a big deal it is to get an AA rating. If you're not, well, here's a primer:
What does "bond rating" mean?
Essentially, it's a credit rating, but for cities. Raters like Moody's Investor Services and Standard and Poor's take a gander at the stability of a city's finances, surrounding circumstances and financial policies, and analyze the investment risk posed by buying their bonds.
For the S&P, the highest quality rating is a AAA.
That's the rating the American government has. Then come the high quality ratings: AA , AA, AA-. The scale declines with A, BBB, and finally, ratings for entities unworthy of investment (BB through D).
That's nice, but what does it matter?
The sexier your bond rating, the lower interest rate you're likely to get when you go to borrow. Just at the start, it could save approximately $100,000 per year — in interest for an upcoming $45 million street bond issue alone.
"Probably more today than any other time, that really matters a lot," Cooley says.
Back in the day, the city weathered its awful BBB bond rating — they just had to buy bond insurance. Bond insurers, like AMBAC and FGIC, would, for a price, guarantee Spokane's bonds, assuring investors it was safe to buy away.
Then, in 2008, the entire economy death-spiraled, taking most bond insurers with it. If Spokane had a BBB rating today, Cooley says, it would be unlikely that anyone, at any interest rate, would buy its bonds.

So why does Standard and Poor's love us so much?
The rationale, S & P writes in their summary, was Spokane's diverse economic base, its general fund balances and its willingness to slash expenses. Spokane's general debt — $155 million — is small compared to other cities.
Five years ago, the city had almost nothing set aside in its rainy day fund. Today, it has $18 million.
Jobs were eliminated, services were slashed, salaries were haggled down, and Spokane still refused to burn through its rainy day fund. (Although for the fi rst time, it plans to spend $1.9 million in reserves for the 2010 budget.)
Thank the strong mayor system and a diligent City Council, Cooley says, for withstanding political pressure, making it possible to, for the fi rst time in the Spokane'shistory, budget current year revenues in excess of expenses.
"Spokane's been having a lot of good years, remarkably," he says. "Spokane has done better than King County in year-to-year growth in sales tax since 2000."
Wait? All this time we've had a big pile of money and we didn't use it all to alleviate the pains of recession?
"Yeah, I'd love to use reserves," Cooley says. People have asked. They've begged. "But that would be using onetime money to solve a permanent problem."
Yearly, Spokane's revenue grows at a rate of 4 percent. Its costs grow at a rate of 6 percent. Use temporary money or furloughs to solve the gap one year, Cooleyexplains, and the next year the gap is back and bigger than ever.
So what can the city do to get the full AAA rating?
It can't. At least actual city government can't directly do much, Cooley explains. AA is the ceiling, for now. We're bound by our surroundings, and most of Spokane's citizens receive relatively small paychecks. As long as income levels remain where they are, says Cooley, there's no hope of going higher.
In order to not fall below AA, Cooley says, Spokane must continue its conservative budgetary practices. It will mean not solving budget problems with reserve funds, not matter how seductive the temptation. "It's a daily battle," Cooley says.