A
s nine states have passed abortion restrictions this year
, the national debate on safe, legal access to the procedure has rekindled, dividing some communities, including here in the Inland Northwest.
So far in 2019, two states have limited abortion after 18 weeks, six have passed so-called "fetal heartbeat" bans limiting abortion after six to eight weeks (before many women know they're pregnant) and Alabama, with the harshest change, made performing any abortion a felony, with exceptions for the health of the woman but no exceptions for rape or incest.
With anti-abortion lawmakers hoping to take the issue to the Supreme Court and potentially overturn Roe v. Wade, abortion-rights activists and lawmakers are also speaking out.
The growing national divide became apparent on the Palouse in recent weeks, where tempers have flared on social media after one local business's anti-abortion stance was made public.
In a May 21 post, bar industry employee Kyle Yeigh posted a screenshot of an email from Slice and Biscuit owner Rebekah Becker from one year ago. In it, Becker tells Iron Goat and Paradise Creek breweries she can no longer support them after they collaborated on a beer for Planned Parenthood, with $1 from every pint sold going to the family planning provider.
"I wonder if you guys realize just what exactly Planned Parenthood does?" Becker writes in the email. "While they boast that they are all about women's health, what they are really doing is encouraging women to kill their babies. … I believe these babies are humans in the womb, and no one has the right to choose their own life or convenience over the life of another human being."
Hundreds of people commented on the post, with some describing their own positive experiences with Planned Parenthood, which they said didn't pressure them to make a choice one way or the other. Some left bad reviews for the restaurant online or said they'd never return. Many others voiced their support for Becker and stated they also think abortion is wrong.
Yeigh, who helped set up the collaboration beer last year and no longer works at Paradise Creek, says he posted the email not to encourage people to go after the Moscow pizza place or talk badly about them, but just in case people wanted to know where the business stands in light of the recent debate.
"I was like, 'Well, you know, I guess this is still topical, unfortunately,'" Yeigh says. "I didn't say anything bad about them. I just said, 'OK look, this is what they believe in. If you believe with them, by all means, go for it. But if you don't, you should know this is what they do [believe].'"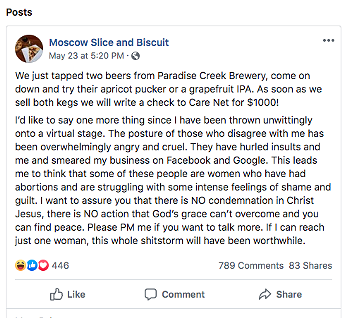 Slice and Biscuit has since changed its stance with at least one of the breweries, and is again carrying Paradise Creek beers. In a since-deleted Facebook post that gathered several hundred more comments, the restaurant said it would also donate $1,000 to Care Net of the Palouse, a crisis pregnancy center that encourages women to keep their pregnancies.
The owner of Paradise Creek declined to comment and messages to Slice and Biscuit were not returned.
In the midst of the debate, a new Facebook group "Pro-Choice on the Palouse" was created, with members hoping to compile a list of other businesses that support women's reproductive health choices, and warn each other about those that don't.
"I was hoping first of all, that this page might serve as a tool for members of the community to go for support if they need to talk, and secondly to give locals a better understanding of what businesses we choose to support," Kayla Sloot, a Moscow resident who started the page, writes to the
Inlander
. "Moscow is the wonderful community that we are because of all the love and support constantly being spread. I hope we can all remember that, and choose to end this divide."
Meanwhile, hundreds of dollars have been donated to Planned Parenthood of Greater Washington and North Idaho in Slice and Biscuit's name, with at least $500 pouring in as of this week, says Paul Dillon, a spokesman for the local affiliate.
Planned Parenthood's Pullman clinic is the only family planning provider in Whitman County, and many clients come from Moscow. The clinic served about 4,000 patients in 2018.