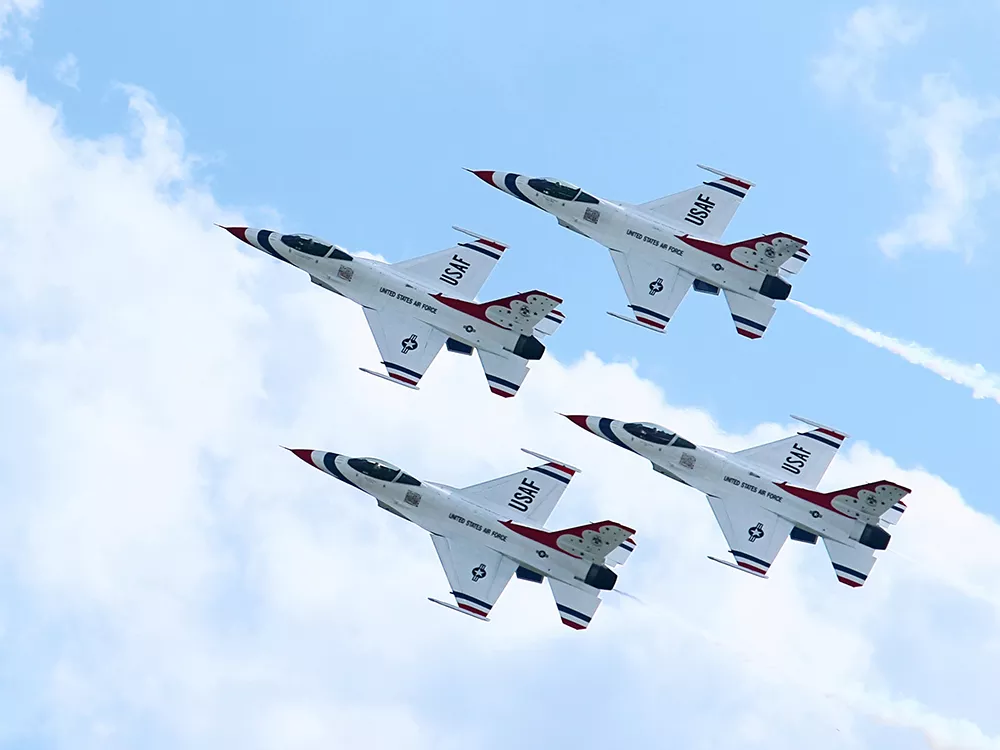 Moving Expenses
Ten blocks of mobile homes and cheap apartments sit just east of Fairchild Air Force Base, in an area named an "Accident Potential Zone." If airplanes from Fairchild crash, in other words, they could go down in the area where hundreds of people live.
But moving them isn't easy — these are very low-income residents. In response, three local nonprofits — Habitat for Humanity, Catholic Charities and Community Frameworks — have partnered to purchase property in the accident zone, and then build 100 new apartment units and 60 new houses to lure tenants away.
"There will be no forced relocation," says Tobby Hatley, a spokesman for the project. "The whole goal is to reduce the density." In surveys of residents, he says, most say they'd move if they had a better place to go.
But first, the groups need funding. The entire project would cost about $31 million, and the coalition hoped it could be partially funded by the Housing Trust Fund, a state funding stream used to build and maintain affordable housing.
But when the House produced its list of recommendations for Trust Fund projects, legislators listed 31 projects and 27 alternates. The Fairchild relocation projects were not included. Without help from the Fund, relocation could be delayed, Hatley worries.
"They prioritized certain target populations," says Janet Masella, director of the Housing Trust Fund. "They identified farm workers, persons with chronic mental illness, homeless veterans, and people with developmental disabilities."
Rep. Hans Dunshee, D-Snohomish, helped to create the priority list. "The game's not over yet," Dunshee says. The House and the Senate still have to make their budgets line up. "If there's a significant effort from the local legislators, it might still happen. It's a possibility."
— DANIEL WALTERS
Extra Security
Spokane Police Chief Frank Straub promises increased police patrols and heightened security at upcoming public events in the wake of this week's deadly bomb attack on the Boston Marathon.
"People in Spokane will notice today, and for days going forward, that there will be increased [police] presence around shopping malls and other areas where the public tends to gather," Straub says, adding, "There is no threat that suggests people in Spokane be concerned."
With Bloomsday and other large events in the coming weeks, Straub says local authorities plan to closely monitor the Boston investigation. Straub also asks citizens to report anything suspicious, citing previous examples of civilians thwarting bomb plots at the 2011 Martin Luther King Jr. Day parade in downtown Spokane as well as the 2010 bombing attempt in Times Square.
— JACOB JONES
Paying For Cops
The Spokane Police Department will be getting $1 million for new equipment and training, but they'll have to keep waiting for more officers.
A measure introduced by Spokane City Council President Ben Stuckart Monday would have taken the 1 percent property tax increase the mayor and council passed on when they created the 2013 budget and used it to pay for 10 new police officers through the rest of the year. That measure failed.
But on the next measure — spending $1.1 million on Use of Force Commission recommendations like standardizing all officers' batons and installing dashboard cameras — even those council members who opposed spending for new cops were supportive. They saw those as mostly one-time costs they could fund from the city's reserves. Councilman Jon Snyder voted for the measure, but chided other members for their earlier vote: "It's a sad day when we can fund gadgets and not people."
The council also set hearings for its next meeting (April 22 at 6 pm) to discuss Envision Spokane's latest attempt at a Community Bill of Rights and an effort from a group called Spokane Moves to Amend the Constitution to prohibit corporate lobbying of city employees. Both groups have filed signatures to get the initiatives on the November ballot.
— HEIDI GROOVER