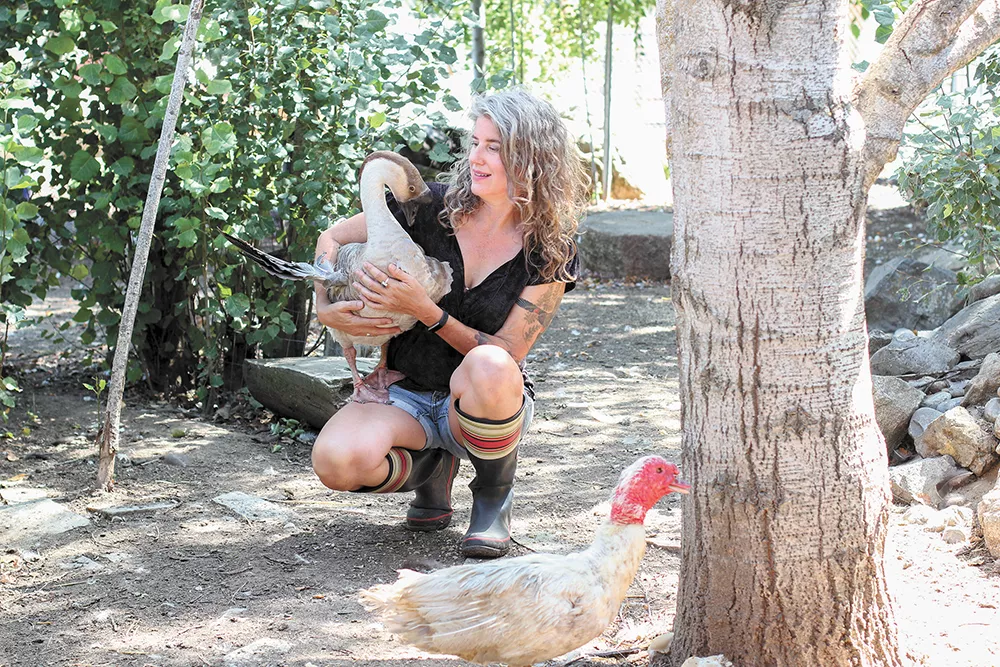 Sheila Evans has always liked animals, but after the unexpected and devastating loss of two very important people in her life, she discovered a newfound appreciation for them, particularly the menagerie housed at Spokane's River's Wish Animal Sanctuary. In Sanctorium, her upcoming exhibition at Kolva-Sullivan, Evans is paying back the kindness, not just to the animals, but also to their caregivers in the best way she knows how: through art.
"[Evans] has been participating in our annual Art For the Animals: A Starry Night Celebration at River's Wish for many years," says Kit Jagoda, who co-founded the organization with husband Pete Jagoda in 1994. "She donates a piece and it is always in the live auction. She is such a compassionate and gifted person. We feel very fortunate to have Sheila's support for the animals."
For Sanctorium, however, Evans is doing more: 40 images, all of them sanctuary animals Evans photographed over several months. They're mostly 8x8-inches or 12x12-inches, with a few larger, all close-ups with a solid or graduated color background.
"I wanted to portray them the way we portray people, showing the individuality, personality and emotion in their faces," Evans says. "I want people to see them as the unique, feeling beings that they are, and to hopefully connect with them as I have."
There's Barney, for example, a silkie bantam rooster, who along with his brother Fred are casualties of the trend towards backyard chickens (but not roosters).
Precious the sheep was brutalized in her youth, says Evans, yet is calm and sweet. "She sits very still, turns her head to different angles, always looks at the camera, and seems to gravitate toward flattering light," she says.
Tucker is a rare success story. A stately Belgian horse, Tucker was born at the sanctuary. His mother was rescued from being a PMU (pregnant mare's urine) mare, which "are kept tightly confined and constantly pregnant, with minimal water, so they produce concentrated urine for the production of Premarin and Prempro, estrogen-replacement drugs," says Evans. The foals are typically slaughtered but Tucker, having never known abuse, is a gentle giant.
Although the number fluctuates, the sanctuary typically houses around 125 animals: cows, horses, pigs, goats, sheep, rabbits, assorted birds, and even a few dogs and cats.
"We are all broken in different ways, and trying to heal and make a new life," says Evans, who was happily preparing for a coveted exhibition spot at the Art Spirit Gallery with her new work in enamels when life took a turn.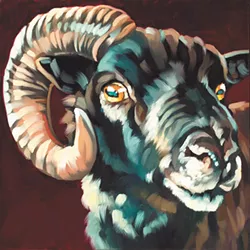 It was late summer of 2017, and Evans and her husband of 10 years, Paul Edminster, were at a good place, she says. Iron Goat Brewery, the business she and Edminster had started with another couple in 2012, was doing well. His kids were grown and the couple was looking forward to travel, perhaps relocation nearer the ocean.
Instead, they ended up in the emergency room where Edminster, complaining of stomach pain, was diagnosed with stage four colon cancer. He suffered greatly, his family along with him, and died barely two months later.
"I somehow managed to keep breathing while my parents and friends looked after me for the weeks and months that followed," says Evans, who kept working — in the studio and the brewery — as a way of dealing with her loss.
Then, the second shoe dropped. Her mother called because, after shoveling snow and her daily workout, she couldn't see clearly. While at the emergency room, says Evans, her mother lost consciousness after an apparent stroke, and died within 48 hours.
"Widowhood takes your energy, your will to live, your interest in pretty much anything," says Evans, describing both herself and her newly widowed father. "The best you can do is try to keep moving and hopefully, eventually, find some reason to live."
That she did, slowly, nudged by friends like Rick Garcia, a fellow artist whom Evans is dating, who set up a studio space for her in her house. Evans did a few still lifes, got bored with them, and returned to a favorite subject: animals.
"I started with a tiny painting of my pet chicken, Flo," says Evans. "I was hooked, and painted my cats, and any animal I could find of whom I had photos."
Familiar with Kolva-Sullivan Gallery, she proposed an exhibition, knowing she'd donate a portion of the proceeds to the place that facilitates healing for two and four-legged creatures alike.
"For years River's Wish has been my charity of choice, as I am horrified at the treatment animals receive at our collective hands," Evans says. "It has been healing to spend time there and with Kit and Pete Jagoda, the two artists and teachers who run River's Wish. They are two of the most selfless and hard-working people I have met. They inspired me to find something to do that was bigger than myself." ♦
Sheila Evans: Sanctorium • Sept. 6-27 • Opening reception Sept. 6, 5-8 pm • Free • Kolva-Sullivan Gallery • 115 S. Adams St., #A • kolva.comcastbiz.net • 458-5517