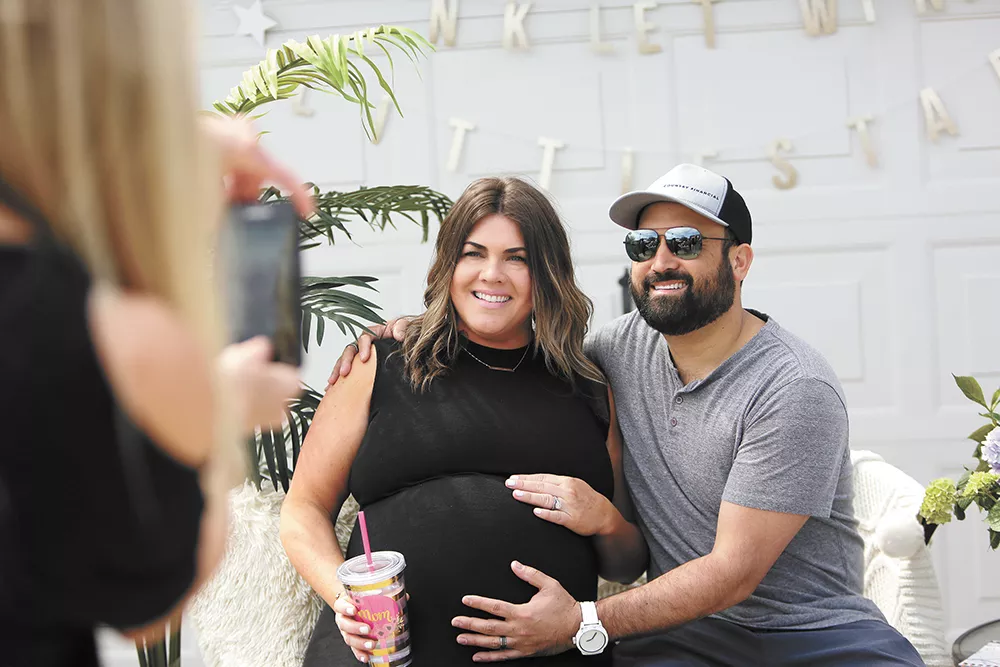 When Tara Moran found out she and her husband would be expecting their first baby by the end of May, she had no way of predicting it would be during a global health pandemic, let alone that her job and those of millions of others would be put on hold for weeks as health officials tried to slow the deadly virus.
The COVID-19 shutdowns have forced Moran to forego some traditions — while her husband can't attend her ultrasounds anymore, her family and friends ultimately insisted on a drive-up baby shower at her Liberty Lake home this weekend. The shutdowns also sparked a complicated unemployment claim as the project manager for a countertop installation company was laid off.
Multiple factors may have complicated her April 1 claim, including a change in her last name in February, a previous unemployment claim that ended last May, and her company moving from Washington to Idaho in January. As she tried to figure out why her claim needed adjudication, Moran called Washington's Employment Security Department (ESD) roughly 100 times a day for more than a week, before she finally got through to a real person last Thursday.
Being laid off — or put on "standby" — for a few weeks and then having her claim held up for reasons she couldn't easily understand added uncertainty to an already stressful time.
"It is terrifying. This is our first baby, and I'm 35 so I'm already considered high risk," Moran says. "It's been an emotional roller coaster."
She's not alone. As Washington deals with hundreds of thousands of claims from employees whose businesses have been ordered closed for weeks due to the coronavirus, the state unemployment system has been stressed to its limits.
Complicating things, a massive new wave of claims came in on Sunday, April 19, as expanded benefits added $600 to weekly payments and allowed contractors and freelancers to qualify for unemployment for the first time. The state won't announce until later this week the official tally of first-time applications filed during the first week of expanded benefits ending April 25. But by April 23, the department announced it had already paid out about $900 million in claims that week, and the previous weekly record of 182,000 first-time claims was shattered within 36 hours of the expansion.
"We're typically not allowed to release those numbers until the following Thursday," says Nick Demerice, public affairs director for ESD. "But we needed people to have a sense of what we're dealing with."
THANK YOU FOR CALLING
Many people who've tried calling in to resolve questions about their claims are familiar with the automated answer on Employment Security's phone lines.
After a short explanation that the department is receiving historically high call rates, the system asks users to call back and hangs up.
It's a frustrating message that many callers hear hundreds of times before even being placed on hold, where they often wait for hours to speak with a real person. Even then, the system sometimes hangs up before they can resolve their issue.
While the department has set up another phone line just for questions, claims agents continue to get tied up with simple questions that most users could find answers to on the ESD website, Demerice says.
He asks that people read the frequently asked questions pages and guides online, and not call unless truly needed.
"We're trying everything we can to lessen that queue of folks, so the people that absolutely have to get through to speak to an agent can do so," Demerice says. "We also know there are some folks without a smartphone or internet, and those folks have to call to apply."
The department has hired more people to take calls, redirected staff to handle simple verification issues, and hired an outside call center to help triage calls, he says. The department was staffed for historically low unemployment levels before this sudden wave, but most people now get through to the department within a day or two, he says.
That wasn't the case for Moran.
She says she received an email from ESD on April 10 asking her to clarify something with her claim, but it didn't say what information was needed. So she called about 100 times per day until finally getting through last week.
Luckily, she says, the employee she spoke with figured out the problem: The name of an Idaho business where she was a server last year was slightly different in the system. A few weeks of her claim have since been resolved, and the company she works for also received a Paycheck Protection Program loan, so she's back to work.
"I was freaking out: so many things could be causing hiccups in my case," Moran says, "and what it came down to was verifying that one job in Idaho."
While some issues need to be cleared up by agents, a significant way that people who are better off financially could help the system is waiting to file their weekly claims until later in the week, rather than on Sunday or Monday, Demerice says.
"You don't have only Sunday to file your claim, you can file that all week," he says. "We're asking folks if they're not in an absolutely dire circumstance, please wait a few days, because if they all try to file on Sunday, the system can't bear it."
MIXED EXPERIENCES
Mindy Nichols, a self-employed bookkeeper, is not usually eligible for state unemployment insurance.
Her hours dropped significantly as the businesses she works for curtailed operations. Somewhat ironically, the little work she has gotten in the last few weeks has included helping businesses with unemployment paperwork, and helping owners apply for federal small business loans.
But with the federal expansion on April 19, which applied retroactively to March 29, she was finally able to apply for herself.
However, even though the state website got a massive overhaul the day before the expansion, some questions that automatically disqualify people seem to not have been updated in time, because Nichols says she was declined for saying she was self-employed.
She called 300 times before finally getting into a queue last Wednesday, where she waited on hold for maybe half an hour, only to find out that agent wasn't specialized enough to handle her issue. So Nichols was put back on hold while waiting for a more skilled agent. But before her call was answered, she got transferred back to the triage line, then put on hold for another lesser qualified agent. After getting bounced around that loop for hours, she gave up.
When she tried again early last Friday morning, she got through after just a handful of tries. The agent told her the system had glitched by not allowing people to say they were self-employed, and her claim was fixed by Monday, April 27, with payments pending.
"I'm not faulting them by any means. It's very frustrating and unprecedented times," Nichols says. "But it's frustrating."
Others who've been waiting a month haven't been as lucky.
Ronni Echavez, a single mom of a third grader and high school sophomore who lives south of Spokane, says that her claims have been pending for weeks now.
She works full time at a major craft store chain that temporarily laid off its employees on April 3. While she knows other co-workers who are already getting unemployment payments, her claim has been held up.
"I've probably called a little over 500 times today," Echavez says on Thursday, April 23.
She'd been trying for weeks to get to a real person with no luck. She'd spend a few hours trying to get through, making hundreds of calls, but never seemed to get an answer.
"I don't know how people are getting through. I want to know their magic," Echavez says. "Just before this, I had everything going wrong. My car broke down, I had a leak in my roof, my furnace went out and I got it all fixed up and now have all these payments."
She finally spoke with an agent on April 24, only to be told that she needs to wait for the issue to be resolved, because the department is trying to verify information with her employer.
It's helped a lot that her kids' schools are dropping off food at the bus stop near their home each day, she says, and some in the school district have donated additional food.
But the most frustrating thing for Echavez is that she doesn't want to rely on services.
"I want to be able to work for my money. I feel bad applying for these things that I don't want to need," she says. "I've saved, so I have a little emergency fund, but I have no income, so once that's gone, it's gone." ♦