What a whirlwind, historic year! From that first local cannabis retailer opening one year ago to news that the state has raked in $70 million in tax revenue... Wow! Plus, we've had a local boom in artisan pizza places. Hmmm... Coincidence?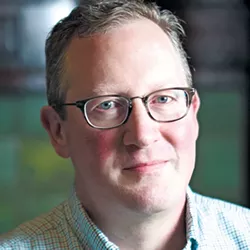 Throughout the past year, the Inlander has covered the news of the infant industry and helped these businesses connect with customers through our Green Zone section. We've also tried to set a tone for how the industry should be viewed — as a fledgling act of capitalism rather than an out-of-control party.
My big headline for the past year is "The Sky Did Not Fall." Of course there have been stories of the usual idiots doing really stupid things, but overall the rollout has been drama-free. Still, we should all continue to be concerned about kids. Parents, along with the new Liquor and Cannabis Board, need to educate and protect them. Law enforcement, too, needs to stay vigilant; if you break the law by selling to minors or trying to make hash oil in your apartment, you will have to pay.
What's most fascinating is the business case-study being written. It's been like the old Gold Rush, but without a map to the riches. Some order is emerging from the chaos, but change will stay constant, as capitalism is Darwinian; sound business owners will thrive while marginal ones may not.
All that makes the future quite murky, but I'll take a stab at a couple of the big questions:
Will marijuana be legalized nationwide? Not any time soon, in my estimation. No way does that pass Congress, and while more states will join Washington and Colorado (and some already have), others — like Idaho — probably never will.
If a Republican is elected president in 2016, will they kill legalized marijuana? Again, I'm going to say no. Most GOP candidates have staked their conservatism on libertarian values and the supremacy of states' rights; arguing against what Washington has done would be quite hypocritical. Also, Republicans have been on a losing streak in the culture wars, and any new president may wisely calculate that a repeal campaign is a dead end.
But watch out for Wall Street. If big money managers can figure out how to invest in this industry legally, they'll be like vultures on a fresh kill. Currently the industry has an organic, mom-and-pop vibe about it, almost like a boutique winery or craft brewery; Wall Street could crush that.
Year One has not been perfect, but our state has been about as responsible as anyone could have hoped. And so the experiment continues. ♦