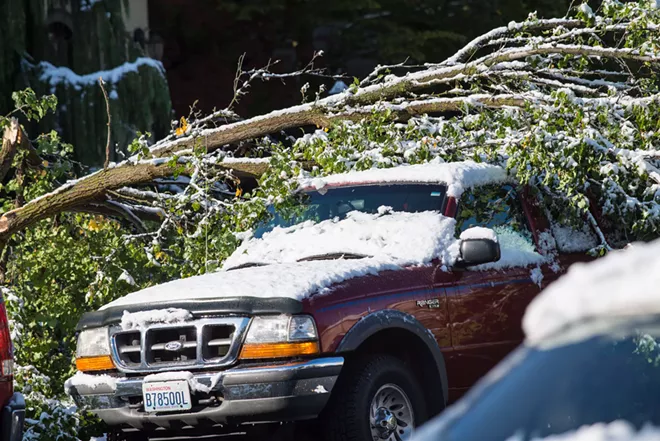 T
uesday night brought both fire and ice
, wind, snow, power outages and fallen trees.
Transformers blew up in Browne's Addition. Tree branches blocked South Hill side streets. One branch even hit City Council member Breean Beggs' car. Nearly 30,000 people lost power.
Fire Chief Brian Schaeffer says call volume to the Fire Department about doubled Tuesday night.
"It was primarily just a surge in incident volume. Tree limbs falling on power lines causing power outages and blocking access to arterials and side streets," Schaeffer says.
Downed power lines sparked fires and the lack of power created a crisis for those who relied on oxygen and powered ventilators. Schaeffer says the department had to look out for pets as well — making sure the cats and dogs outside had access to nonfrozen water and making the pets inside were kept in a heated area of the house.
(That's not to say there weren't a few bright spots, at least to those who had an essay due in homeroom: Spokane Public Schools canceled classes for students on Wednesday, due to blocked bus routes.)
Some people woke up with big branches — or even entire trees — in their front yards or driveways. For those people, until Oct. 19, the city of Spokane is offering free yard waste disposal to residential homes. Drive your stumps and branches to the city waste-to-energy plant, mention to the clerk that you're just dropping off storm debris, and you can drop it off for free.
Some of those have found themselves displaced from their home, whether because of power outages or snow-related damage. To help out those people, Hotel Ruby2 is offering around 10-15 percent off their room prices to anyone who asks about their "snow timber discount."
But those without homes at all are typically hit hardest by the bad weather.
"The main thing is locating them and encouraging them to seek shelter," Schaeffer says.
But to do that, there needs to be enough shelter space to begin with. Wednesday morning, City Council President Ben Stuckart says he tried to contact city staff in order to make sure homeless shelters were available right away.
"I woke up and I texted and emailed them and I hadn't heard back from them," Stuckart says.
And so he says he texted Catholic Charities CEO Rob McCann directly, and McCann agreed to open up more space.
<!————StartFragment————>"I have a long-term relationship with the management of Catholic Charities. They trust that if they open, we'll pay for it," Stuckart says. "I said, 'Please open. It's a desperate situation.'"
Indeed, according to its press release, Catholic Charities says they opened their overflow sleeping program and extended their daytime hours because of Stuckart's request.
"The overflow sleeping program will allow for 60 additional men to have shelter in the freezing temperatures," the press release says.
Stuckart says he's sure the City Council will vote to reimburse Catholic Charities for the cost, and he hopes that the extended space will last through the weekend until the cold snap ends.
The press release also includes a brief recap of why the 24/7 shelter program ended last year.
"In September 2018, the city of Spokane removed funding for 24/7 services," Catholic Charities writes. "In order to sustain 24/7 services safely, Catholic Charities would have needed additional funds to hire two uniformed police officers and an additional three to four full-time janitorial staff to ensure the health and safety of clients, the community and staff. The city of Spokane did not have the necessary supportive funds at that time, so in June 2018 the city of Spokane and Catholic Charities decided jointly to end 24/7 services. Along with that decision, the city of Spokane announced it would open a new shelter with a yet-to-be-determined date."
The Hope House women's homeless shelter has also opened up for extended daytime hours.