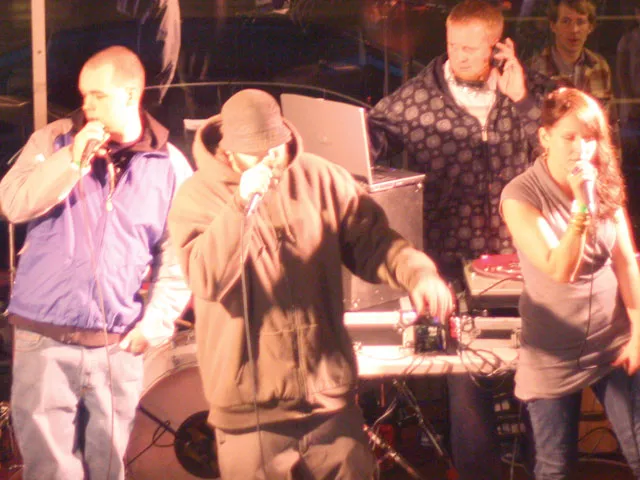 There are no membership cards. No team jackets. No welcome packages.
"We're not accepting new members or anything," Jason Corcoran (who goes by Freetime Synthetic onstage) says, laughing.
Bad Penmanship isn't a club. It's not really a label — and it isn't totally a posse, either. It's more like a collective. A conscientious, hard-working group of local hip-hop die-hards — emcees and turntablists who, like Corcoran, are from Spokane, can rhyme onstage and who are constantly, interminably living for their art.
And in the past six years, since Corcoran threw the first Bad Penmanship showcase at the Detour, they've built a reputation that's starting to pay off. The collective has become something of a regional authority as Bad Penmanship artists move to other Northwest cities, tour and spread the word of high-quality hip-hop from Spokane. Their logo — an eclipse or an omniscient third eye — is like a stamp of approval, peering out from the flip-sides of some local hip-hop records. When a promising hip-hop artist emerges from a Spokane Valley basement or a high school classroom, Corcoran makes sure they get on a Bad Penmanship bill. And they've started attracting national talent — like Del the Funky Homosapien and the Pharcyde — to Spokane stages.
Corcoran is reluctant to say he takes young emcees under his wing and teaches them the ropes. He just remembers what it's like to be young in Spokane and want to perform his art live.
"I've never put anyone on a show that I didn't have one moment when, to a certain degree, I thought that they had something," he says. Those younger artists get onstage with other Bad Penmanship artists and they either sink hard, or swim fast. "If you got humiliated in an emcee battle, you either quit or you get better."
The posters of past Bad Penmanship showcases reinforce the flimsiness of Spokane's all-ages venues (showing, in order, the death of venues like the Spike, Rock Coffee and Prago) but also the unfaltering commitment of its members. Freetime Synthetic, Cursive Adonis, Jaeda and Quiz 10's names dot the flyers of several past showcases.
Corcoran says that the showcases thrive on the varied styles of the performers. Vibeself is "classic hip-hop." Cheap Meat Suits is "super, super dark — in a good way." Juicy Karkass has roots in punk. Fat Arm comes from a metal band. None of what Bad Penmanship makes is radio-ready hip-hop.
"It's more about the beat and the feeling," Corcoran says. With six years behind Bad Penmanship, he's felt a change in how Spokane views and supports its local hip-hop artists. Spokane hip-hop is unique — and its isolation from the national hip-hop scene might actually be helping it.
"It seems like a lot of people used to scowl at us… It's definitely different in the past couple of years because there is more hip-hop in the mainstream," Corcoran says. "So we got a head start.
"I think it's good that we are in our little Spokane snow globe."

Bad Penmanship 6 featuring Gun of the Sun, Cheap Meat Suits, Jaeda, Cursive Adonis, Freetime Synthetic, Empirical Dynamics and more at Empyrean on Saturday, Nov. 28, at 5:30 pm. Tickets: $6. All-ages. Call 838-9819.