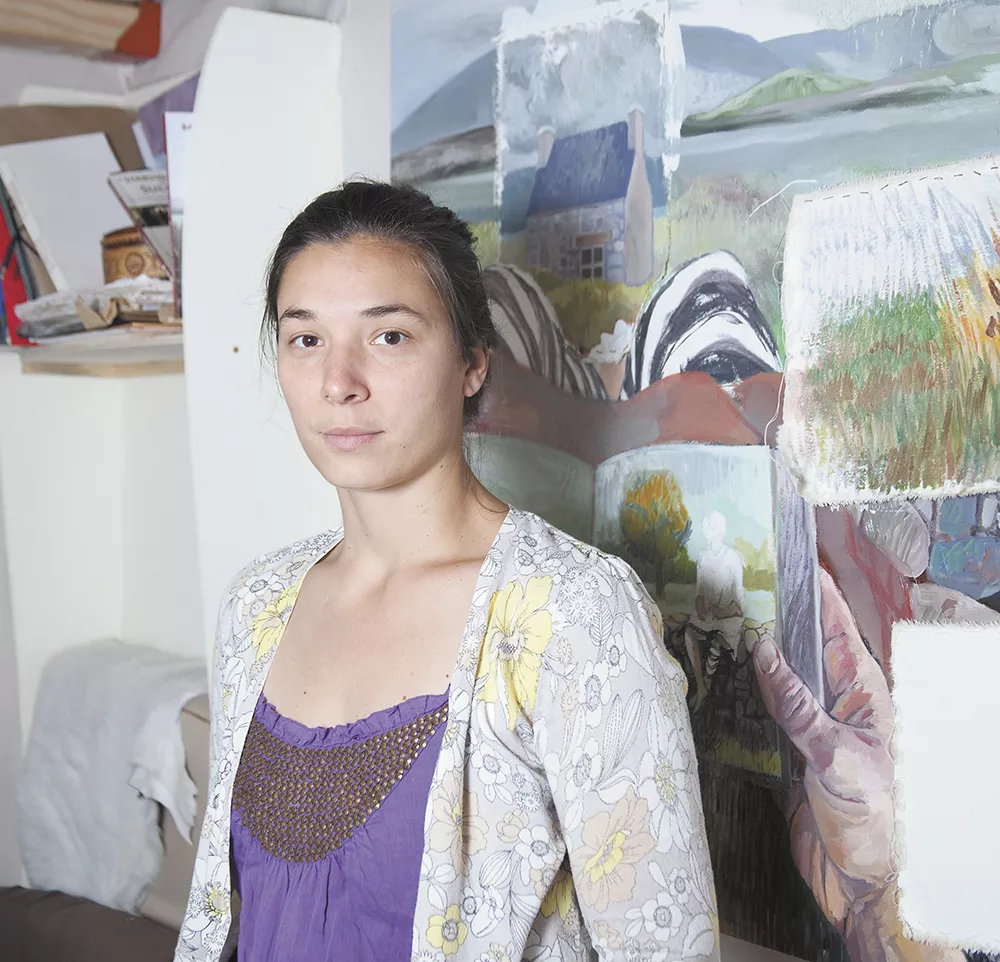 T here's no telling the places artist Alexandra Iosub could go.
"I am without roots," says Iosub (pronounced YO-seb), who currently resides in a tiny mobile house she is building from the wheels up, parked, at least temporarily, in Sandpoint.
"I have no place to go. I have no reason to go anywhere. I have no reason to stay," she says.
Iosub says this matter-of-factly. She experienced trauma at an early age: her parents' divorce, a climate of abuse and a kind of homelessness that transcended physical space.
"The hole I left behind — if there was a hole — has been filled in long ago," says the Romanian-born Iosub.
At age 10, Iosub attended a government-run art school in Romania, finding salvation of sorts in art and eventually supporting herself as a graphic designer. Iosub married at 18, left Romania for Canada, then the United States. She lived in Tennessee, then New York, where she earned a bachelor of studio arts from the State University of New York at Stony Brook. She read a lot, traveled a bit, and eventually got divorced, all the while making artwork.
Art school in Europe, says Iosub, is focused on technique. She recognizes that although she had a lot of ideas, she lacked ways to structure them.
"During school [in the U.S.], I realized that that's important, and it will drive art for a very long time if you have something to go with... not so much something to say, but somewhere to say from," she says.
Her earliest works were large, mixed-media drawings of the figure in unusual perspectives — from overhead, the back, underneath — or parts of the figure, especially hands, which are rich, multilayered symbols open to numerous interpretations.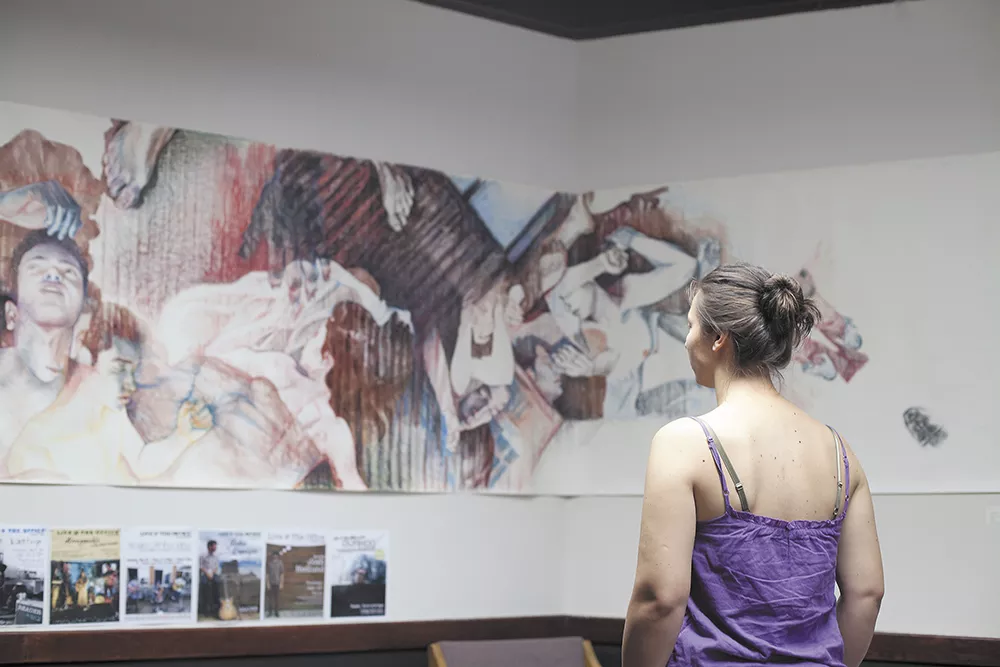 "I was making these surrogate bodies that my mind could feel comfortable with," says Iosub, who acknowledges the relationship between her figurative drawings and the trauma she'd experienced growing up.
Most recently, a figurative piece from her 2013 "Consciousness" series was included in the Pend Oreille Arts Council's juried summer exhibition, "All Things Undressed." Originally the series was an exploration of capturing the inner process of dreaming as manifest in the body's movements or expressions, yet as Iosub dug deeper, the work evolved into nuanced considerations of what consciousness represented, or could represent.
"Awareness is the first step towards control," writes Iosub in her statement about the "Consciousness" series, "whether it be pointed inward, towards self-discipline, or outward, towards social activism. It is the state of mind necessary for improvement in any area, including the mind itself. The process of being aware of one's awareness is the pinnacle of reflection, the mind processing its own processes."
She is particularly inspired by artists and architects whose work is based in social activism, including Andrea Zittel, Antoni Gaudi, William Kentridge and Swoon. The latter is often described as a street artist, whose large-scale installations and sustainable building projects include her post-earthquake structures for Haiti.
Iosub's 2015 culminating project from her masters of fine arts in printmaking from Penn State University synthesized two overarching themes that continue to permeate her work: the body and the notion of home.
In Shelter — it can be read as a noun or verb, a thing or a call to action — drawing paper comprised the walls and roof of a life-size, single-story house. Figure drawings populated the exterior, while inside was a seemingly domestic scene: a wooden table and chair that Iosub fashioned from past printmaking plates, a ceramic bowl filled with salt, a cup of water, and some eggs, the latter three elements relating to Romanian wedding traditions.
Whereas Shelter was a temporary structure, Iosub's current house project is somewhat more permanent. It contains her studio, where she's making art, including for a fall exhibition at Coeur d'Alene's Emerge gallery. Beyond that, though, and perhaps finishing the plumbing in her tiny house, Iosub doesn't have any concrete plans.
"I feel that making plans is a way that people trap themselves and limit their opportunities," she says. ♦