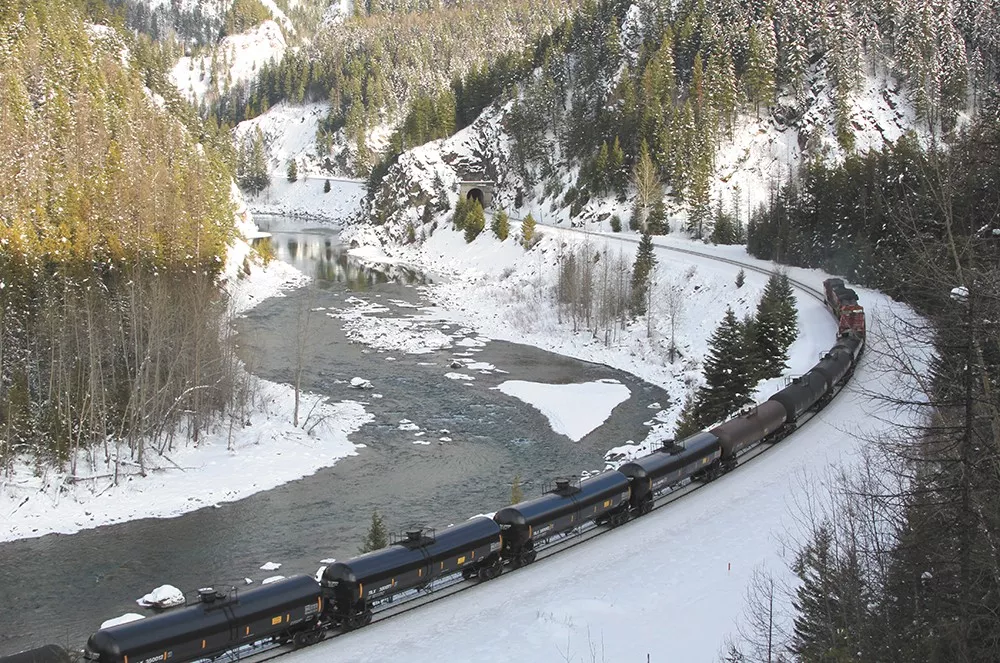 HITTING UNDO
When the city council voted last month to put an measure on the November ballot that would fine railroads for sending COAL AND OIL TRAINS through Spokane, the decision was unanimous. Despite warnings from the council's legal advisor that the measure would likely be overturned in court, six councilmembers voted in favor of putting it on the ballot, and none were opposed.
City Council President Ben Stuckart had been particularly impassioned regarding the decision, showcasing slide after slide of fiery wreckage caused by oil trains.
But on Monday, Stuckart dramatically reversed course. He met with the city attorney's office, reread the policy adviser's paper and tasked Gonzaga's legal clinic to search for examples of cities successfully pursuing this strategy. Each conclusion was universally dire for the proposal.
"I don't believe it has a chance of legal survival whether it passes or not," Stuckart says. "I don't think it's legally defensible, or defensible for us to bring it forward."
He asked councilmembers to pull it from the ballot.
Councilmember Breean Beggs, who wrote the ballot measure language, wasn't convinced. As a lawyer, he came to his own conclusions about the federal law allowing local municipalities to regulate railroad safety standards. He didn't agree with Burlington Northern's argument that they had little influence over the materials they were shipping, and suggested that the initiative would spur North Dakota to require Bakken oil to be further treated to reduce flammability.
"I think the voters should decide," Beggs says.
The council voted 5-2 to remove the language from the ballot, but vowed to keep searching for ways to make the passage of oil trains through downtown Spokane less dangerous.
Conservative councilmember Mike Fagan, who was out of town during the original vote, didn't take the opportunity to gloat. Instead, he praised Stuckart for being willing to change his mind.
"It takes great courage to sit here and reverse your position," Fagan says. "It was on a position you reversed intelligently." (DANIEL WALTERS)
SCHOOL ATTRACTIONS
As elementary schools in COEUR D'ALENE struggle with overcrowding, a new school that could open as soon as fall 2017 might bring relief.
But right now, nobody quite knows what kind of school it will be.
The Coeur d'Alene School District plans to open a magnet school in a vacant elementary school building on Government Way and Hayden Avenue. A magnet school is a public school with unique programs designed to attract students from across the district.
The district, after calling for proposals, has narrowed them down to three choices:
Hayden Compass Academy (COMPuter and Aero, Space, Science), a computer science and robotics school.
G.R.I.T. Academy (Generating Resilience by Igniting Tenacity), a school serving children who could benefit from an active learning environment.
Hayden Lake Experiential Elementary, a project-based school where students could develop skills through real-world experiences.
District spokeswoman Laura Rumpler says Coeur d'Alene is seeing significant population growth in its 10 current elementary schools. The new magnet school could serve up to 300 kids come next fall; the idea is to attract kids from each of the other schools.
"We're trying to find that relief valve for the growth we're continuing to expect," she says.
Rumpler says the district wants to use the space for a magnet school, rather than a traditional elementary school, in order to avoid redrawing boundary lines. The district is discussing the need for at least two more elementary schools in the next five years, and would prefer to change boundaries at that point, she says.
A district survey of the three proposals found that parents would be more likely to enroll their child in Compass Academy than the other two. G.R.I.T. Academy was second. A committee that includes school administrators and school board members will evaluate the proposals for their viability and interest level before the board meets next month. Rumpler says a decision would likely need to be made this fall if the school is to open by fall 2017. (WILSON CRISCIONE)