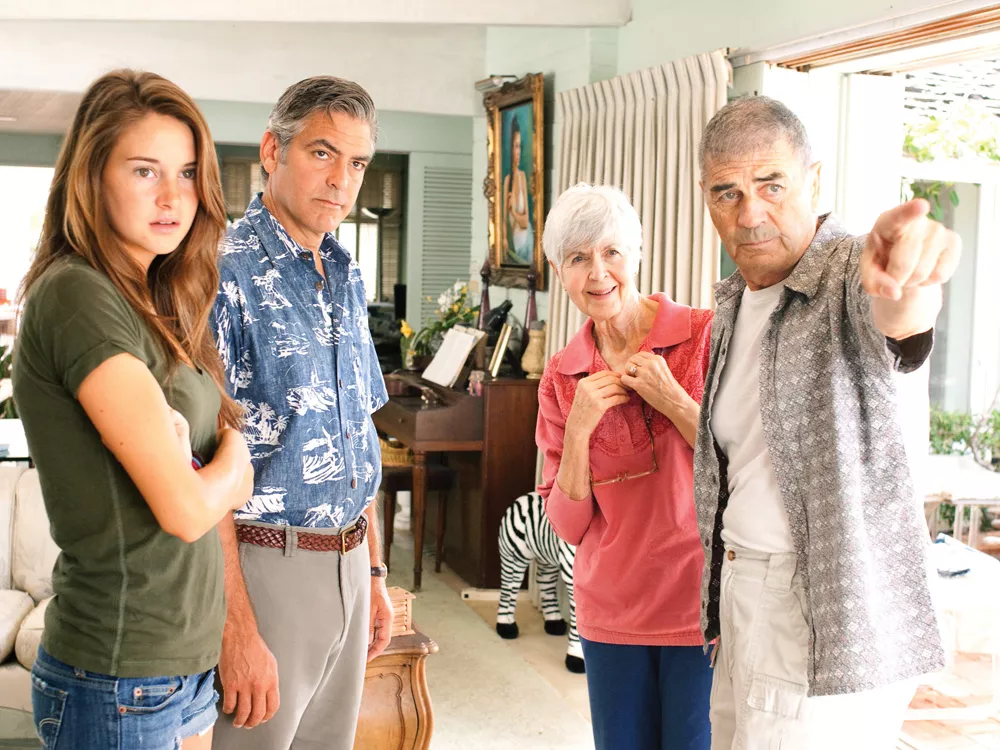 Why doesn't Alexander Payne make more movies? It's been seven years since he gave us the splendid Sideways. He returns here with a film that, once again, mixes up insightful character studies with offbeat plotlines, and keeps a wide arc of emotions – smoothly flowing from tears of sadness to tears of joy.
George Clooney, in one of his best, most relaxed screen performances, plays Matt King, a successful lawyer and big-time land owner in Hawaii who's not quite so adept at more important things, like being a good husband and father.
The film opens startlingly and, as the story plays out, you realize ironically, with a shot that looks like it might've come out of a '50s home movie. We see an outlandishly happy woman, waterskiing with carefree abandon, not a worry in the world.
A grim, tired-sounding voiceover from Clooney comes in, explaining that "Hawaii is not really a paradise; it's just another place," before the camera reveals he's in a hospital room, watching over his wife, who's in a coma after a waterskiing accident.
"Wake up, and I'll change," he says to her, softly, pleadingly.
But he already knows that Liz is not likely to wake up. Even if she did, she would be a shell of herself. What he doesn't know is how to deal with it. It's up to Scottie (Amara Miller), his spunky 10-year-old daughter to, as she puts it, become the back-up parent and help dad.
Ah, but what's to be done about the other daughter, 17-year-old Alex (Shailene Woodley), the wild child with an attitude problem who's at an expensive school on another island? Who's going to tell her about Mom, with whom she's had a mysterious falling out?
Not enough for Matt to think about? Well, there's always those 25,000 acres of pristine Hawaiian land that his family has owned for generations but now might be up for sale (to people who would immediately overdevelop it). Neither locals nor Matt's co-land-owning cousins are happy about this, but his vote is a powerful one. There's also the big question: Should he allow doctors to pull the plug on Liz?
Payne's film, based on the novel by Kaui Hart Hemmings, continues to weigh down its protagonist, whom Clooney plays as a decent, very likeable guy who only wants to do the right thing — whatever that is. His dilemma seems contagious, as almost everyone around him also has plenty of troubles in paradise.
Alex fesses up that her problems with mom had to do with catching her in the company of a mysterious man. Matt's cousins are convinced he's doing everything wrong. His father-in-law (Robert Forster, in full-out grump mode) is equally convinced that Matt was never right for his daughter.
But this is far from a movie experience that weighs on its viewers. Payne and his co-writers manage to keep things kinda light. The introduction of Alex's pal Sid (Nick Krause) as a laid back, stoned-out dude practically guarantees a good time. You don't know what fun really is till you've seen Clooney go all physical, breaking into a run that looks like it came from the Ministry of Silly Walks.
Alexander Payne has made a career of making films about sad people that pack a big emotional punch, yet he still find moments of inspired humor and surprising levity. With The Descendants, he's done it again.