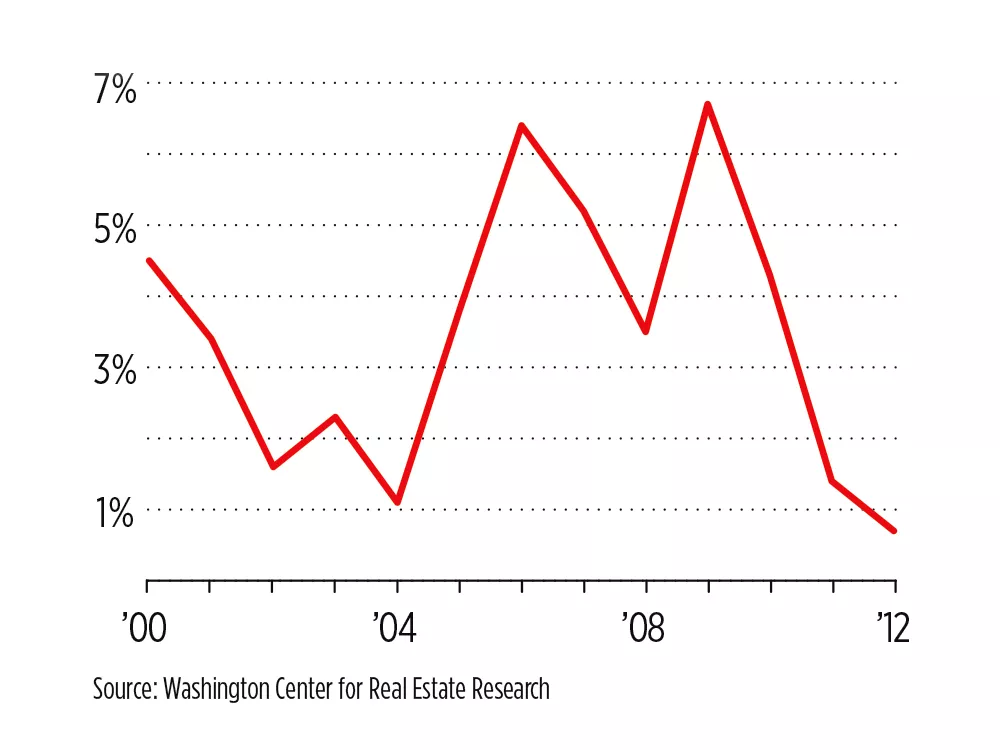 For her upcoming final semester of college, Washington State University music education major Olivia Borges wanted to live with her fiancé. He proposed to her at the site of their first date. He gave her his grandmother's bracelet. She said yes. Then she dropped a lease so she could move in with him at The Grove.
But last month, The Grove went up in flames, causing $13 million in damage, landing a man in jail accused of arson, and leaving Borges and 500 other tenants without a place to live.
"We were at the point where we needed to jump on the ball," Borges says of the days following the fire. "Our options were pretty slim."
In a college town where students make up a majority of the renters, housing fills up quickly. With low vacancy and a high-demand market, finding decent housing and reasonable rent can be a struggle, often leaving students in substandard accommodations. The July 14 fire at The Grove only put more pressure on the market.
Pullman knows it has a housing problem, especially as WSU's enrollment increases. Between 2008 and 2012, fall semester enrollment jumped by more than 12 percent. While 5 percent is considered a healthy vacancy rate, Whitman County's dipped below 1 percent last year.
The university has been building and renovating residence halls, but many students prefer to move to independently owned, non-university housing for more freedom. Many of the houses closest to campus are in substandard condition.
City inspector Gary Ruse says complaints about mold and mildew buildup are common. Tenants may have to deal with leaky faucets and sidewalks upturned by tree roots. Some students end up leasing bedrooms not up to city code to subsidize expensive leases.
Derrick Skaug, a 2013 WSU grad and Pullman city councilman at-large, says some landlords lease two-bedroom houses with two illegal basement bedrooms at four-bedroom prices, leaving it to student renters to sublease or pay the full price themselves.
With high demand, landlords and management companies can steadily raise rents, says Melinda Dutton, managing broker and owner of RE/MAX Home and Land in Pullman. Single bedrooms can go for up to $500.
"[Rental prices] are not outrageous, but they keep easing into it with $50 more and $50 more," she says.
For some, privately developed apartment complexes provide a solution. While farther from campus, they offer attractive extras and freedom from university rules.
Campus Crest, developer of The Grove, has built 44 other Grove complexes across the nation, including complexes in Moscow, Idaho, and Cheney and Ellensburg, Wash. In Pullman, local developer Corporate Point has built nine apartment complexes (about 2,000 units) similar to The Grove over the past 12 years as students have looked for alternatives.
"The supply-demand curve has gone more toward demand," says K. Duane Brelsford, the president of Corporate Point.
The Grove featured posh units that, while 2½ miles from campus, included furnished apartments, a clubhouse with a game room and library and a resort-style swimming pool, at $580 a month for a two-bedroom apartment.
Now those who thought they'd return to comfortable housing for the school year are scrambling.
The Grove is offering options to drop leases or to relocate to WSU dorms or The Grove in Moscow. On The Grove's Facebook page, Campus Crest representatives promised to work with tenants to help them relocate. But with less than three weeks until classes start, frustrations are high over the difficulties of finding a new place.
"The hassle [to find another apartment] would be too much," says sophomore Amanuel Getaneh, who is living in Seattle for the summer. "I decided it wasn't worth it, so I had to sign up for a dorm."
But moving back into a dorm will cost Getaneh $2,500 more than living at The Grove would have.
Borges, in the end, got lucky. She and her fiancé went to another apartment complex in Pullman and were able to find an available unit the day after the fire. They signed the lease earlier this month.