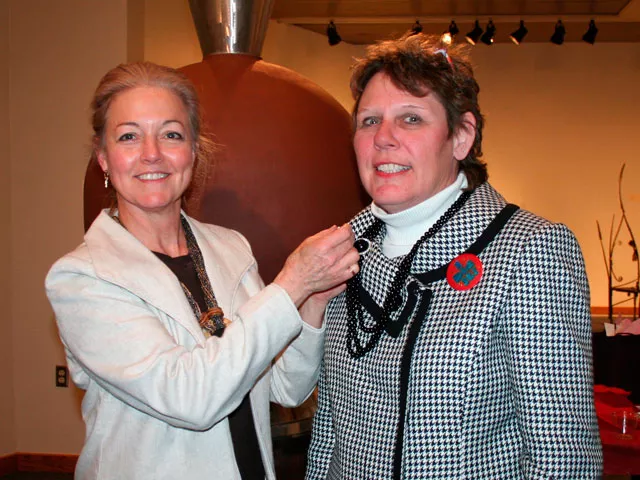 There are few people, if any, in Spokane more familiar with the history of the City Council, its ins and outs, than Mary Franklin. This month, Franklin will retire after 15 years as City Council administrator. Before she took off for a new job in Fairbanks, The Inlander picked her brain on her time at City Hall.
What was the best part of being the City Council administrator?
City tours. I loved the students. And organizing the council meetings. I loved orchestrating those, from proclamations to announcements to anything of that nature for our community. I loved that. And just organizing the council office It felt like home with the city employees. They are wonderful people. They really work hard. City employees are like a family.
What was the worst part of your job?
You know, there wasn't a great deal of the worst part. Maybe, if you could not resolve a citizen issue From a street to a plant, I mean, sometimes you just could not resolve the conflict.
What's one of the big conflicts you've seen at City Hall?
The one that sticks in my mind is when the waste energy plant was built. There was a tremendous amount of controversy from the citizens and the council. And they were kind of torn apart. But it all came together.
What do you consider to be the biggest thing you accomplished during your time with the City Council?
I was the one who was instrumental in our water stewardship program and our bag program throughout the entire city. Two interns and I started that, and we won awards all over the nation. I'm very proud of it. [The interns] designed a business plan, which included the trademark of Willy Water. I'm very proud of the water stewardship program. And if you Google anywhere, the only place that has waterstewardship.org is the City of Spokane. That's why it received national recognition. We got on the bandwagon before any other city.
Who was your favorite mayor?
Mayor [James] Chase He was an honest-to-goodness, good man. He and Eleanor Chase led the city. He was very instrumental to our community, with the Chase Youth Commission.
I won't forget the day that Aryan Nations were going to come in because they wanted to use the park for their first rally. And Mayor Chase didn't hesitate. He didn't believe in the Aryan Nations at all, but he said, "No, that park is open to anyone." I'll never forget those words. And it was rough. They had that big rally. "That park is open to anyone and everyone, with no discrimination," he said.
Is there anything else that stands out for you about Mayor Chase?
Yes. Two weeks into my working there, Planned Parenthood sent to our office a proclamation for National Condom Week. And Mayor Chase was so wonderful to me. All he said was, "Mary, that is between a man and his wife and the Lord. And I will not proclaim National Condom Week." I'll never forget that. He was so very polite. I'll never forget holding his hand before he died. I was there with him until his death.
Least favorite mayor?
I didn't have any least favorite mayor. All of them were good mayors. Even Jim West was a very, very good mayor. Unfortunately, all of this happened. It was unfortunate, because he was a good mayor When you're talking about a difficult time, that was a hard year, with the recall.
What was your experience like during the Jim West scandal?
He knew how the city operated. Everything was coming together with his mission and his goal and his process. But everything, once it started, it was very, very tense.
We still ran the City Hall like a business, just like city government should be run, but people didn't know what to think, what to say.
Joe Shogan or Al French?
Joe Shogan. He's honest and he listens to the citizens. He works hard. He listens to the people. And he's a Type A personality he wants everything done, and he has that military personality. A lot of people could be rubbed wrong, but he is sincerely a good man.
You left the position for a few years and worked for Momentum, which became Focus 21. Why did you leave?
I left right before the River Park Square. It was starting to get tense. It was when things were leading up to downtown redevelopment from the STA Plaza to RPS to a number of issues that were happening.
Why did you return to the position?
A few people at City Hall were leaving and they needed someone who understood the community. So I stepped up to the plate.
How do you think the strong mayor system is working?
Compared to the city manager form of government, there's a lack of consistency and follow-through. It's a learning curve, believe me, for any mayor, anybody. I think there still a learning curve between the mayor and council on administration, as far as who really is in charge.
What's the craziest thing that happened at a City Council meeting?
The funniest thing is when Joe Shogan got the goat. I orchestrated that. He got the goat for Wishing Star Foundation and we didn't tell him beforehand. They brought a goat to the council meeting, so he had to hold the billy goat. That was funnier than heck It about peed on him. He didn't know what to do.
Who was Jimmy Marks?
A head gypsy. It made news. The whole family came in with all of their gear and everything, and they were cursing the city. And Jimmy said loud enough, right across from us ladies, "You're not included in this curse," because we were nice to him and the family.
So I didn't go through the curse. But the City of Spokane is cursed, City Hall is cursed, because they were mad because the police department said they had stolen from people in the community.
And a number of the other people who come into the City Hall kind of on a regular basis here and there you get to know them. I call them my favorite street urchins. Except they are wonderful people. Life has not been right for them.
Did you ever take flak for things that were out of your control?
To be honest with you, I did not. No one has ever yelled at me. In fact, ironically, one gentleman, James Nelson, he's a local author. He called to complain one day about Joe Shogan's mannerism at the council meeting. Since that day, Jim Nelson has been very instrumental in my life.
He called to complain, I calmed him down. We talked about politics and elected officials. Since that day, he's become one of my favorite friends and instrumental in my life.
A lot of people have done that to me. Even Henry he's been instrumental. I find out through him what's happening on the street. And Mike and a number of them And you need that. You need to find out what's happening on the street, from drugs to prostitution, everything.
Once you know these individuals, you listen to them, you learn what's happening on the street. They confide in you. And if you're mean to them, they won't. That's community service.
It doesn't matter who you are, what you are, what your walk of life is, how much money you make. We're all equal.
Did you ever fear for your safety at City Hall?
Doug Bloomquist I'll never forget that day. He was a mental institution person. He was the one that walked into the office with both of his fingers in his pockets, sticking straight out at us. We flew underneath the desks and hit the panic alarm.
I was scared. I was absolutely scared to death. But it was only his fingers. And thank God, that panic alarm worked.
You're moving to Alaska to work for NASA.
Yes, I was offered a position and I start on May 17, for the Alaska Space Grant Program for NASA, as community outreach coordinator. I'm working for the University of Alaska, Fairbanks I'll be traveling the state with students, going to the villages and meeting them.
Anything else?
After I live in Alaska, I'm going to return to the community of Soap Lake, Washington, either as the mayor of Soap Lake or as a Grant County commissioner. Because I would to give like I have been trained. Kind of a legacy.