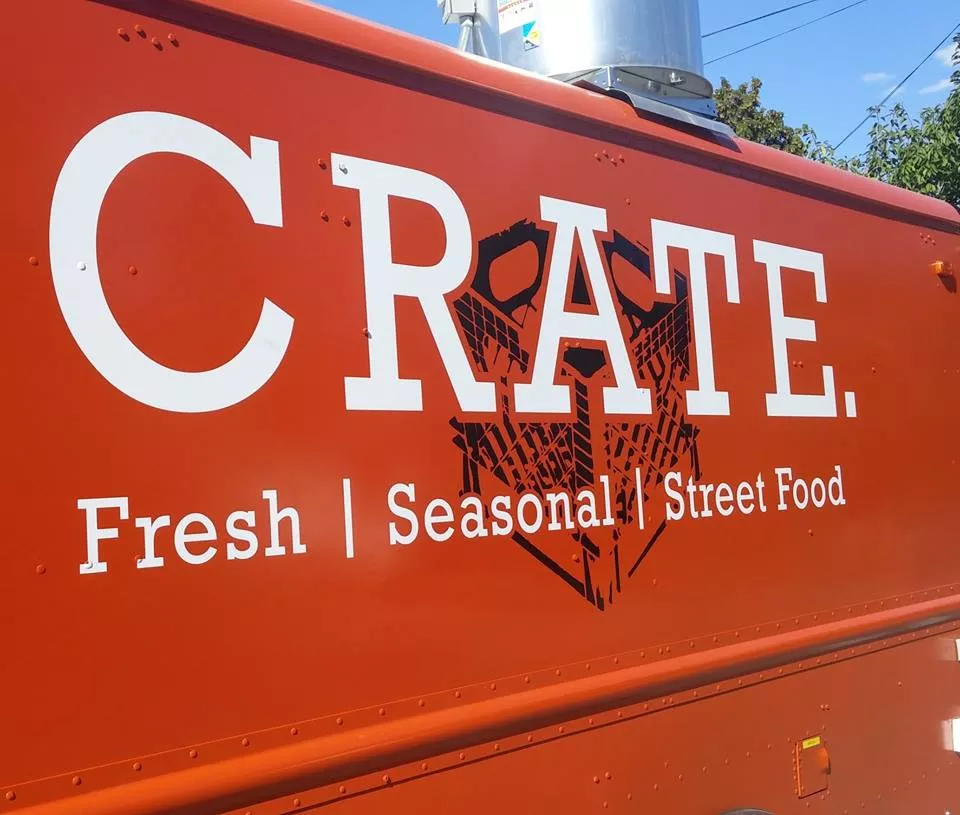 T here's now a bright-orange food truck driving around Spokane serving up fresh, seasonal street food. And if its owner has anything to do with it, you'll never get tired of the menu.
Eric Johnsen was a partner and chef at Saranac Public House, but recently decided he wanted to start something fun with more of an emphasis on catering. So he found a truck that once delivered laundry around Spokane and built out the inside.
Already accustomed to a frequently changing menu from Saranac, Johnsen has brought a lot of the vegan and vegetarian-inspired influence to the weekly menus he creates with sous-chef John Breckenridge. CRATE will always have sliders available, but Johnsen says they plan to offer more fusion burritos similar to the Vegan Indian Curry burrito ($7) that's already been popular.
Combining his culinary knowledge with other creative artists is what Johnsen is looking forward to most about catering events.
"People have been so excited to learn more about the truck and what we're doing," says Johnsen. "But maybe the coolest part is how much we've already been able to work with other businesses."
Thanks to social media, Johnsen is easily able to share the weekly menus and connect with other local businesses such as Vessel Coffee Roasters and Bellwether Brewing.
"I was used to walking out into the restaurant and talking with people about their food, but since most people walk away while they're eating, it's been helpful to get some feedback online," says Johnsen.
Though CRATE opened a little late in food truck season, it will serve food year-round. CRATE currently parks at set locations Tuesday through Friday, including spots in the Valley, downtown and in north Spokane.
"Even in these first few weeks, I've already learned why a lot of trucks have a set menu, because people come back wanting to eat what they had last time," says Johnsen. "But hopefully with this small, weekly menu, people will just be able to trust us, and that we'll bring them something fresh and different." ♦
CRATE. Food Truck • Locations at Facebook.com/cratespokane • cratefoodtruck.com • 542-7436