The Washington Cleaning Supply website — before it was removed — looked like the website of a cleaning supplier from Washington. It was crisp and clean, with a simple but professional logo.
"Healthful," it said over the image of a woman in a medical mask.
"Reliable," it said over an image of hands being cleaned in the sink.
"Responsible," it said below the Washington Cleaning Supply logo against the backdrop of a snowy mountain.
But any janitor worth his weight in Windex might quickly notice a few suspicious details: For one, there was the grammatical error on the "Best Seller's" tab. And then there was the fact that Washington Cleaning Supply doesn't appear to supply some of the most basic cleaning equipment: No Pinesol, no squeegees, no mops, towels, power washers, garbage bags or foaming degreasers.
In fact, Washington Cleaning Supply only sold three types of products: N95 masks, hand sanitizer and
disinfectant wipes
.
On March 15, for example, the site appeared to be offering what looked like a screaming deal for a 20-pack of
N95-plus 8210 Particulate Respirator masks. Normally, Washington Cleaning Supply suggests, the 20-pack of masks sell for
$149. But, right then, Washington Cleaning Supply was willing to let it go for the rock-bottom sale price of $79.99.

By contrast, a retailer like Eio.com typically sells the exact same product for $22.50. Hell, Walmart generally sells a similar product for only $16.66. (Both are currently out of stock.)

In the early days of the coronavirus crisis, local Spokane County leaders began to worry about price gouging by opportunists who were buying bulk amounts of important supplies so they could sell them back to those who needed them at a steep profit.
"I have had some discussion with some of the electeds about having the AG crack down on this," says Spokane County Sheriff Ozzie Knezovich. "I find it fairly appalling that people are willing to take advantage of their neighbors during this."
Knezovich was particularly disturbed by people trying to make money by selling personal protective equipment masks.
"I was like, 'Really, you're going to try to make money off of that?'" Knezovich says. "That one that speaks to a different level of low."
Washington Cleaning Supply isn't a business registered in Washington.
Inspect the web coding behind Washington Cleaning Supply and you'll see that it's actually just a facade for "Cozy Comfortable," a storefront on the Internet retailer service Shopify.
In fact, the Washington Cleaning Supply web domain didn't even exist before March 7.


Until they started dabbling in personal protective equipment in March, they mostly sold an eclectic mix of products like T-shirts,
beard-shaping tools, luxury electroplating and a giant "fluffy iPhone fur case."


The owners of Cozy Comfortable and Washington Cleaning Supply aren't identified.
But the email address on the refund page —
stayhumblenow@gmail.com — is the same email Eastern Washington University alum Devon Mahdi used on his personal website.
Mahdi was one of five Washington residents who received a letter last week from
Washington Attorney General Bob Ferguson accusing them of price gouging during a pandemic.

"In this time of uncertainty, consumers should not have to worry about being charged excessive prices for goods they need to stay healthy," Ferguson wrote. "My office will hold sellers accountable for price gouging during this emergency."
DEVON ALMIGHTY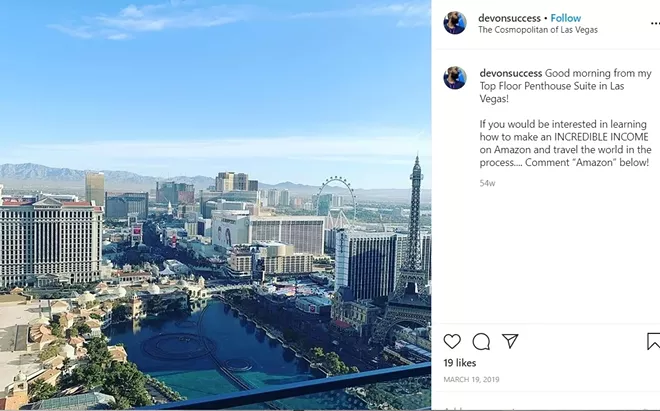 A
year before Ferguson accused him of price gouging,
Mahdi was on — if not the top of the world — at least the top of Las Vegas. He shared an
Instagram picture purporting to be from the "Top Floor Penthouse Suite in Las Vegas."
That March, he hosted what he promoted on his
"stayhumblenow.clickfunnels.com" page as
"THE ULTIMATE HUSTLER CONFERENCE 2019."
Mahdi called himself the "Realist Hustler,"
"one of the e-commerce industry's most respected experts,"
promised he'd reveal "
Advanced Amazon Arbitrage Secrets" and claimed he'd gone from "making
a cool $300,000 in sales/year on Amazon to running a $3,500,000 empire."

Four other masters of e-commerce, he claimed, would be at the conference at
Vegas's Delano hotel too, and stressed the ticket price had been slashed from
$995 to only $495.


But lately, according to a press release issued on Tuesday from the Washington AG's office, Mahdi had been "price gouging" on his Amazon.com
storefront
by, among other things, raising "
the price of an 8-ounce bottle of hand sanitizer from just over $3.50 in January to an average price of more than $25 — a more than 600 percent increase."

And his business address, the AG wrote, was located in Spokane.

The Inlander, like other local media outlets, attempted to reach Mahdi to get his side of the story, including to confirm whether he was behind the Washington Cleaning Supply storefront.

Instead, Mahdi began to delete pieces of his social media presence, including his Ultimate Hustler Conference advertisement and posts touting how much money he was making on Amazon.



When we called the number associated with Mahdi's business address, however, we did reach a man who identified himself as Mahdi's stepdad.

He said he didn't have Mahdi's phone number, but generally communicated with him on Facebook.
"He didn't take any masks that were currently available here. He got it overseas. That's not really 'gouging,'" the man told the Inlander. "If you pursue that route, I'm going to pay for his lawyer."
MUNCHKIN MASKS
Devon Mahdi wasn't the only Spokane-affiliated entrepreneur who saw a business opportunity as the coronavirus began to spread.

"I had 30,000 facemasks on order myself," says Scott Cook, owner of
Lucky Bird Brands, an e-commerce company in Spokane.
Cook is the former director of b
usiness development for etailz, one of Spokane's biggest e-commerce success stories.


Working with overseas suppliers for the company's private-label RinCon Outdoor
hammock line, he says he began to hear rumblings from Asia late last year.
"They were telling us what was happening in China at the end of December," Cook says. "This is going to get big."

Cook quickly began to see activity with one type of product in particular: N95 face masks.


"There's a ton of data tools out there, telling you what's trending, what's moving, what velocity it's moving at," Cook says. "
I started sourcing face masks in January."

But as the coronavirus began to spread throughout China, he saw competitors begin to spring up, some hocking phony products with less protection than they claimed.


"We noticed others that were paying attention to similar things. All of sudden, they're posting crappy face masks for $20," Cook says. "
95 percent of 'N95 masks' are not N95 masks. They are not up to that standard."


Cook wanted a way to stand out from the crowd.
"I know there were guys like Devon out there who were thinking like I was," Cook says. So Cook had the idea to tackle an untapped market:
children's
coronavirus masks. (Though children typically weren't as susceptible to falling ill from the virus, they can spread it.)
He found a supplier. He certified that they'd be able to make N95-quality masks. The masks wouldn't just be kid-sized, they'd have fun kid designs on them, like cars and trucks and princesses. (Not Disney princesses, to be clear — that would just be
begging
for a trademark lawsuit.)
Cook planned to sell 3-packs of the masks an Amazon for a max of $14.99. Once he accounted for shipping costs and Amazon's commission, that would net him about a $1.50 profit per package. Was that price gouging? Not in comparison, he argues.
"[Some sites] were selling a single mask for $19.99," Cook says. He called the new business line "Munchkin Masks" and built an early version of a website for the product.
But by March 5, Cook's plan was dead.
Amazon was cracking down on everyone selling masks at a big markup. To test the system, he put up an early listing, before he even had the product in hand: Sure enough Amazon flagged Cook's masks, booted the Munchkin Masks from the store, and wouldn't let him back in.
Amazon has always tried to punish retails for price gouging. Cook recalls a time when he was working at etailz, the store got punished by Amazon for price gouging when the Spokane business's algorithm inadvertently began selling a $4.99 pack of water for $39.99 after a major hurricane.

(Today, an etailz spokeswoman tells the Inlander that they have caps on their prices to ensure that sort of thing doesn't happen again.)

But this time, Amazon went further.
"Amazon was straight-up killing every listing that had the word mask in it," Cook says. "Women's [makeup] face-mask listings were going down, too."
Predicting he quickly wouldn't have a place to sell his product, Cook canceled his order.
But it wasn't just Amazon cracking down on those trying to make money off of
coronavirus products
.
Every big e-commerce platform followed suit, one by one cracking down on the same masks and sanitizer.
"Our teams continue to actively review COVID-19 related products and businesses, and stores that violate our policies will be immediately taken down," Shopify spokeswoman Rebecca Feigelsohn says in a statement. "Over the past few weeks, we have closed more than 5,000 stores in our COVID-19 related reviews."
Today, both the Washington Cleaning Supply and the Cozy Comfortable Shopify storefronts have been removed.
BIG MONEY HUSTLERS

T

he e-commerce world, Cook says, is filled with hustlers.

"If there is a way to make a dollar, even if it's an unconventional means, and you're willing to do it, I would call you a hustler," Cook says. "I'm like a 'reformed hustler.' The reformed hustler thinks about things long-term and cares for people."

"Hustler," of course, can be a synonym for "scam artist," but here it's used as a compliment for marketers who never stop working, who see the business opportunities everywhere.


"If people in third-world countries work 18-hour days just to survive, there is no reason Americans can't apply equivalent effort to be exceptionally successful by making the most of the free enterprise system," Mahdi writes in his bio in the 2011 version of his website. "At 22 years old, Mr. Mahdi now owns four businesses and is quite humble in his behavior."
On websites, YouTube videos and podcasts, Modhi often stresses his hardscrabble low-income foster care upbringing, his first job working at Walmart, and two of his high school friends being murdered.
"If you guys want to hear my story, It's almost the cliche rags-to-riches story," Mahdi
tells the host
of the eCommerce Momentum podcast in 2018.
That sort of origin story is pretty common in the e-commerce world, Cook says.
"We're kind of the basically born-from-the-ashes type entrepreneurs," Cook says. "We've been hustling for a long time. We've discovered we can take our hustling skills and turn it into e-commerce."

Mahdi immersed himself in worlds that argued that the only limitation to your wealth was your work ethic and ambition. First, he found Amway, he says, the multi-level marketing sales system that promised wealth and independence. He didn't make much money. But he didn't give up.
Say somebody's selling a popular product for $50 on Amazon: You offer to sell that same product for $65 on eBay. And so if someone purchases it from eBay, all you do is have Amazon ship it directly to the customer, and then you're able to pocket most of the difference.

Mahdi describes using a "wizard fast" gaming PC that allows him to "evaluate data quickly and efficiently," which puts the price of popular products into an e-commerce app called RevSeller.
"
I'll find a product and it's $15. It sells for $35," Mahdi said. "I put it in
RevSeller.
RevSeller says I'm making $5 bucks. Boom, I buy it. Boom, it's done."


And the last few years, he's dabbled in a more sophisticated business model called "private labeling." It goes like this: You find a supplier, often in China, find a packager to package the product under your own brand, and sell the product directly to the consumer using a storefront on an e-commerce website like Shopify. Neither model, of course, is risk-free.

Back in 2018, Mahdi said that his private label product had been taken down because of a safety complaint. He's sometimes been hit with trademark or IP complaints from companies unhappy he's reselling their products. But that, he recognized, was the cost of doing business.


"I'm a risk-taker, so I take these risks, man," Mahdi said.
THE E-COMMERCE KILLER
"I
'm sitting in front of Numerica," Cook tells
Inlander
in a Thursday phone call. "
I'm going to apply for an emergency disaster loan."
You'd think with most retail stores closed, this would be a booming time for e-commerce businesses. It is, but for Amazon.
The smaller businesses, particularly the e-commerce middlemen, often relied on Amazon's "Fulfilled By Amazon" distribution to be profitable.
But Amazon has shut down that system almost entirely in order to give priority to essential goods like groceries and medical supplies. Selling hammocks — or almost anything — made overseas suddenly became a lot harder.
Cook suspects Amazon has an ulterior motive.
"They're riding under a guise of being a savior," Cook says.
"My suspicion is that it's more of a land grab to grab the grocery market permanently away from brick-and-mortar grocery stores.
Meanwhile, some of the global suppliers, particularly in China, have been in lockdown due to the virus.

"One of my factories sent me a picture," Cook says. "It's a picture of their factory [in China,] and the double doors are literally welded shut."

Steven Peterson, host of the eCommerce Momentum podcast, lamented on last week's episode that his company's "sales on Amazon are down 75 percent."

Cook, for his part, hasn't entirely given up on his Munchkin Mask idea. But he also wants to make sure that e-commerce companies have a positive, ethical role to play in this crisis, not just looking for money-making opportunities.


"What are e-commerce companies doing to double down on helping people?" he asks.

Cook says he's working with a supplier to get 1,000 single-barrier cotton masks — not an N95 mask, but better than nothing — to hand them out for free. He's giving some local restaurants and retailers free consultations as they try to make set up websites to sell online.



And the more unethical hustlers? They find a way, too.



Thursday night, Cook emailed over an Amazon listing selling a single "
N9-5 Anti-air Pollution face m-a-s-k with Respirator" for $10.99. By Friday afternoon the price had already increased to $12.90.

It wasn't even a real N95 mask, Cook says.

"This seller figured out to game Amazon's algorithms by hiding words that he/she knew would get flagged by Amazon," Cook wrote in an email. "Punk. My data shows me they sold 400+ units in the last 48 hours. This is NOT an N95 mask. Those sleeves are garbage and do not form fit to your face."