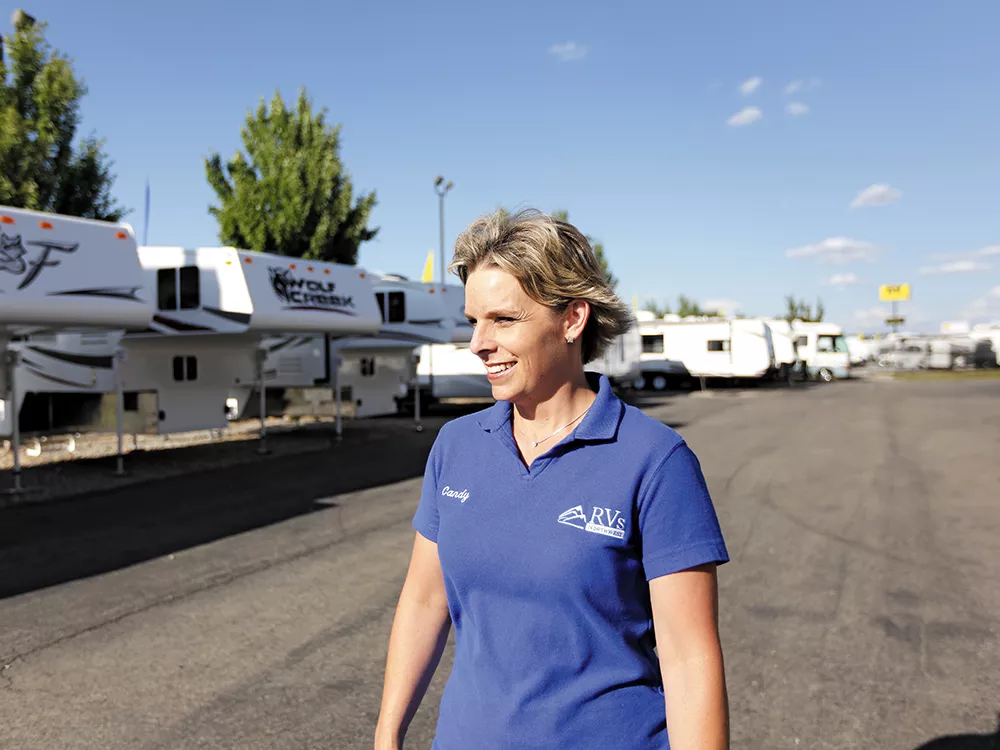 Among a sea of motorhomes and travel trailers in lots along I-90, Candy McAndrews has a corner cubicle that smells like cinnamon. A saleswoman at RVs Northwest in Spokane Valley, McAndrews, 42, is too short to reach a big motorhome's pedals without adjusting the seat first. She says things like "hubby" and "holy buckets." Each morning, she clicks on a wax warmer on the corner of her L-shaped desk. (The cinnamon scent is called "Welcome Home.") But beneath her motherly nature is a competitive edge. On a big whiteboard in her boss' office next door, tally marks count the month's sales. The marks next to her name stretch twice as far as anyone else's.
At a time when the nation's economic recovery is still sluggish, McAndrews is selling massive, expensive, want-not-need items. And business is good. Even in a nation where older people have returned to the workforce to make ends meet and young people are disinterested in cars and nuclear families, this industry is thriving.
To sell RVs is to put a price tag on nostalgia, to sell the importance of making today good not just for today, but for the memories you'll have of it tomorrow. People come here to envision themselves at secluded camp spots on riverbanks or in the RV lot of a massive water park. They see their belongings inside the coach and their kids on the bunk beds.
Here, despite talk of financing and credit scores, there are no worries, only possibilities.
McAndrews can see possibility every morning, when she circles the lot to see any new inventory. She can see it in everyone who comes in "just looking." And under a hot, late-June sun with five minutes to closing time, she can see it in the eyes of her next customer.
The young mother, who clutches a white iPhone, her short hair tucked under a hat, is in town for Hoopfest looking at Class C, van-like motorhomes. She'd like to pay cash, she says. Every "yeah, OK" sounds like she's ready to sign for the $65,000 RV today. But as she lingers without committing to buy, running her hands over the couch's upholstery, McAndrews still looks hopeful.
The woman snaps pictures of her young daughter, with tiny sandals and blonde bangs, lying on the top bunk.
The "kiddos" can watch the flat-screen TV from up there, McAndrews says, even "while you're driving down the road."
---
Popularized during a time when America led the world in manufacturing, higher education and wealth, RVs range from compact campers for pickup beds and tow-behind trailers to multimillion-dollar, 44-foot-long motorhomes with leather couches and mirrored ceilings. Many have slide-out sections for more space and amenities: dining tables and chairs, washer/dryers, recliners.
Even the brand and model names make promises: Wildwood, Creek Side, Discovery, Expedition. One that's since been discontinued is called the American Dream.
Last year, RV shipments rose 13 percent above the year before, and they continue to climb in 2013. Nearly 9 million households — 8.5 percent of people who own a vehicle — own an RV, with the highest rates of ownership here in the West. Most people tell the RV Industry Association they use their trailers or motorhomes for about three weeks each year.
The first versions of travel trailers were born in the early 1900s, as the invention of the car brought not only the freedom to travel faster but the possibility of mass-producing Americans' toys of choice. Entrepreneurs who built campers for their own families became leaders of some of the industry's biggest companies.
Rationing during World War II temporarily halted production, but the soldiers who returned home to young families and an expanding interstate system drove the industry to new heights. By the 1960s, as the first wave of baby boomers reached their 20s, Winnebago introduced "America's first family of motor homes," with refrigeration in every unit.
"For people who love to live," boasts a brochure for Winnebago's 1969 line of motorhomes, complete with shag carpet and floral upholstery. "Winnebago Puts Motor Home Leisure Living Within Every Family's Reach."
The image — of affordability, of freedom, of memories you'll hold onto — has pushed on, through recessions, wars and gas shortages.
Innovation in the '80s and '90s drove a boom of a new type. Motorhomes took hold. TVs and microwaves became standard. The campers who'd enjoyed RVing were joined by the people who just wanted to be comfortable.
"[They] weren't going out to the woods to enjoy nature and things, but to a football game or Disneyland or some destination," says Al Hesselbart, a historian at the RV Hall of Fame, a library and museum in Elkhart, Ind. "They began spending nights in Walmart parking lots. These weren't campers. These were people who were taking their hotel suite with them to a given destination."
Today, the lifestyle has its own magazines, blogs and a coalition of manufacturers, suppliers, dealers and campgrounds with the slogan "Go RVing." The TV spots and posters asking "What's your idea of AWAY?" show families with two parents and golden labs and immaculate travel trailers.
"AWAY is a place that's easy to find and a feeling that's impossible to forget."
"AWAY is a place where it's not about the money you spend. It's about the moments you share."
In the RV industry, these are the ideas on which people like McAndrews stake their sales pitches.
"We sell fun," they like to say.
---
When Candy McAndrews was 2 and her family moved to Alaska so her dad could take a new job, they got there in a camper mounted on an old GMC pickup truck. The kids would peer out the window above the cab of the truck on the Alcan Highway, 1,000 miles of beat-up gravel road with few roadside comforts.
Later, as McAndrews waited to start her senior year of high school, her parents took to the open road in a 1978 Southwind motorhome they paid cash for. It was a "party model" with a big U-shaped dinette in the back and avocado-green appliances. It had a fridge and an oven.
Her parents — retired from the Army and the U.S. Postal Service — knew she'd be moving out soon, and they wanted something to remember. They listened to "On The Road Again" and Chuck Berry. They drove from Salem, Ore., through a blizzard in Wyoming and all the way to Louisville, Ky. They saw Graceland and the Southfork Ranch in Texas where the TV show Dallas was set. On a one-lane road high above a canyon near Mesa Verde National Park in Colorado, McAndrews' dad teased her as she sat on the floor, too afraid of heights to look out the windows.
"I see families wanting to recapture what they grew up with," she says today. "There are not very many bad RV memories."
After high school, McAndrews trained to be a travel agent, but she hated sitting behind a desk. She worked as a waitress, but wanted to make better money. She did paperwork in the admissions office of what's now Western Oregon University.
Then, in her 20s, when she haggled over and bought her first travel trailer, the salesman asked her if she'd ever thought about selling them. She hadn't. When the same thing happened the next year, as she traded the trailer in for a motorhome, she took the gamble. Since, she's met her husband selling high-end diesel motorhomes, co-owned a dealership and is on track to make $100,000 this year.
She's sold to wealthy full-time RVers with yacht club memberships and to couples with just a few hundred dollars in savings, who had to borrow everything, including the licensing fees, for their brand-new travel trailer.
McAndrews has seen both booms and busts in the industry, with RVs being held up as symbols of both American strength and weakness.
In 2009, as the economy and the certainty of the American promise crumbled, freshly minted President Barack Obama crisscrossed the country touting his $840 billion stimulus package, designed to bring the nation back from the brink. One piece of the spending would provide grants to clean energy and electric vehicle companies or schools teaching those skills. To announce those funds, Obama found a place that would acknowledge the struggles of today and embody the promise of tomorrow: Elkhart County, Ind., the "RV capital of the world."
The county is home to manufacturers who make more than 60 percent of the nation's RVs, but by the summer Obama visited, the jobless rate was 16.8 percent, 10 points higher than it had been a year before. Obama stood in a shuttered Monaco Coach factory to announce stimulus grants, telling the crowd electric cars and other new technologies would be America's next economy, rising from the ashes of its last.
"The battle for America's future will be fought and won in places like Elkhart," Obama said. "It will be won by making places like Elkhart what they once were and can be again, and that's centers of innovation and entrepreneurship and ingenuity and opportunity."
He mentioned Monaco only once, instead meditating on today's broken political and economic system and promising that if we all just looked forward far enough, we would see hope.
"This is a rare opportunity where we're called upon to rise above the failures of the past," he said. "This is a chance to restore that spirit of optimism and opportunity which has always been central to our success. We've got to set our sights higher, not lower. We've got to imagine a future in which new American cars are powered by new American innovation, a future in which cities that led the global economy before are leading it again."
The promises fell flat. By last year, an electric car manufacturer that promised the area 400 jobs filed for bankruptcy after recalls and dismal sales. A battery-maker did the same. Two other electric truck makers planned for the area never materialized. Meanwhile, the RV industry has surged back in Elkhart. A well-documented post-recession trend, it's luxury that's rebounding first. The people with money to spend are spending it.
But for those who make their living in the RV business, it's about something more.
"People forget the deep roots of our industry. They don't remember we've been here for as many years as we've been here — a hundred years," Gregg Fore, then chair of the RV Industry Association Board, told NPR last year. "People are still going to enjoy the lake, their kids, their relatives, the other campers, their beer, their ballgames, their hot dogs. That's the way it's going to be."
---
Still, the obstacles of tomorrow are hard to ignore. The biggest segment of RV owners are between 35 and 54, but today's 20-somethings — the 40-year-olds of tomorrow — aren't necessarily following the trends that have driven the RV in the past.
They're buying fewer houses — half as many in 2010 as in 2000, according to the Federal Reserve. They're putting off marriage and children in favor of getting more education, cohabiting or just saving cash.
In a particularly troubling trend to sellers of the American tradition, young people seem to care less about cars. The percentage of people 19 or younger with driver's licenses has dropped about 20 percent since the '90s, according to the Federal Highway Administration, and research from industry trackers shows new car sales to young people falling off.
"[Millennials] think of the car as a giant bummer," Ross Martin, who runs a marketing arm of MTV, told the New York Times last year in a story about a partnership between the media company and General Motors to target young people. "Think about your dashboard. It's filled with nothing but bad news."
Some blame a cocktail of economic and environmental worries that have created a time when the woes of a big purchase like a car outweigh the convenience. Others say there's more at play. In today's world where texting and Facebook chat are common ways to stay in touch, the theory goes, the Americana imagery of a driver's license as a ticket to freedom and exploration doesn't ring as true as it once did.
But if you can't sell young people cars, still seen by many as a cornerstone of the American way of life, how will you ever sell them a luxury motorhome, a travel trailer or the truck they need to pull one?
The RV is a traditional product in a traditional market. The average RV owner is 48, and 40 percent of them have kids still living at home, according to the RV Industry Association's most recent demographic survey in 2011. Ownership rates are rising among people 35 and older and shrinking among those younger than 35. In a nation where the median income is about $52,000, the average RV owner's income is $75,000. Among motorhome owners it's $91,000.
In one breath, Hesselbart, the RV historian, is complaining about the way kids have changed: "They're not gonna get more than 3 feet away from their iPad or their computer or their television."
In the next he denies those changes will ever hurt business.
"The [RV] philosophy has been around since Daniel Boone and Davy Crockett," he says. "I don't think we've done anything to change that."
When McAndrews is asked about the challenges of the next generation, she says she has no answer. She's never even thought about it. She still meets people every day who do want to buy, and she won't worry until that changes.
At RVs Northwest, among all the sales tactics, one gets repeated often: Don't ignore the wife. She makes 98 percent of the buying decisions, the salespeople insist. Floor plans are important; don't talk too much about the engine. McAndrews' colleagues, almost exclusively men, credit her sales to more than just her customer service or RV expertise. She's so good, they say, because she's a woman. She points out good counter space and interior design. 
But McAndrews is also successful because she's restless. She makes sure she's always busy, always working harder than the salesmen. She's checking emails between answering phone calls and meeting the "fresh" customers who come through the door looking to shop. She's one of the only salespeople willing to chase down leads from the dealership's website. (Last month, she sold a $100,000 motorhome, all over email.) She files every potential customer's wants in her mind, hoping to sell them on something delivered new to the lot or someone else's trade-in.
At home, she just remodeled her kitchen. She's sewing throw pillows and transforming the basement into a movie room with theater seats and a big screen — all paid for by her job selling RVs.
On a Friday night, McAndrews picks up Kentucky Fried Chicken and sodas on her way home. In a quiet, tree-lined neighborhood, the house isn't modest, but it's not extravagant either. The family's boat and new travel trailer are parked out front; there's a trampoline out back.
McAndrews' 13-year-old son is out at a friend's house, and her 10-year-old daughter has a friend over for dinner. The girls erupt in a giggle fit before they leave the table to listen to music and check Instagram. They're all growing up too fast, McAndrews says. At least when they're out camping, she can set a "no-texting" rule.
Her husband Dave, an experienced RV salesman himself, praises his wife for working hard at home and on the lot. Then he boils sales down to a simple lesson.
"God gave you two ears and one mouth for a reason," he says. "Just listen."
It helps to be genuinely excited about the RV lifestyle.
The McAndrews started raising their son living in an RV park full time, pitching a playpen for him under the motorhome's awning. She uses her latest purchase as a conversation point with potential customers. "These bunks are great for the kiddos," she'll say. "The trailer I just bought has bunk beds too."
---
As McAndrews chats on the phone with a customer one sunny afternoon, a young salesman across the showroom talks to his own customer about a bad experience she had with a previous RV. His smile never fades.
"Well, that's the past," he tells the woman. "We're talking about the future — the American dream!"
Here, under the showroom lights and on the gravel lot full of travel trailers and motorhomes, salespeople aren't thinking about changes in taste or culture or all the reasons Americans won't want to buy RVs in the future. They're thinking about today, and basing their careers on the same ideas their country was built on: hope, optimism, a certainty that tomorrow will always be better than today.
When a balding, retired military pilot comes in to look at small motorhomes, he doesn't buy. But as he's leaving, he tells McAndrews he's looking because his sister has an RV, and she's always teasing him about being too frugal. "Why don't you spend some of that money?" she asks him.
McAndrews' eyes light up. She tells the man his sister is right. He deserves it.
"I tell my parents, 'I don't want an inheritance,' " she says. " 'I didn't work for your money. You did. You should spend it.' "