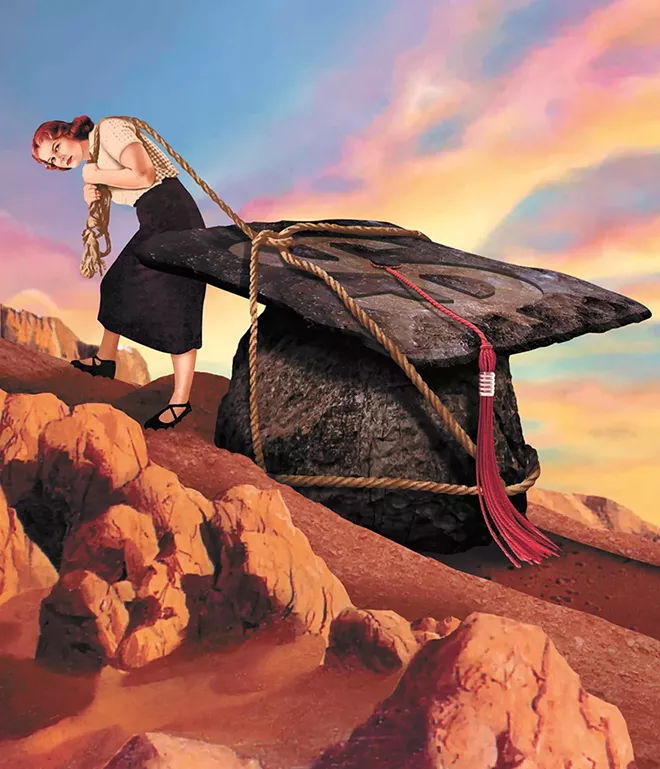 Headlines about the crushing severity of the student loan debt crisis have proliferated in the decade following the 2008 recession. A February 2019 Forbes article estimated that 44 million Americans collectively hold $1.5 trillion in debt — second only to mortgage debt nationwide. Meanwhile, Democratic candidates in the 2020 presidential race have churned out a variety of policy proposals to address the issue.
And with escalating health care and housing costs, and stagnant incomes, the notion that pursuing a college degree only to be saddled with thousands of dollars in debt afterwards is less than ideal.
But Robin Henager, a visiting assistant professor of economics at Whitworth University, argues in a recently published paper she co-authored that, in the long run, the benefits of getting a college education are greater than the downsides of taking out a loan to pay for college.
"We're still encouraged that a college education is quite worthwhile," Henager tells the Inlander. "Wealth building will happen at a faster rate for those who have a college education versus those who don't."
She says that they looked into the issue in an effort to showcase how undergraduate and masters degrees are still ultimately valuable — even if you do have to take on some debt — given the public narrative about the crushing nature of the student loan crisis.
"This is aimed at underscoring the investment in a college education," Henager says. "What I really want to do is disentangle it from the student loan conversation."
The paper, which was titled "The Relationship Between Student Loan Debt and Financial Wellness" and published last summer, used data from a 2012 national survey of almost 17,000 people aged 25 to 64 educated at various levels, such as high school graduates, those who had attended some college but didn't have a degree, and college graduates.
They were asked a variety of questions to judge their "financial wellness" — a concept that encompasses traditional objective fiscal metrics (like income), financial behavior, such as checking one's credit score, and more subjective factors, including a person's confidence in their financial situation.
The purpose of using the "financial wellness" measure was to be as comprehensive and accurate as possible when assessing people's actual and perceived financial state, Henager says.
"We really wanted to be able to give it some depth as opposed to just looking at income," she says. "For example, credit card behavior can be indicative. If they're using a credit card and not paying off the balance, that may be an indicator that they aren't doing well financially even if they say they're doing fine financially."
The study found that while taking out a student loan decreased the odds of obtaining a higher financial wellness score, having a college degree significantly increased the odds of financial wellness.
In short: Student debt does drag you down financially, but it's outweighed by both the subjective and objective benefits that having a degree will bring you in the long run.
"As we consider the impact of the student loan crisis, we need to be cognizant and aware that college is still a very, very good investment for everybody," Henager says.
This finding isn't to say that today's college students aren't in a tough spot. A 2014 Pew Research Center analysis found that one in four households headed by people younger than 40 had some student debt and that those with an undergraduate degree had significantly more debt than their uneducated counterparts.
Additionally, wealth accumulation — such as buying a house — for people with student debt can be delayed.
"There are statistics showing that students who take loans take longer to buy a home," Henager says. "That's an undeniable thing that's happening."
While the paper doesn't make any hyper-specific policy proposals, it does generally recommend keeping the cost of college down and helping students complete their degrees in four years or less to ensure that they can quickly enter the labor market and make up for time and money spent pursuing higher education.
Henager also stresses that policymakers should look at the issue of students taking out loans but not obtaining their degrees.
"Students who haven't finished college [don't] continue their investment," she says. "They owe all this money and don't have job opportunities." ♦