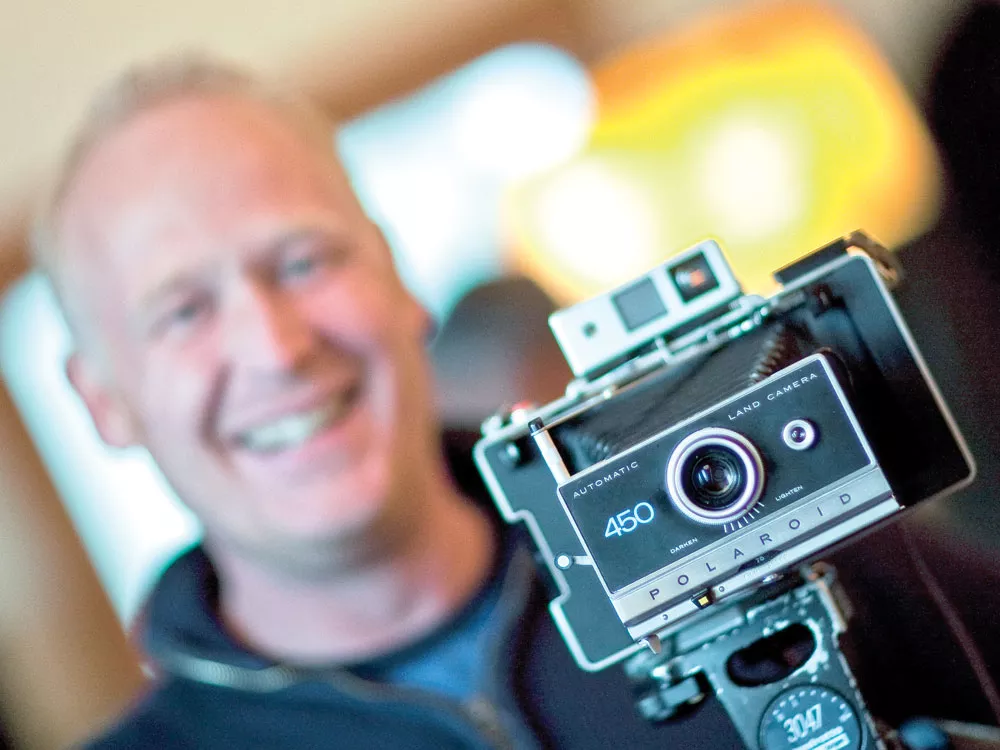 There are photographers who capture the agony of war: moments when human nature is pushed to its most extreme limit, moments that inform future generations.
And then there are photographers like Michael Pickering, an artist hardly standing on battlefields, but whose work attempts to harness something just as difficult to capture.
Behind the lens of a 1971 Polaroid camera, Pickering watches for flickers of beauty in the unrealized dream that is America: beauty on highway roads, hope in boarded-up vacation towns, compassion in the faces of strangers. His work is a study in the American experience: kitschy statues and outdoor ice rinks, but also lonely prison yards and empty, old towns. Pickering's eye captures the hilarity of our culture as well as a pervasive loneliness.
It's all a part of a project that began last summer with an old, broken camera and culminates this week with his gallery show, "My Mid-Life Crisis in Polaroid." As a producer and photographer at a local photography business, Hamilton Studio, Pickering salvaged an old Polaroid camera that the studio was donating to Goodwill. And after fixing it up, he found new vigor in the flaws of the camera: the way the film could rip and tear so easily, how photos would take on a pink tone if it was too cold.
But even more, he liked how every photo he took of the random moments in his life felt like an old vacation photo. It made even the mundane look like something special.
"I've really been kind of struggling with art," he says. "And I think that I gave up photography for a long time. The digital camera took my love of photography away. I couldn't hold the prints in my hand."
The Polaroid taught Pickering to embrace imperfection. He points to a gauzy photo of a long, lonely branch sitting on wet sandy beach.
"It's out of focus. But right after a wave came up and this was gone," he says. If it had been digital, he could have taken dozens of photos in the time that he took the one Polaroid. "I'd change a lot about that image, and I think it'd ruin [it]. I'd overwork the image."
"It's not perfect. I can't make it perfect," he says. "It's perfect in its imperfections."
His fingerprint smears one photo. Creases divide another. More are blurred than crisp.
Slowly, as he snapped more than a thousand photos, the imperfections of that old camera translated to life: While he'd been trying to construct a perfect life, he was missing the imperfect beauty that was surrounding him.
"I think that's part of what my mid-life crisis has been," Pickering says. "I've been so wrapped up in everything that's going on and trying to figure out what my career is going to be and what my life is going to be that I've missed out on what my life is."
"That's why I'm surrounding myself with all these pictures … because I'm trying to find the beauty in everyday."
Pickering is no war photographer — but he's documenting a different kind of war. And it's one every American can understand.
"My Mid-Life Crisis in Polaroid" • On display from April 22-May 22 • Artist reception: Fri, April 22, at 6 pm, featuring comedy by Lance Paulin and music by Silver Treason • The War Room Art Gallery at Hamilton Studio • 1427 W. Dean Ave • Open weekdays from 9 am-4 pm • 327-9501