A steady snowfall has turned to freezing rain on the campus of Gonzaga University. It's cold and getting colder. Everything is taking on a thickening layer of ice, including the tops of some 80 tents tightly packed into what would be a grassy knoll, were it not the middle of January in Spokane.
For the past two days, this has been the home to a rotating cast of about 400 students. The previous night, it was so cold university security sent the kids inside. Some of them protested the move. They actually wanted to camp in what would turn out to be a 15-degree night. It's all part of the deal.
A freshman from northern California emerges from a tent, a friend immediately zipping the flap behind her. She makes it a few steps between tents, but the ice wins and she's immediately on her back. Letting out a sigh, she doesn't move, staring up at the sky as if to remind herself, again, that this is all part of the deal.
This is Gonzaga basketball — and if you want to be close to the court, this is what you have to do. In 36 hours she'll be in the first few rows of the 1,250-strong student section, screaming her head off on national television as Kelly Olynyk doesn't miss a shot in a 20-point drubbing of Brigham Young University inside the McCarthey Athletic Center.
"Yeah, that happens a lot," says James Lumia, wincing as his fellow fan picks herself off the ice and gingerly makes her way through the maze of iced-over nylon.
Lumia, a junior political science major, is the camping and tickets director for the Kennel Club — the school's student cheering section that's gained almost mythical status in college basketball during its 29 seasons. He's presiding over this seemingly ill-advised camping trip, and he's quick to point out that these kids aren't willfully sleeping in tents in order to get tickets to the game. No, they got those four days earlier. This is just to get close to the court.
"For the most part, if you don't love basketball when you come here, you're going to learn to love it," says Lumia.
A month and 12 consecutive wins later, an Associated Press poll ranked the Gonzaga men's basketball team No. 1 in the nation this week, ahead of Indiana, Duke and Kansas. It was yet another breakthrough for a program that has spent the past 14 seasons making breakthroughs: winning an unprecedented number of conference titles; a nearly unrivaled string of NCAA tournament appearances; a streak of 20-plus-win seasons that has reached 16; producing three NBA first-round draft picks. All the while being led by Mark Few, a coach who some believe has reinvented the way we think about how a college basketball program is built.
Almost impossibly, a small school in Spokane has become one of the best programs in college basketball, with the national following to prove it. This is a team that has changed a university and a city and instilled a culture that is the envy of other programs. You can't isolate one specific impetus for this phenomenon. There were certain shots that went in, certain players who signed a letter of intent to play here, coaches who decided to stay put, fans who'd travel to the ends of the earth, and perhaps most important, a city like Spokane that could help all these pieces fall into place.
It almost makes sleeping in sub-freezing elements understandable.
Almost.
But then again, some of these students came here precisely to do this.
"We came to a game in fourth grade and saw the student section and knew that was going to be something we wanted to do," says freshman Kate Sessler, bundled up inside a laptop-screen-illuminated tent with her twin sister, Maddie. The two grew up in Tacoma, and this is cold for them, even if they're using the mattresses from their dorms to keep off the frozen ground.
It's not like everyone who arrives at Gonzaga is there expressly for basketball. In fact, it appears the Sessler sisters are in the minority when it comes to this. But there is something called the "Flutie Effect." This is the often hard-to-verify phenomenon of an increase in a school's enrollment and number of applicants because of the success of its athletic program. It's named after the increase in applications to Boston College in 1985, the year after eventual Heisman Trophy winner Doug Flutie tossed a legendary Hail Mary to knock off Miami on national television.
At Gonzaga, the reality of this phenomenon is hard to argue.
In 1999, the year the ongoing run of NCAA tournament appearances began, undergraduate enrollment at Gonzaga was only 2,747, making it one of the smallest schools in that year's NCAA tournament. Undergraduate enrollment for the current academic year is 4,906. The student body has grown by 79 percent in a mere 13 years. During that same period, acceptance rates for incoming freshmen dropped from 88.5 percent to 66.6 percent. In 2011, the rate was as low as 61.6 percent.
With the increased enrollment came a slew of improvements to the university, spearheaded by the vision of then-university president Fr. Robert Spitzer. In 2003 alone, the university improved its housing, added 30,000 square feet to its business school, 37,000 square feet of science space, and announced plans for new student housing. The following year, the shrine to the basketball program, the 6,000-seat, $23 million McCarthey Athletic Center, opened in time for the 2004-05 season. More new facilities and campus improvements continue to build on what was, even a decade ago, a small and slightly stale stretch of Spokane.
At the same time, Zag Nation, if you want to call it that, had spread far from the Spokane city limits and even the Pacific Northwest. Television deals were reached, apparel made it far and wide, and players became household names across the country.
The story of Gonzaga basketball, as it's often told, goes something like this: No one had really heard of Gonzaga until they made a run through the NCAA tournament in 1999. Wearing royal blue uniforms as the announcers consistently mispronounced their name, the tough-nosed squad coached by Dan Monson knocked off Minnesota, Stanford and Florida before losing to eventual champion Connecticut in the Elite Eight. Then, with Mark Few at the helm, the country had a chance to fall in love with the likes of Casey Calvary, Richie Frahm and a slew of others as the Zags (people realized you could call them that) went to two more consecutive Sweet Sixteens. There was Dan Dickau, an All-American who later played in the NBA. The team, now with a gregarious big man named Ronny Turiaf, continued to dominate the West Coast Conference, all the while appearing more frequently on ESPN and convincing major programs to play them during the non-conference portion of the season. Next, there was a new state-of-the-art arena just in time for the ascension of Adam Morrison, who had a mustache, read Karl Marx and could score 40 points even with his hair in his eyes. The Zags just kept winning and winning, with Jeremy Pargo and Elias Harris and now Kelly Olynyk. Eventually Spokane, and then a lot of people far from Spokane, came to love them dearly.
Explaining the Gonzaga phenomenon in this manner is like saying the Beatles became huge stars because people liked the melody of "I Want to Hold Your Hand." It's just scraping the surface.
For two men sitting in a bagel shop just a block off the Gonzaga campus, it all started long before that fabled run. Jack Stockton remembers when this building was an IGA grocery store back when he opened Jack and Dan's tavern, just across the street, in 1961. He's sitting across from longtime friend Jerry McGinn, a former United Press International (UPI) reporter who wrote some of the first national sports stories about Gonzaga basketball.
But that's not how they know each other — they both grew up in the working-class Logan neighborhood that surrounds the constantly expanding campus. Much of their old neighborhood is now part of Gonzaga, but Stockton can still list the names of the families who lived in those now-gone houses.
They trade stories about seeing games at the tiny gym Gonzaga once called home — it's now been converted into the Russell Theater. It held just a couple hundred people, and McGinn would find a way to sneak into games. Stockton remembers a time when a fight broke out between Gonzaga students and fans traveling from Montana. They laugh, remembering an era of the university's basketball program that very few others can relate to.
Soon, conversation turns to Jack's son John, the NBA Hall of Famer who like his dad grew up right next to the school. This is where McGinn says the foundation of Gonzaga's dominance was built.
"Along comes this kid from the neighborhood, which is amazing, and turns out to be a Hall of Fame point guard and one of the best to play the game," says McGinn.
"The best," says Stockton.
It's McGinn's theory that it was here that Gonzaga basketball began creeping into the national college basketball consciousness.
"Every time John's dribbling the ball, and every time he went up and down the court, there would be a reference to Gonzaga. So now there's a reference to Gonzaga every week on TV. As he became the player he became, it became a continuing advertisement for Gonzaga," says McGinn.
Still, this didn't translate into sustained success. It might have laid a foundation for what was to come, but Spokane had yet to fully embrace their Zags.
Across the street, Bob Finn, the Gonzaga alumni director, is sipping a beer inside Jack and Dan's. The place is about half full, and Finn seems to know just about everyone, who, just like him, are wearing the requisite navy-and-red Gonzaga gear that's all but required this time of year at the bar.
While everything about the school and its basketball team has gotten bigger, sexier and slicker, the small-town feel of Jack and Dan's remains. The students will likely flood in and the music volume will increase later that night, but during the afternoon it's as much of a neighborhood hangout as you're likely to find in Spokane.
Finn transferred to Gonzaga from Eastern Washington University to play baseball in the mid-'80s and became the second president of the Kennel Club. It was not the organized swirl of a thousand highly devoted and organized kids in matching shirts that it is today. Then, it was Finn, his baseball teammates and a couple dozen others — totaling maybe 50 or so, all of them men — who'd meet up for beers before the game and then unleash a torrent of insults upon visiting players.
It was fun, he says, but the team was never amazing during his undergrad years.
"I'm not sure if we were ever much over .500," says Finn. He motions across the restaurant, and shouts — "Hey, Jeff! What was your record your senior year?"
Jeff Condill, a standout guard who graduated in 1986 and is now a co-owner of the bar, thinks for a bit.
"I think we were 17 and 15," he says.
He's close; they went 15-13 that year. Still, Finn says, it wasn't anything like it is now, and there was no sign that the program and the Kennel Club could become anything other than just something to occupy their time.
"There was no premeditation that this was going to be anything. We just thought it would be a fun thing to get us through the next few years of college," says Finn.
But looking back, Finn realizes there may have been a less tangible quality about the university that made possible the kind of run that began 10 years after he graduated.
"Did we think it was going to be a big thing? No, but everyone there had a similar feeling. They didn't know what it was about that school, but there was a community there that was hard to explain," says Finn.
The freezing masses huddled in their tents before the BYU game in January talked about that same sense of community. A priest came out at 11 pm and said Mass. Pizzas were delivered. Students emerged from the relative warmth of their tents to hang out en masse in the middle of the makeshift scene.
In all, there are about 2,200 registered members of the Kennel Club. That's about 45 percent of the undergraduate student body and almost a thousand more than the McCarthey Center student section, says club president Connor Cahill. He's put in the time to keep him from needing to camp out on a night like this, managing, along with a board of directors, a student-run group that is now officially part of the athletic department. It's a well-oiled machine, capable of ushering between 600 and 700 students down to the West Coast Conference tournament in Las Vegas this weekend.
"Alumni come back and think about their GU experience and it's the Kennel Club. It's jumping up and down to 'Zombie Nation' and what that means," says Cahill, a senior from Portland who already has a job lined up in the biochemistry field — meaning he has ample time to devote to this program in his final semester.
"Zombie Nation" refers to the techno song "Kerncraft 400" that has become a staple of the Gonzaga pre-game ritual. It's as impressive as anything you'll see in college basketball. A coordinated dance full of jumping, deafening stomping, and arms-over-one-another swaying, it's perhaps both intimidating and odd, and maybe corny, to an outsider. But to students, it's an encapsulation of how this program has created a community within the student body, and vice versa.
Few has said that the student body's efforts give the Zags an eight-to-10-point advantage, and opposing players and coaches might agree. The power of the Kennel Club is something that has taken on an almost mythical reputation. But perhaps for good reason — the students travel well (including contingents at games as far away as the brutal one-point loss to Butler in Indianapolis in January), can be deafening, and truly feel like they're part of this phenomenon. After they graduate, they come back as the sort of dedicated alumni who continue to bolster the school's athletic programs.
But the Kennel Club, or any other student section for that matter, doesn't win games. That's about as bluntly as Jay Bilas, a longtime ESPN basketball commentator who hosts the network's weekly College GameDay show, puts it.
"I know [the Kennel Club] has a lot of fun and they're really into it. Now I'm going to be unpopular saying this, but I don't think fans can influence wins like that. Also, I don't recall fans ever taking responsibility when we lost. I'm of the opinion that crowds are part of the atmosphere," says Bilas.
The wins, he says, happen down on the court.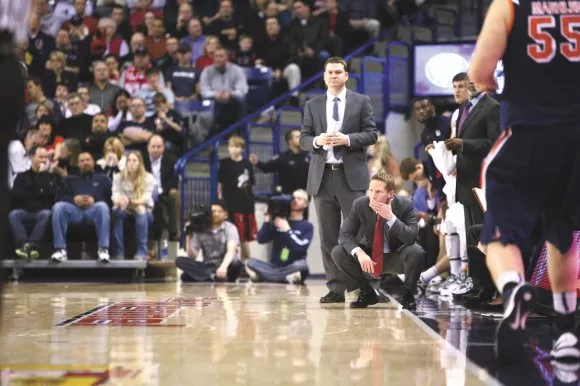 On the last Monday in February, after a pair of blowout wins against Santa Clara and San Diego, Few is standing, arms crossed over a long-sleeved Gonzaga T-shirt, looking out as his players shoot around before practice. Reporters are asking at the time how it feels to be the second-ranked team in the country, and he's giving boilerplate responses about how they've earned it and how it's nice to get the recognition. From the court, a shot goes awry and the ball rolls his way. Arms still crossed, still talking to the reporter, he gives the ball a kick. It lasers to the chest of senior forward Guy Landry Edi, who catches it.
"Niiiiice," Edi says with a smile at the coach who recruited him from a junior college in Texas.
Few doesn't smile. In the style fans have become familiar with during the past 14 seasons, he's stone-faced, always with an eye out on the court as he fields a few more questions about what it means to be ranked this high, and to have accomplished yet another first for a coach who has spent most of his career exceeding the expectations of those around him.
"He's one of the best coaches in the country. I'd put him up there with anybody," says Bilas.
Few, already a longtime assistant coach by the time he took over from Monson after the Zags' 1999 Elite Eight run, has won about 80 percent of the time, while facing an increasingly tough non-conference schedule. He's also a successor to the late coach (and athletic director) Dan Fitzgerald, who former players and coaches credit with helping to establish the culture that surrounds the program. If you talk with former and current Gonzaga players, they'll describe what sounds like a lifelong fraternity from which most players never seem to stray too far. This is one of those intangible elements that goes into Gonzaga's victory soup — players like the other guys around this team, in the same way that fans are attracted to the players.
Despite all the on-court success, the WCC dominance, the NCAA tournaments, the Sports Illustrated cover stories, Few says one of the things he loves most about what's happened at Gonzaga is the fact that so many of his players never drift too far from this program.
"It means everything to me. That's probably the neatest aspect of the job — having ex-players feel so good about their experience that they come back here to settle down and start their careers here, and basically spend their life here," says Few, taking his eyes off the court for the first time.
"That means everything to me. What that really says is how well they're treated in Spokane, and that says everything about this community," says Few.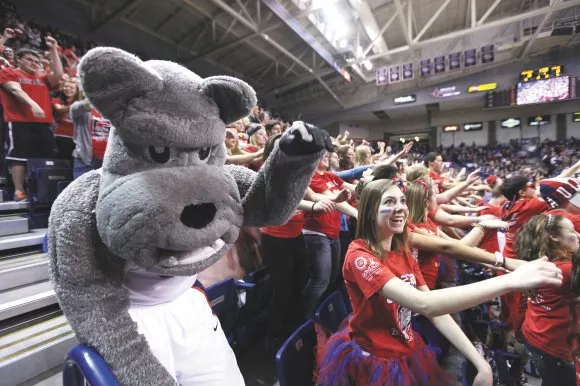 On a recent Saturday afternoon, two of those former players who came back to Spokane are coaching their 7-year-old sons' basketball team. Dan Dickau, the All-American point guard who played six seasons in the NBA, is sitting on the bench, giving the sort of high-fives and back slaps that were undoubtedly ingrained in him during his playing career. Out on the court is Jeff Brown, wearing a Gonzaga warm-up jacket and looking every bit of the 6-foot-9 he used to become the 1994 WCC Player of the Year, scoring 21 points per contest for a team that won 22 games. But on this particular afternoon, there are no fouls, no traveling and they don't keep score. Brown is out there pacing the court and reminding the kids they have to dribble.
Now the executive vice president of sales of Next IT, a Spokane-based information technology company with 160 employees, Brown has remained very much in the fold of the Gonzaga family, but he's still surprised sometimes by how much has changed since his playing days.
"Mark Few, at that time, was a grad assistant and making, I think, $1,500 a year and teaching tennis classes. My wife actually took a class from him," says Brown with a laugh. "The types of guys they're recruiting now are far more talented. But to also see that Kelly Olynyk was named a first-team academic All-American is special stuff."
Former Gonzaga players work for the university, they're lawyers, they run businesses, they call the radio and television broadcasts, and many find other ways to remain visible and influential in the Spokane community.
"[Former players] like being around the program, and they had a phenomenal experience living in Spokane," says Brown.
Olynyk, a Canadian 7-footer who took last year off to develop his game and returned as one of the country's most effective offensive players, has come to understand the university's relationship with its city.
"The community has really rallied around the program and the program has brought life to the community, so it's a mutual relationship that's really working in a place like this," Olynyk says.
This might all just sound like flowers-and-rainbows, feel-good stuff — and maybe some of it is — but there's a more pragmatic side. Former players, many of them playing professionally or still maintaining a strong skill set, need a place to work out in the summer, and that benefits current players. In the early days of Gonzaga's NCAA run, John Stockton was still playing for the Utah Jazz and would go toe-to-toe with active players, shaping the game of many of the school's skilled point guards a decade ago. It's still happening these days.
"In the summer we'll have 10 guys playing here. You get experience against guys who are playing at the NBA level and get tips from them," says Gonzaga guard David Stockton, John's son and a fourth-generation Gonzaga student.
Few knows the impact these former players have made. The way he puts it, his intent is to create a team that's much larger than the names listed on the roster.
Bilas, a guy with firsthand experience with nearly every currently successful basketball team in the country, says the type of players and people who come out of this school has become one of the program's best selling points.
"The coach is the most important part of any program, but what sells Gonzaga better than anything is the players. When you visit there and get to know these guys, that's one of the biggest attractions," says Bilas.
People want to know how this happened. Coaches and athletic directors around the country are wondering why they don't have students camping out before games, and why they haven't sold out every single game since their arena opened. They want to know why they can't forever shake the dreaded "mid-major" tag and make a run that spans two decades and places their team logo on the rear windows of half the cars in their city.
"There are other really good coaches out there, and really good programs, but to expect that other people can do this is like to say that everyone needs to be John Wooden," says Bilas over the phone from Milwaukee, where he's about to call a Marquette-Syracuse game. "It would be folly to say there's a secret sauce they're using to accomplish this," he says.
Even for a former Zag like Brown, the basketball program's accomplishments and the growth of its fan base is still something that inspires awe.
"This became something that went from lightning in a bottle to the brand of Gonzaga being America's team, and walking through airports in Chicago and seeing a Gonzaga basketball hat. This has fundamentally changed. This was not a one-hit wonder," says Brown. "At the end of the day, now this is something that's unprecedented."
It may be unprecedented, but that doesn't mean everyone has accepted the fact that a team like Gonzaga could be No. 1. Zagmania is not universal. In fact, you don't have to get too far away from Spokane (or in Spokane, sometimes) before the bubble breaks and dissenting voices pour in.
"FYI Gonzaga is Notre Dame Football 2012 — only difference is we have a tourney #noonethinkstheyarethetrue#1," tweeted CBS basketball commentator Doug Gottlieb the day after then-No. 1 Indiana was thumped by Minnesota, opening the door for the Zags to rise to the top spot. He's referring to how Notre Dame was ranked at the top of the BCS, only to be destroyed by Alabama in a championship game that revealed the Irish probably should never have been ranked that high.
Another CBS commentator, Seth Davis, went a step further, claiming that Gonzaga shouldn't even be a No. 1 seed, even if they are No. 1 in the polls going into the NCAA tournament.
Others, like Grantland writer Mark Titus, a former Ohio State benchwarmer and author of the ESPN offshoot's Top 12 NCAA Power Rankings, acknowledged the backlash that Gonzaga gets from its critics. Titus, who hilariously has referred to Gonzaga as "the Foreigners" all season in his column, wrote this in defense of Gonzaga: "You remember that friend growing up who would turn off video games at the last second when you were beating him so that he could say that you didn't actually win? That's what America is doing to Gonzaga right now. 'Nuh-uh. You can't be the best team in the country because, um, because it's just not fair!'"
A lot of college basketball fans are probably saying this, but critics have some ground to stand on. Gonzaga doesn't play in a major conference, and the conference they do play in handed them some serious blowouts this year. They don't always look as flashy as the teams ranked below them, and some think they get more national media attention than they deserve.
Those statements are mostly true. But those are also the factors that make Gonzaga what it has become — the No. 1 team in the country.
But given the sort of expectations that Gonzaga fans have built up over the years, there is still plenty to prove. Despite continued success, the Zags haven't made a deep run in March since that first magical year. They've never reached the next level of recognition that allows them to be mentioned alongside the Dukes and North Carolinas on a consistent level without starting an argument. No matter how beloved this program is by its students, its city and its fans, there's a sense that there's more work to be done.
A visibly exhausted Few acknowledges this as he sits courtside in Provo, Utah, after the Zags squeaked past BYU last Thursday night. It was a slugfest — sometimes quite literally — marked by poor shooting on the Zags' part and a high level of emotion amplified by BYU's sell-out, boo-at-everything crowd. To raise the stakes, third-ranked Duke had just lost at Virginia, arguably leaving the No. 1 ranking for Gonzaga to grab with a win.
With the ESPN headset awkwardly draped over half his face and speaking with former-coach-turned-commentator Bruce Pearl via satellite, Few was asked what this season has meant to him.
"We've done a lot over the years at GU. The only things we haven't done are get to No. 1, get a one seed and win 30 games," he says. "Maybe it's time we start crossing some of those things off the list."