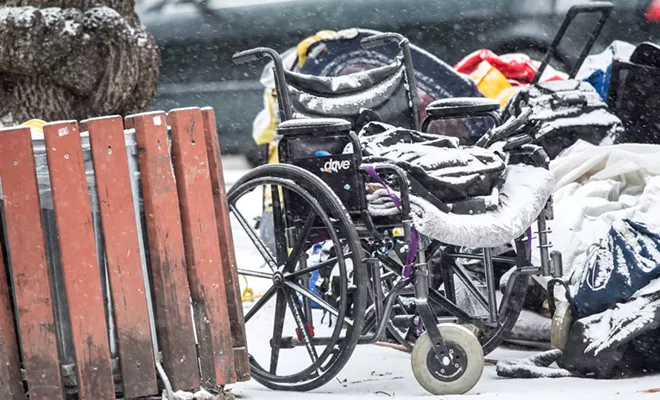 A
s the local shelters fill up in the cold weather
, it can be hard for service providers and people who are homeless to know where they can find an open bed. That information becomes even more important in a city like Spokane, where sitting or lying on public sidewalks is illegal if there is shelter space available.
That's why the city says it will soon have an online tool available that will share that information.
"The city is finalizing an online platform where this information will be accessible to the public," says Kirstin Davis, a spokeswoman for the city of Spokane.
The tool, which has been in the works for over a year, is projected to be ready by the end of the month, Davis says. Currently, shelters and warming centers send in reports on the space they have to the city's Homeless Management Information System. Those reports are taken after 9 pm, after check-in at the shelters. The information is then shared with on-duty police officers.
Right now, it's not currently shared with the public, and that can lead to confusion about shelter space availability. Eastern Washington 2-1-1, a free line that aims to provide information about local resources, doesn't receive the same reports on bed space that police do. Its nightly reports often vary greatly from the information the city uses.
Councilwoman Lori Kinnear says that the City Council has inquired about the data on when shelters have been full and when they haven't been full. She says that she's aware that the data the city is reporting internally and the data publically shared on the E
astern Washington 2-1-1 Facebook
page are contradictory.
"That needs to be fixed," Kinnear says.
Julie Garcia, executive director of Jewels Helping Hands, which operates a warming center on 527 S. Cannon St., says a tool posting accurate information on available bed space would be "imperative."
"People out on the street are getting the worst information, because they don't really know if there are beds available," Garcia says.
Right now, she says, Jewels Helping Hands tries to do that by calling shelters each night and updating a Google document it shares on social media. Garcia says it would be useful if the city posted its own information.
Yet, it's unclear how accurate that information would be in real time. The city's data on available shelter space since November, provided to the
Inlander
, shows that throughout the shelter system, there's been open bed space for all populations each night since Catholic Charities opened its warming center for families in December at its Rising Strong campus. The warming center on Cannon Street, meanwhile, only has been full a few nights since mid-December, the data says. But Garcia calls those numbers into question.
"We've been full almost every night," Garcia says.
Garcia says that may be because people come in after check-in time so they wouldn't be counted in the report to the city.
The city's Homeless Management Information System and IT department are still trying to work out final details before the online tool is available. Davis says the goal is to integrate and streamline the information so it doesn't burden services providers.
"If the tool is saying there's three beds open, and someone goes there and it's incorrect, that creates another issue," Davis says. "We're trying to make sure it's accurate and timely."
But for the service providers, it can't come soon enough. It would allow operators like Jewels Helping Hands to quickly know where to refer people looking for shelter. Garcia, preparing for another full night as a winter storm hits the area Friday night, says she could use that kind of tool today.
"I can tell you now," Garcia says. "I have more people than I'm going to have beds for."
Staff Writer Daniel Walters contributed to this story.