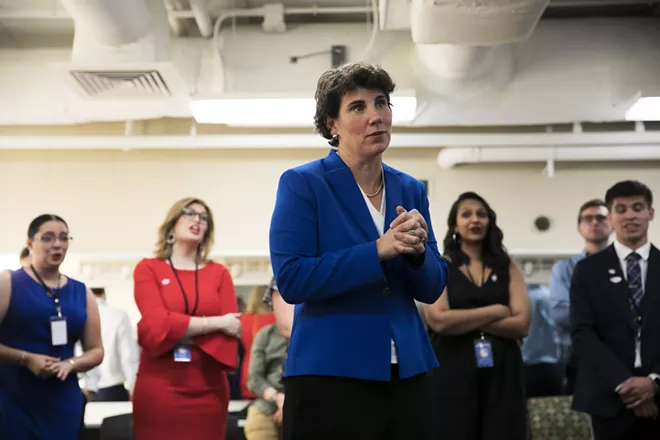 By Matt Stevens
New York Times News Service

A
my McGrath
, a retired Marine lieutenant colonel and combat pilot who is seeking to unseat Sen. Mitch McConnell in 2020, raised $2.5 million in the first 24 hours of her campaign, her campaign manager said Wednesday.
The fundraising haul eclipsed the first-day totals raised by some heavyweight contenders in the presidential race, including Sens Kamala Harris and Elizabeth Warren. It suggests that McGrath retains some of the star power she harnessed during her failed bid last year to capture a House seat in Kentucky.
It is also an indication of just how badly Democrats want to oust McConnell, the Senate majority leader.
In a brief telephone interview on Wednesday morning, Mark Nickolas, McGrath's campaign manager, said the $2.5 million she raised was the most ever in the first 24 hours of a Senate campaign. The donations came from roughly 69,000 donors who contributed an average of about $36 each, he said.
A spokeswoman for the Democratic Senatorial Campaign Committee confirmed that McGrath's first-day total was believed to be a record. Former astronaut Mark Kelly raised $1 million during the first day of his Senate campaign in Arizona earlier this year.
McConnell's fundraising prowess is also formidable. In his 2014 reelection campaign, he spent more than $30 million and won by more than 15 percentage points. McConnell's team has already raised $11.2 million this cycle and currently has $7.9 million on hand, the campaign said Wednesday.
"It looks like it'll be a long campaign," Nickolas said.
McGrath, 44, announced Tuesday that she would challenge McConnell, 77, and released a scathing video in which she placed the blame for dysfunction in Washington squarely on his shoulders.
"Everything that's wrong in Washington had to start someplace," McGrath said in the video. "It started with this man who was elected a lifetime ago, and who has, bit by bit, year by year, turned Washington into something we all despise."