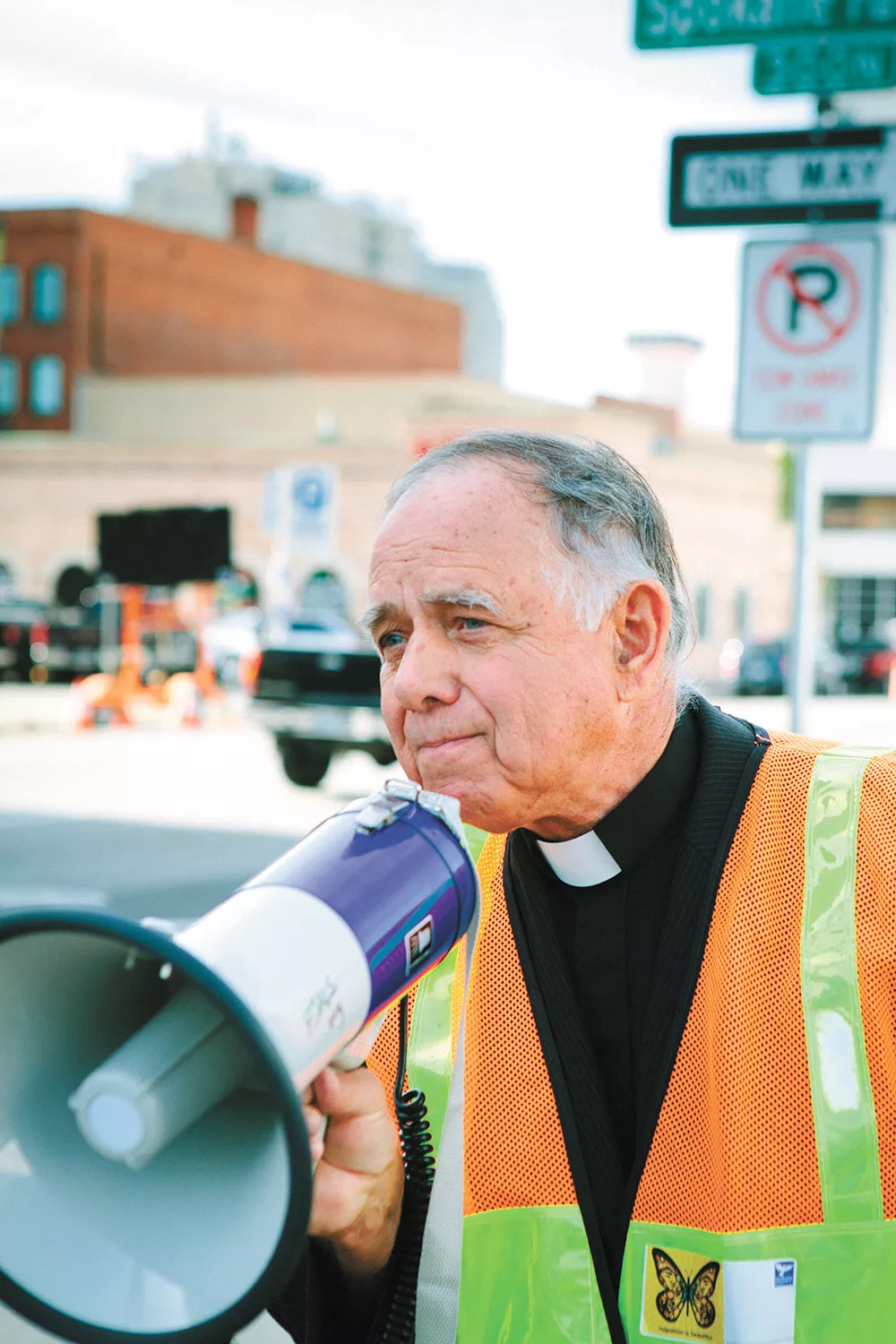 A reverend, a nurse and career activist walk onto the railroad tracks in east Spokane. They know it's illegal. There are "No Trespassing" signs posted all over the place, but they don't care. The cops show up and tell them to leave. But they don't.
Rev. George Taylor and the other climate rebels were arrested, as were a gaggle of elderly women, known as the Raging Grannies, about a month before in 2016. All were charged with misdemeanor trespassing, and that's exactly what they wanted.
The six lawbreakers, all over 70 years old, stood on the railroad tracks to protest the coal and oil carried by train through Spokane and their contribution to global climate change. They'd tried everything they could think of to combat global climate change, voting for "green" legislation, meeting with lawmakers and delivering petitions to Republican Rep. Cathy McMorris Rodgers' office, for example. The judicial system was a last resort.
All but one have taken a plea deal. Taylor, the only hold out, has been fighting for the ability to tell a jury that his crime was necessary in order to prevent greater harm, an uncommon legal strategy with mixed results.
Recently, Spokane District Court Judge Debra Hayes issued her written ruling allowing Taylor to use the so-called "necessity defense." In her ruling, Hayes cites other courts that have allowed the legal tactic.
Taylor's trial was set to begin April 23, but Spokane prosecutors appealed Hayes' decision to allow the necessity defense, prolonging the 2-year-old misdemeanor trespassing case even further, and catching one of Taylor's defense attorneys by surprise.
"It's frustrating for everybody because this case has gone on for a long time," says attorney Rachael Osborn, who is known for her environmental work. "Prosecutors do things like this to try to prevent getting to the merits of the case." (Prosecutors did not respond to a message for comment. In their appeal, they argue that there is no evidence to support the judge's decision.)
Taylor's effort to combat climate change through the judicial system isn't new.
A group of kids living throughout the country filed a lawsuit in Oregon against the United States for contributing to climate change, which they say is a violation of their constitutional rights. In early March, a panel of Ninth Circuit Court of Appeals judges rejected the government's second attempt to have the case dismissed, though no trial date has been set.
In another case, more than a dozen climate protesters using the necessity defense similar to Taylor were acquitted by a judge in Massachusetts. The protesters in that case — one of whom is former Vice President Al Gore's daughter, Karenna Gore — had climbed into a hole dug for a pipeline that would transport fracked natural gas in a Boston neighborhood.
But the necessity defense isn't always an option. In the case of a group of Everett, Washington, protesters, known as the Delta 5, the judge denied a request to argue that their criminal acts were unavoidable, and a jury convicted them. They're appealing the guilty verdict, and the case is currently sitting in the Washington State Court of Appeals.
Taylor is now waiting for the appeal in his case to be resolved. Osborn, his attorney, believes it could be months before the case goes to trial. But it will go to trial, and when it does, she says, a jury will likely decide whether Taylor's crime is greater than the harm caused by carbon emissions from coal and oil.
Part of the testimony, she says, will come from Dr. Steven Running, a co-author of a chapter of the 2014 National Climate Assessment, NASA scientist and University of Montana ecology professor. Running also worked on the Intergovernmental Panel on Climate Change, which shares the 2007 Nobel Peace Prize with former Vice President Al Gore.
Running has already testified in Spokane in support of Taylor's necessity defense. He would do so again at trial, Osborn says.
For Western states specifically, Running says in court, impacts can be seen in earlier snowpack melting and "four and five times as many large wildfires as we [saw] 40-50 years ago."
"Humans have chosen to use fossil fuels for our fuel source in the past," he says. "And we could choose to continue to use these same fuel sources or we could change to other ones that aren't carbon emissions. So this is a choice humanity has." ♦