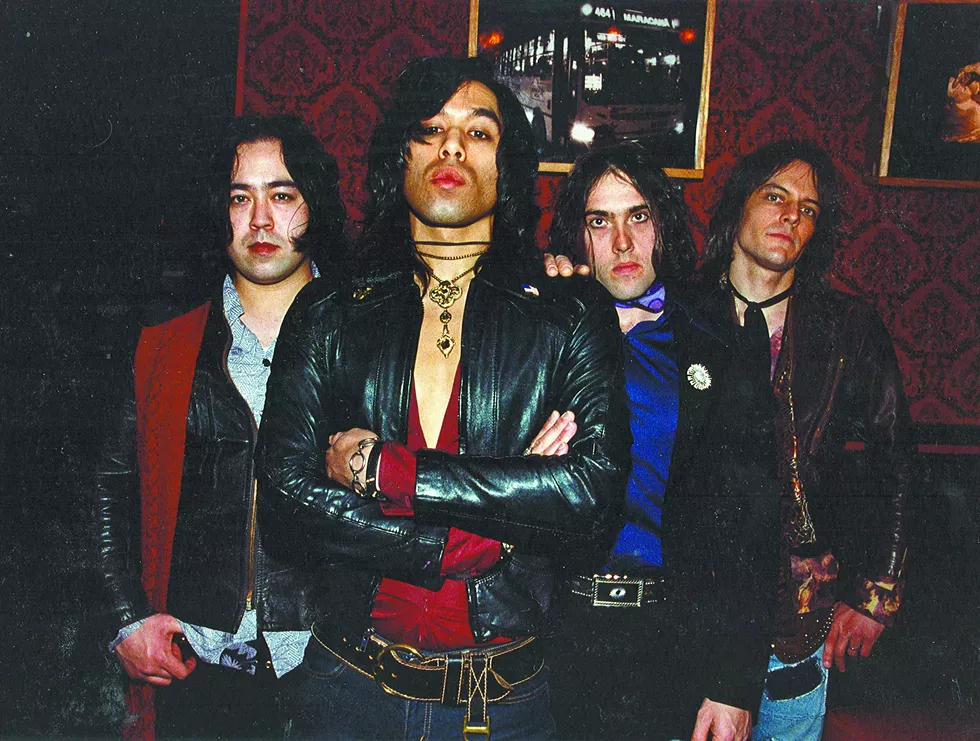 N


ot too long
ago a patron of the bar I tend asked me, "What's the best thing to come out of Spokane?" Without any hesitation — and not realizing he was setting up a joke — I remarked, "the Makers."
I ruined his joke, but he was happy about it.
For the record, the punchline to his question was "Interstate 90," which actually pulled a legitimate "ha" out of me. ("That's funny, man!") However, instead of basking in the glory that comes with a charming one-liner earning a laugh, the man was far more excited to start a conversation about his hometown's legendary and remarkably brash rock 'n' roll band.
The Makers' ferocious incarnation of primitive punk may have very well put Spokane on the map for garage rock enthusiasts in the early '90s. While the grunge infestation was nearing its climax west of the Cascades, the always dressed-to-kill Makers were on the eastern side of Washington state wailing away, celebrating the menacing elements of punk rock to both friends and enemies. The band's immaculate channeling of sinister, no-frills R&B regularly incited both rambunctious dancing and drunken fights at shows.
This year, the band's action-packed debut LP
Howl
turned 25 years old. To commemorate the monumental release, several people connected to the Makers' early days have offered up their perspectives on the band, the album and the legacy left behind.
Michael Maker — vocals
Donny Maker — bass
Tim Maker — guitars (1991-1996)
Jamie Maker — guitars (1996-present)
Dave Crider — Estrus Records
Art Chantry — graphic designer
John Salvo — producer and engineer on Howl
Conrad Uno — producer
B
y 1992, Bellingham's Estrus Records, operated by Mono Men singer/guitarist Dave Crider and his wife Bekki, had established a healthy catalog of garage, punk, trashy R&B and raw surf from bands like the Mummies, the Phantom Surfers, the Fall-Outs, the Mortals and (obviously) the Mono Men. The label also hosted an infamous, semiannual gathering — perhaps a "festival" by today's standards — dubbed "Garage Shock," essentially serving as a weekend-long bender for bands from all over the world to exchange their loud nonsense with one another at the 3B Tavern, a historic punk dive that has since crumbled. The Oblivians, the Cynics, Teengenerate, Guitar Wolf, Satan's Pilgrims, Dead Moon, Man or Astro-Man?, the A-Bones, Gas Huffer and Cheater Slicks are just a handful of the "Shock" alumni.
DAVE CRIDER:
A cassette was dropped into my guitar case at some point at a [Mono Men] show, and it was by a band called the Heymakers. There was no contact information on it or anything. So I listened to it, I really liked it, I said, "This is great," but I had no way of reaching these people. This was pre-internet, so you couldn't hop on your computer and search "the Heymakers" [laughs]. So, [I thought] maybe our paths will cross at some point. I believe it was at least a year, maybe longer, that [the Mono Men] were recording down at Egg [Studios] and somehow [the Heymakers] got brought up. Scott McCaughey [of the Young Fresh Fellows] was there and said, "Oh, I know those guys!"

McCaughey would subsequently inform Crider the Spokane-based Heymakers had not only ditched the "Hey" from their name but also had actually been playing for quite some time — touring, in fact, in their 1965 Pontiac Bonneville hearse.

It should be noted that the concept of "pre-internet" is key in understanding how the Makers' first few releases came about.
MICHAEL MAKER:
We had a single that came out and an EP that came out on Sympathy for the Record Industry maybe a year before or less than a year before
Howl
came out.
Howl
was our first full-length release, but I think just our reputation from playing live shows had already gained us a lot of interest in the band. I think when we just had a single out we did a tour of the States down south and that sealed the deal with our wild reputation. The shows were really raw; they were some of the most sketchiest venues you could possibly imagine. They sort of enticed trouble and shenanigans.
At that point, Long Gone John [the founder of Sympathy for the Record Industry] seemed to be just putting out anybody if they seemed interesting. To this day he probably has never listened to our music [laughs]. At that time I think he just had an overflow of money. … And maybe he had heard about our antics and just thought he would put [an EP] out. But it was very small. He didn't take a big chance on it or anything, I imagine he just printed up a small handful of them. So it's not, often times, regarded as an actual release. I think it came out near the same time as the "Here Comes Trouble" 7-inch.
I do recall Dave [Crider] getting a little upset about it in his way, kinda surprised. But he didn't know what was going on. Back in those days it was so Old World that you would just send in a reel or a cassette tape. You would literally just mail in a tape then they would have it pressed into vinyl. So, I don't think any of us really knew if anything was actually gonna happen. It was so new to us. I don't think we realized that there could be some conflict of interest by working with two different record companies at the same time. And Dave knew that. He knew we were just kids and had no understanding of the business. There were no contracts.
DONNY MAKER:
I don't think of the Sympathy record was our first.
Howl
was our first. That's how everybody thinks about it.
Drama aside, the big picture to an outsider revealed both Estrus and Sympathy were captivated by the artillery of ruckus bared by the Makers. There was a distinct element of danger that came with the Makers and their music. While the widely accepted recipe of rehashing influences of the 1960s seemingly worked for revival acts like the Fuzztones, nostalgia alone could not wisp the Makers away from their dark surroundings. The distaste for the social limitations in a blue-collar city like Spokane was too real and too substantial to be ignored.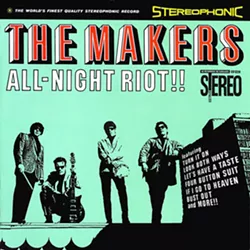 MICHAEL MAKER:
We were people who were enamored with the past. That's a dangerous thing because anything in other times seems better than what's in front of you. We spent all of the '80s and '90s just trying to be in the '60s. That makes what's in front of you really pale in comparison. [The '60s era] was such a vibrant and colorful time and it just can't be matched.
JAMIE MAKER:
The downtown [Spokane] clubs were full of cover bands — bands that were playing Top 40 whether it was actually pop or metal or whatever. It was just radio bands. There weren't really any places for original bands to play.
DONNY MAKER:
We wanted to be the fancy guys who were tough, like a gang almost. We had to fight. We had to fight hard because everyone was stuck in their ways in Spokane. When we played, people were kinda happy but also kinda scared.
We never thought of our [early] sound as being defined by taking ['60s] music and trying to bring it back. We were just punk rock. That's pretty much all we could make.
TIM MAKER:
We were listening to a lot of Animals, British Invasion blues stuff, and getting into a lot of the more obscure '60s stuff like the
Back from the Grave
and
Pebbles
comps. There was a weird shop here, it was half porn shop, half record store called Bobo's. [There would] always be something good playing when we'd go in there. Everything was really cheap so we spent a lot of time there getting records. … Everything you need in one place! But we were too young to go into the porn section at that point [laughs].
Equally as fascinated by the obscurities of the 1960s and punk ethos of the '70s and '80s was iconic Pacific Northwest graphic designer Art Chantry. A combo like the Makers represented a perfect match for Chantry. The Seattleite's works have traditionally emphasized suggestive and vexing visual expressions caged by bold colors.
ART CHANTRY:
[In the 1960s], so many bands released so many records during so short a period of time that nobody has ever managed to do a full accounting. Even now, more and more lost singles are emerging in attics and thrift stores. The majority of these bands were literally practicing in their parent's garage and playing local dances at the high school. They would manage to scrape up enough money to release a single… and that was that. Most of them never got sold and [were] tossed out over time. That scratchy little 45 you found in a thrift store for 10 cents may be be the only surviving copy of that band's single. And you know what? A huge number of those crummy little records we really good; wonderful bursts of pure punk mayhem. … The Makers' entire effort is built around that music source. They avidly collected that stuff and listened and learned.
These guys were the savviest purveyors of mid-'60s teen-beat and garage-rock I had met. They were familiar with every single recording by every single band [and] were incredibly knowledgeable about American trash culture. In fact, their appearance reminded me of ? and the Mysterians.
The recording session for
Howl
was done at Jellotree Studios, engineered by John Salvo. For the band, laying down tracks in the converted warehouse studio with a friend was an ideal setting for the type of noise that was to be tracked.
JOHN SALVO:
I mic'ed the PA with an old Shure Vocal Master. … Since they all had vintage guitars and vintage amplifiers, I made sure that I used all vintage microphones. … It was a 16-track recording, but I don't think we used all of the tracks.
MICHAEL MAKER:
I wanted to sound like demo recording of a garage band. Not even an official release by an unknown garage band of the '60s. I wanted to sound like their reel-to-reel demo before they went in and recorded their horrible, produced version that was to be released on a horrible, independent label for no one to ever hear [laughs]. I think it was impossible for anyone to understand that. All you could sometimes say was, "Just make us sound shitty."
TIM MAKER:
[
Howl
] was recorded in two or three days. … [The studio] was in a warehouse so there was a lot of natural reverb on there. On some songs Michael [sang] in the hallway to keep our PA from feeding back.
JOHN SALVO:
There's a shaker sound on the record. It was actually a whiskey bottle full of popcorn. That was just this thing that they had with them.
Howl
's artwork, done by Chantry, yielded a high-contrast, black and red photo of the band underneath the album's title. Using only black, red and yellow, the retro blend looks like an early Dave Clark Five album but with unavoidable peril.
ART CHANTRY:
Howl
in particular established the blueprint of my work for Estrus. Between the look and style of three specific bands on the label [like] the Mono Men, the Makers and Man or Astro-Man?, I built the retro-inspired look and postmodernist style of the that underground world. Granted, I didn't do it all by myself; every project was a direct collaboration with Dave Crider and the band's personalities themselves. Everything about a cultural scene is about community. That was something people like the Makers instinctively understood. Maybe it was because they grew up in a community like Spokane, where neighbors still worked together to accomplish important things.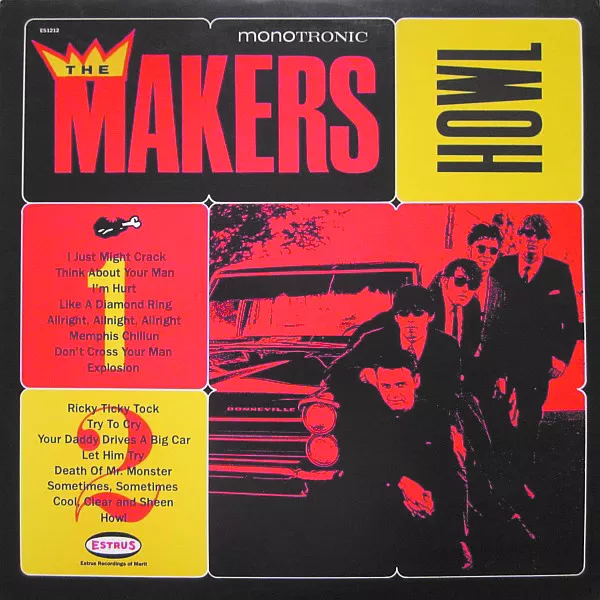 MICHAEL MAKER:
I don't think we were very conceptual with the band, we just jumped into it and did it. We kinda jumped into the fire before we were even good at it. Most of us had never picked up an instrument before until we started hanging out with each other. It turned out to be a very honest, authentic thing even though honesty and authenticity were things that we weren't really going for. I think we wanted to get wild and make music — there's nothing cooler than making music.
There was a thing back then about being confrontational and being in opposition to anything that was successful or good. And, that was kind of our only power. … We weren't hobbyists who just wanted to make some noise.
TIM MAKER:
A lot of people took [the Makers' image] very seriously and thought we were a gang. It got a little ridiculous around here.
ART CHANTRY:
Howl was also special because it was the crossover place between garage rock, grunge and beat culture. Everything about the cover spun off that axis.

Of course, there was life after
Howl
. A lot of life, in fact.

For Estrus, the band would release five more full-length albums before moving to Sub Pop Records in 2000. If
Psychopathia Sexualis
, the final album for Estrus in 1998, hinted a desire to grow into a more developed rock 'n' roll sound, the two albums on Sub Pop confirmed the musicianship within the band had blazed past the unspoken three-chord limit for garage rock.
MICHAEL MAKER:
We actually wanted to convey something and spend some time in the studio. We wanted to create a sound. There was a sound before, but it was a byproduct of the people we were.
Both Michael and Donny Maker cite the addition of Jamie Frost (Jamie Maker) as inspiring everyone in the band to become better musicians and to work harder.
DONNY MAKER:
When Jamie came on, that's the best we had ever been. … We were so professional and perfect. And we all thought, "F—-, we better step up our game."
For Jamie, it's almost like he doesn't care about anything else but playing. And that really rubbed off on us.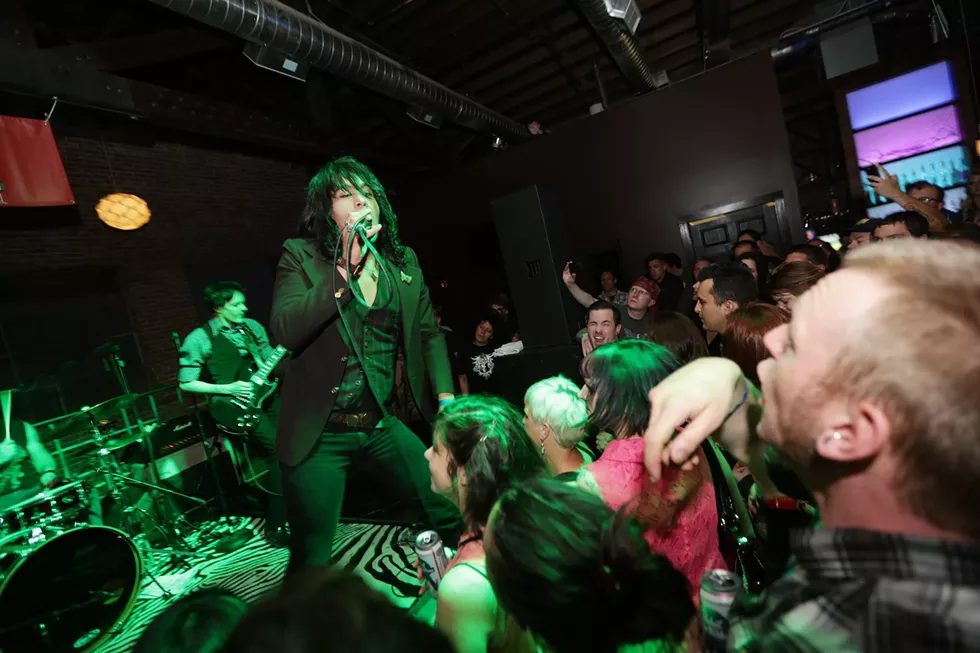 The last two records released by the Makers came out through the then-Olympia-based Kill Rock Stars label in 2004 and 2005, respectively. Since then, live performances have been few and far between. "Reunion" shows may occur for a "special occasion," or if all the members "happen to be in the same city," according to Michael, who now resides in Tacoma after stints in Portland and Seattle.
MICHAEL MAKER:
I kind of like — and also dislike — the fact that we're overlooked. We were always the bad boys. We were always troublemakers, especially amongst our own scene. We were never part of the scene that tried to embrace us, we were pushing away from it. For a long time we would be billed as "the kings of garage rock." But immediately after being labeled "garage rock," we wanted to be unlabeled that! There's something that is very confrontational about us as human beings and not wanting to be part of any sort of scene or group.
We didn't play well with others. To this day, that still makes us a bit dangerous to the people who are now writers and people who are crafting a version of history. We were very highly regarded in our day … and dangerous … and vital … and essential, but you wouldn't necessarily know that when you read books about the time period. They still try and downplay our role because they're still a little bit chaffed by our behavior.
In hindsight, the music was true to the people we are. There's a lot of comedy, there's a ton of aggression, there's a dash of violence. … Sometimes I'm impressed when I listen to that old stuff 'cause it's just so primal.
CONRAD UNO:
[The Makers] are a classic example of people who seem, at first glance, to be assholes. But then later they actually turn out to be very interesting and real people. Good guys and musically a great outfit. I probably got to know Michael the best and find him to be a fascinating and enjoyable character who I'm proud to call my friend.
ART CHANTRY:
The Makers' legacy is one of quintessential DIY entrepreneurship and creation. They helped kickstart a music scene that blanketed the world and they were one of the major touring stars of that world. They helped launch a thousand ships and they defined the aesthetic of that scene maybe better than any other band involved. They were originators and movers and shakers of that world.
JAMIE MAKER:
Most of the people that I have talked with are really surprised to learn things about the band — like how many albums we put out, or that we've been to Japan a couple times. … I think that there's one quick takeaway that people have with the Makers: "Oh, that's the garage band that likes to get in fights." And that's just a small part of the story.
TIM MAKER:
It is weird that there is so much attention given to many other bands that were contemporaries, that we played with, or that opened for us.
In the opening scene of the 2012 Mudhoney documentary
I'm Now
, frontman Mark Arm says, "Anytime you're playing music for the crowd instead of yourself, you're f—-ed." This sentiment is an immaculate mantra for the Makers' career. The band clearly had all the right tools to be rock stars, but "gain popularity" was nowhere to be found on their bucket list. Perhaps a parallel can be drawn to the dark, satirical comedy of Lenny Bruce, a no-bullshit visionary unmoved by the success his one-liner-joke contemporaries were experiencing in the late 1950s and early 1960s.
MICHAEL MAKER:
It's got to be a mutual thing for me, it always has been for us, and it should be for art. It's sad it can't be that way anymore because everyone's full of shit now. The word "authenticity" now is just something to be crafted. … I don't think the audience wants anything authentic anymore, they want a version of it. … They want something that appears authentic because no one wants to be challenged, nobody wants discomfort.
DONNY MAKER:
Nowadays [popular] music is the same. Everything is a derivative. There's nothing original under the sun anymore.
Many of those acts associated with the early '90s, anti-grunge, blues-punk club circuit are getting a second life thanks to hybrid revival festivals like the California Burger Boogaloo. Or, some bands are reaping the benefits of simply having their names dropped by today's rock 'n' roll superstars like Jack White. While it is undeniably encouraging that several of these influential bands — many of whom barely survived a U.S. tour a quarter-century ago — are finally getting their contributions and efforts validated, there is arguably an injustice placed upon the bands who don't want to pretend it's 1993 all over again.
MICHAEL MAKER:
You know when something is real. A lot of people want that masquerade. [If] the Mummies are playing, [the audience] wants to be fooled. Most people are more comfortable with that. We don't even get asked to do that stuff because we don't play along, we never have. We always thought we were doing a new thing, we always thought we were doing our thing. I mean, it would be fun to do that stuff, but to me, it's also very sad. These old guys with their tech jobs all of a sudden getting in their old costumes pretending to be crazy, pouring a beer on their head. … It makes me sick to my stomach. … But it just shows you that the audience wants to be fooled. They want to play a safe game. We've never been a safe bet. We've always been trouble.