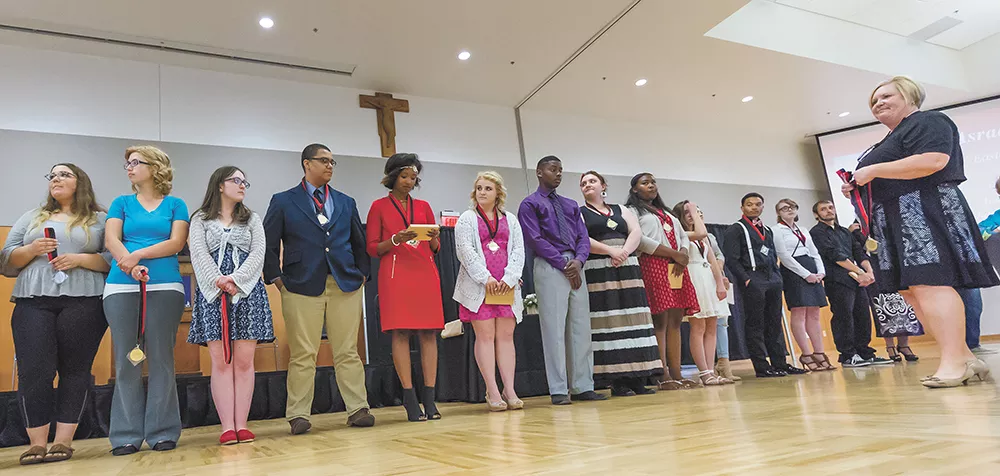 I saiah Flick didn't think much about graduating from high school as a kid, let alone college.
There were times when he wanted to give up on school. As a child, he moved from home to home, never knowing his father, and taking care of his little sister while his mom worked for the little money they had.
"I just really wanted to give up and say I can't do this anymore, like all this stuff's hitting me too hard," Flick says.
Then he realized he needed to change, and that he wanted to do something more than being another dropout high school student, or ending up in prison, he says.
He will graduate from Rogers High School this year and attend Central Washington University this fall. Last week, he was one of 60 students from Rogers and North Central high schools who were celebrated at a "First in Family" ceremony for kids who are the first in their family to graduate high school and go to college.
But for many of those students, the hardest part, college, hasn't even started. Nationally, according to the U.S. Department of Education, there's a wide disparity between graduation rates of first-generation students and students whose parents graduated from college. Only about one in four first-generation students attain a bachelor's degree within six years, compared to more than half of non-first-generation students. Of first-generation students who are considered low-income, just over 10 percent earn a bachelor's within six years.
These students have multiple factors working against them. They typically carry more of a financial burden, making them more likely to work while attending school. And many go to college not knowing how to navigate the college system, or not knowing where to turn to when they have a problem with things like course enrollment or financial aid.
"It doesn't matter if you're valedictorian or top of your class, because that transition is really tough [for first-generation students], and oftentimes you just don't have anybody at home," says Nicole DeVon, a counselor for Eastern Washington University's American Indian Studies Program. "Whatever seems to be happening, their parents can be proud, but they can't really relate."
Local colleges, both public and private, have made helping these students a focus through a variety of programs and scholarships. And while graduation rates locally may be better than national rates, school officials agree there's more work to be done.
Luci Loera, vice president for access, equity and achievement at Washington State University, says the challenges many first-generation students face go deeper than their will to graduate. Many times they don't have a plan, and don't know where to go for information.
"For many first-generation students, in high school, their goal was to get into college," she says. "In college, we have to have those discussions and conversations and help them plan out and map their next step, in terms of their career."
At Washington State University, about two out of every five freshmen are considered first generation. The gap between six-year graduation rates is about 6 percent for first-generation students (63 percent) and non-first-generation students (69 percent).
While public universities have programs in place to help low-income and first-generation students, the difficulty is that there are more of those students to serve.
Take, for example, Eastern Washington University's Eastern Advantage program. First-generation students can qualify for a $1,500-per-year scholarship for tuition, and meet at least twice per quarter with an advisor who can answer questions about the enrollment process. But the program only serves about 250 students per year, not even a third of the first-generation students who enter school every year.
EWU has the highest rate of first-generation students of any local university — more than half of incoming freshmen this year would be the first in their families to earn a college degree. The graduation rate for low-income, first-generation students within six years is 38 percent, eight percentage points below the rate for all students.
Heather Page, director of academic advising at EWU, says that expanding advising for these students is crucial: "I've been told that the number of advisors serving undergraduates had not changed for over 10 years, but our student population has nearly doubled."
Page says EWU will be expanding advising services soon.
"That is the biggest thing, is being able to rearrange and do that on a bigger scale," says DeVon, the EWU counselor. "Because there's already programs like ours that are doing it on a small level. We've gotta do it on a bigger level."
First-generation students are more likely to choose a public college over a private college, despite research suggesting they would be more successful at private institutions. According to a 2011 study by the Higher Education Research institute at UCLA, first-generation students are 14 percent more likely to graduate at a private university than a public university.
Whitworth University has graduation rates for first-generation students over 60 percent, says David Garcia, assistant dean of student diversity, equity and inclusion. He says that smaller colleges and universities are sometimes better equipped to help first-generation students.
"First-generation students come in without the GPS," Garcia says, adding that other students are more naturally able to navigate the college system. "For first-generation students, there are unspoken rules that nobody has shared with them."
At Gonzaga University, the most recent numbers show the graduation rate for first-generation students is 83 percent, slightly below the 84 percent graduation rate for non-first-generation students.
Those strong numbers, says Gonzaga social justice and outreach program director Sasha Gibson, are due in part to mentor programs for first-generation students. BRIDGE — Building Relationships in a Diverse Gonzaga Environment — connects first-generation students with counselors for an easier transition to college. Another program, LEADS — Leadership, Education, Academic Development, and Success Skills — matches incoming first-generation students with an older student mentor.
Trang Lynn Tran, 20, who will be a junior at Gonzaga next year, is a LEADS mentor as well as a first-generation college student. She says when she started as a freshman, there were a lot of things that she didn't know.
"I didn't even know the resources available or the questions to ask," she says. "So I kind of took things as they went."
Coming from a lower-income family in Tacoma, she says that one of the hardest parts about going to Gonzaga was the culture shock. People assumed that everyone's parents went to college, and she says it was hard to feel like she was coming from the same place as those students. She says the BRIDGE program helped her with that when she was a freshman. She doesn't think she'd be in school still without it.
"I think one of the best things about being a first-generation student is you're changing the dynamics in your family, and changing the possibilities," she says. "Because for a lot of people in my family, they didn't really think about college, or think about that as an option." ♦