Phil Hough could smell the mountain goats before he saw them. Shrugging off his pack, he looked around the summit. "It sure smells like goats up here." And sure enough, there they were: four of them, white dots in two pairs, lounging on jutting outcroppings of rock across a dizzying ravine.
The goats — hulking, horned and shaggy, with sad-looking old-man faces — are a major attraction at Scotchman's Peak. They even serve as its unofficial mascot. At 7,009 feet, the peak is the highest point in North Idaho's Bonner County and gives its name to the rugged 88,000 acres surrounding it. Vegetation is sparse, and the clammy October clouds run ragged across the summit.
The goats, though seemingly fearless in their surefootedness, live a precarious existence amid the shattered high mountain rocks. "Their mortality rate is 50 to 70 percent in early childhood — from falling," Hough says.
The future of the Scotchman Peaks area is similarly precarious. A proposal to designate it as federally protected wilderness has been stymied for years by opposing interests, ideologies and jurisdictions.
While the western portion of the area is in Idaho, the bulk of the mountainous terrain lies across the border in Montana. Three counties — one in Idaho and two in Montana — would host the wilderness, and it straddles two national forests.
Across those lines are groups seeking to protect wildlife, promote recreation and preserve hunting and fishing opportunities. At the same time, there are mining interests, depressed rural economies that would like to expand timber harvesting, and many residents who would rather the federal government get out of the land-owning business altogether.
Add to all that an age-old rural tradition that sees nature conservation in direct opposition to economic development, and gaining an elusive but vital federal wilderness designation turns into an uphill battle. It's Hough's job to help win it.
An East Coast native with a bachelor's degree in English from Maine's Colby College, Hough chucked a career in hotel management in the early '90s and hit the trail — literally. Since that time, he has paddled the Yukon River and hiked the Pacific Crest, Appalachian and Continental Divide trails. In 2002, he arrived in Sagle, Idaho, a nebulously defined forest town south of Sandpoint, and it wasn't long before he discovered Scotchman standing sentinel over the eastern expanse of Lake Pend Oreille.
It was love at first sight. In 2005, he and a group of concerned outdoor enthusiasts formed the Friends of the Scotchman Peaks Wilderness, a grass-roots organization dedicated to winning federal wilderness designation.
"The visionaries back at the turn of the last century — John Muir, Theodore Roosevelt — when they were looking at the creation of the National Park System, [they] knew that these were special places that need to be set aside," Hough says. "The Scotchman Peaks is one of those places."
A Long Hike
The hike up Scotchman is not for the faint of heart. From the trailhead, found at the end of a dirt road made all but impassable during the high runoff season, the path climbs into the forest at a 20 percent grade for the first half-mile or so. This is the part that veteran hikers warn newbies about. It's easy to lose heart — there are more than three more miles to go, climbing an average of 1,000 feet per mile.
Efforts to permanently preserve the Scotchman region have been not unlike that first half-mile. Forest policy is always contentious, but the Scotchman proposal is made all the more difficult because of the competing political, economic and environmental interests. As such, progress toward a federal designation has taken the crawling pace of a winded hiker.
Bob Legasa, an occasional Inlander contributor, documents a recent hike into the Scotchman Peaks area.
The Forest Service has labeled the Scotchman Peaks area of the Cabinet Mountains a "recommended" wilderness since its last Forest Plan was issued for the Idaho Panhandle and Kootenai national forests in 1987. That means the Scotchman Peaks are managed much like a designated wilderness — motorized use is strictly limited and timber harvest is excluded — except it could change with an administrative decision. That places the Scotchmans in a sort of limbo.
"There would be a great deal of certainty with designation," Hough says. "That would come from Congress. And while Congress can overturn its decisions from time to time, with the current framework, it's an agency decision to manage the area as 'recommended' wilderness."
A new forest plan has been in the works since 2002, but a raft of federal rule changes made during the Bush administration set the document back at least five years. A draft plan was set to be released in 2006 — it was even printed — but the perennial controversy surrounding forest planning caused yet another rule change, and it was back to the drawing board.
Now, with policies more settled, the Forest Service is finally getting ready to finish the long-awaited plan, which sets management policy for a broad range of lands in North Idaho, including the Scotchman Peaks.
"In 1987, the Scotchman area was recommended and/or proposed wilderness, and that's not necessarily new in this round of planning," said Kent Wellner, recreational program manager for the Idaho Panhandle National Forest and the Forest Service's team leader on the plan. "The reason it's taken so long — I've been working on it for nine years — is that forest planning is very controversial. A lot of different interests are concerned. ... It's hard to make everybody happy."
According to Wellner, a draft plan could be released as early as this month and must be completed before the end of the year. A lengthy review process will follow and, as he pointed out, not everyone will be happy.
Rural North Idaho and northwestern Montana have always been heavily dependent on natural resources, and the expansion of federally protected lands often translates as fewer opportunities for industry.
"We already have some wilderness here, and the only chance we have for any kind of economy is with the mines and hopefully the timber," says Ron Downey, a commissioner in Montana's Lincoln County, where much of the proposed wilderness would be located. "I would say that a large percentage of Lincoln County is against it. For one thing, our economy is in the tank. I think, officially, our unemployment rate is 15 percent or 16 percent, but it's probably well over 20 percent, really."
Across the border in Idaho, Bonner County Commissioner Lewis Rich is similarly skeptical about the need for federally designated wilderness.
"The majority of the constituents that I talk to are very much concerned about the actual usage of the ground, as far as being able to manage it on a local basis and the control getting out of our hands," Rich says. "It is, by definition, in its ruggedness and remoteness, somewhat of a wilderness, but I wouldn't support a federal designation."
Over the Line
If designation for the Scotchmans was passed through Congress and signed by the president, it would be the first federally protected tract of wilderness in Idaho's nine northernmost counties. And while the decision whether to protect the area as a wilderness ultimately lies with Congress, all politics are local, and that's where the Friends of the Scotchman Peaks Wilderness have chosen to draw their lines.
"The art of politics is the art of what's possible. For it to succeed, it would have to be a part of what's possible," Hough says. "Ultimately, the process we're best at is raising the support for it to a point that it becomes apparent to decision-makers — both local and in the congressional delegation — that this is what the people want."
Indeed, in its six years as an organization, the Friends group has managed to assemble a diverse coalition on both sides of the border. One of its key partners is the Idaho Conservation League.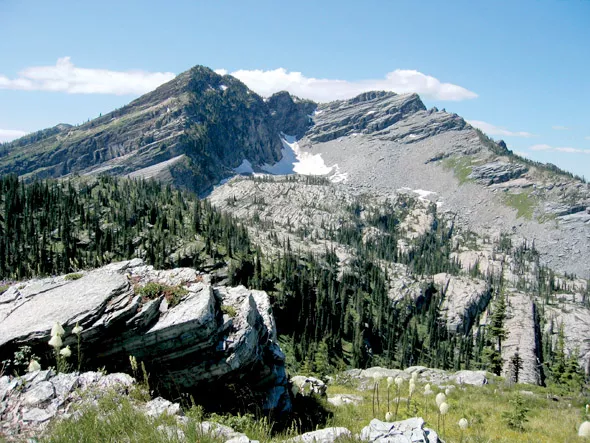 The mining and logging potential in the Idaho portion of the Scotchman Peaks area isn't as great as in Montana. [Photo: Melissa Elinor]
"When they started their campaign at the Friends of the Scotchman Peaks, there were probably few people, even in Bonner County, who knew where Scotchman Peaks was," says Brad Smith, who works with ICL at its North Idaho office in Sandpoint. "I think [they] have done a great job really getting people aware and understanding of why it's important to protect."
The group undertakes a range of outreach efforts, from guided hikes, outdoor painting excursions and seminars, up to biological surveys of the area's wildlife. Most recently, Idaho Fish and Game collaborated with the Friends on a study of rare forest carnivores and found evidence of fishers, lynx and wolverines. Looking beyond the North Idaho region, the group is currently pursuing a grant from Zoo Boise to further its wolverine study, and announced earlier this month that it was being considered as a finalist.
Conservation and recreation groups on both sides of the border have flocked to the cause as well, and Montana Gov. Brian Schweitzer has endorsed the group. Gov. C.L. "Butch" Otter's opposition to expanding Idaho wilderness is well-known, however.
"I don't know that we will ever convince him that wilderness is a good thing, and in the larger political context, of course, you'd like his support," Hough says. "We don't expect him to support it, but if we have broad public support, at least he won't oppose it."
Hough is still optimistic. While the road has been long, he's starting to see real potential for congressional action.
"I think we have such broad public support, and these issues are being taken seriously by Congress," he says. "It wouldn't be unreasonable to think that something could happen in the next session."
The Friends' efforts have not gone unnoticed by members of the Idaho delegation, including Sen. Mike Crapo, who was instrumental in pushing the Owyhee Initiative through the Senate in 2009, establishing the Owyhee-Bruneau Wilderness, in southwestern Idaho.
"We have a really steady conversation with Phil [Hough], and the one thing that Crapo has said to Phil and the board — and as recently as last month — is that, 'You guys are doing it right,'" says Lindsay Nothern, Crapo's Boise-based press secretary. "What they're trying to do is build a broad consensus in the community for the land-use changes that they're seeking to make. By and large, when we hear people in Idaho say, 'Gee I don't want wilderness,' or 'I don't like wilderness,' they're not talking about the Scotchman Peaks."
Nothern is a little less sanguine about the chances for action in the near future, though.
"The timing has to be right. We can do everything right in Idaho, but we still have to have the right timing in Washington [D.C.]," he says. "Right now, not much of anything is moving, the situation is so polarized in Washington.
"There's just a lot of groundwork that needs to be laid," Nothern adds. "A lot of people feel like we have enough federal ownership, and without strong, fairly unified support on the ground, it's going to be tough to move any wilderness designation forward."
Selling Scenery
Still, even with support from conservationists, outdoors groups and high-ranking politicians, the Scotchman Peaks are a tough sell. All that Downey, in Lincoln County, has to do is point to his home district on the fringe of the proposed wilderness along Highway 56.
Where there were 22 local lumber mills in the 1990s, there is now just one in Troy. An Associated Press survey this spring ranked Lincoln County as Montana's most economically stressed, and with more than 70 percent of its land already owned by the feds, Downey wondered aloud what his community is supposed to do to make a living.
"We're hurtin', and our only chance is our natural resources — that's what made us our money before," he says.
Downey adds that one of the county's saving graces is Revett Minerals, which operates a copper and silver mine in Troy, employing about 100 workers. The company is also trying to develop another mine at nearby Rock Creek, but that project has been mired in controversy from those living downstream in Idaho's Pend Oreille watershed.
What the county needs, Downey says, is access to more timber land.
"When they first set that Scotchman Peak up, they formed their little committee, and they set some of them lower boundaries pretty much right down to Highway 56, which takes in a lot of good timber land," he says. "The actual wilderness itself is pretty remote — hard to get into, and it's not really trailed real well. There's no timber up there to speak of, and that's fine. I just don't see a need for any more wilderness."
The mining and logging potential of the area is less pronounced in Idaho, which goes a long way toward easing the tension between preservation and economics. The terrain is in the high country and so rugged that it would be cost-prohibitive for mining — and that's even if there are any exploitable deposits.
Appeasing those on the Montana side is crucial to moving the designation forward. Lands bills are notoriously difficult to pass through Congress, and small pieces of wilderness legislation are next to impossible. If the Scotchmans are to win federal designation, it will most likely be through a larger package, similar to the Lands Omnibus Bill in 2009, in which it can be grouped with similar proposals.
"It's dependent totally on the delegation and their needs at the time. And that's something we have far less control over," Hough says. "It really becomes a matter of what their needs are, politically — not just for the Scotchmans, but the variety of things they're working on. In a larger sense, you could say that's above our pay grade."
Hough admits that the effort has further to go in Big Sky Country than it does in Idaho.
"Support in Sanders County [Montana] is approaching that of Bonner County, but it's probably not as far along. In Lincoln County, it's even less so," he says. "Our task is to dispel some of these myths. It's a false dichotomy, especially with the Scotchmans, between wilderness preservation and rural economics. But there is a latent power to some of those myths. In reality, protecting public lands has been shown to be good for rural counties in the West."
Nothern agrees, pointing to the nine-year-long effort to pass the Owyhee Initiative.
"What needs to be laid out is the potential benefits of tourism, visitation to the area, maintaining those kind of special, unique places that will draw folks," he says. "It's a county-by-county thing."
If worse comes to worst, and Montana interests can't be reconciled, there is the possibility that it could become a state-by-state thing, with Idaho going its own way.
"It is not only very possible, but in a case where wildernesses cover two states, it's quite common that one state's portion will be enacted before another," Hough says. "Nonetheless, in an absolute ideal world, it would go forward all at one time."
The View From the Top
Standing at the summit of Scotchman Peak, it's hard to think in terms of political boundaries. Looking west, 65-mile-long Lake Pend Oreille snakes its way through a valley carved out by the colossal floods of glacial Lake Missoula. Looking east, it's a rolling sea of green devoid of any human evidence. Grizzly bears and wolves still roam the backcountry. For Hough, it's hard to imagine why anyone would be threatened by the area's protection.
"This isn't an all-or-nothing proposition," he says. "Protecting wilderness is part of maximizing the return on how we manage our public lands. That takes a lot of education, because some folks on both sides of the spectrum are more comfortable with perpetuating conflict. The truth is that if you can dispel that conflict and find balanced solutions, then communities will thrive."
Ultimately, that conflict is a relic of a bygone ethos that assumed nature and industry were mutually exclusive.
"It's really a nonpartisan issue, because it's not going to affect any areas that would be available for logging; it's not going to close any existing motorized access," adds Brad Smith, of the Idaho Conservation League. "Some areas are more ideal for development, but the Scotchman Peaks, because of their rugged area, lack of motorized access and no logging interests, is a prime candidate for protection. Really, what it's all about is protecting this special area for future generations."

Comments? Write totheeditor@inlander.com. A version of this story first appeared in Boise Weekly