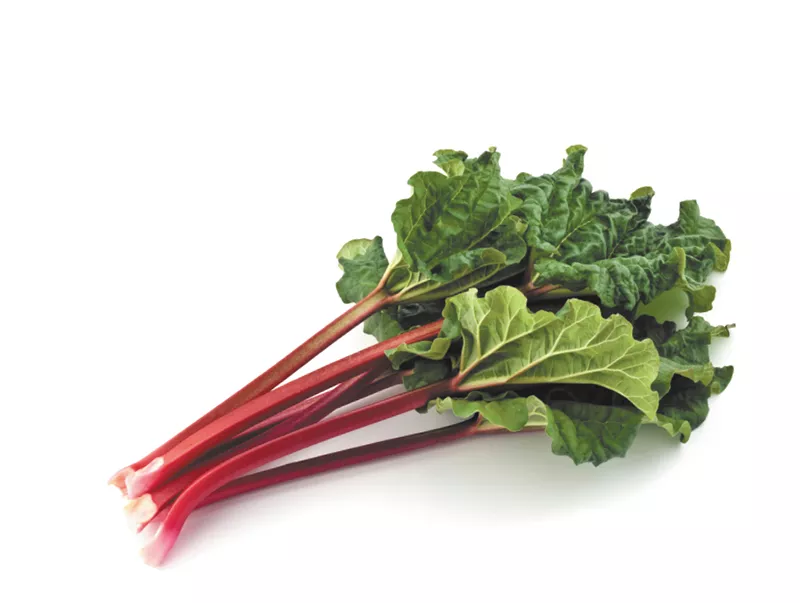 ATTRIBUTES: This hardy, cold-season perennial is one of spring's first edible harvests in the Inland Northwest. An ancient vegetable that is more like a fruit, rhubarb has been used in Chinese medicine since 2700 BC. Rhubarb's tart, astringent taste invigorates the palate.
SUPER POWERS: One cup has just 26 calories but contains 2 grams of fiber, 16 percent of the recommended dietary allowance of vitamin C and 45 percent of vitamin K — also known as the "clotting vitamin" because it helps prevent abnormal bleeding.
WEAKNESSES: Rhubarb leaves aren't edible — in fact, their high content of oxalic acid makes them poisonous. Cooking stalks in aluminum, iron or copper pans can turn your cookware and rhubarb an unappealing brown color.
HOW TO USE IT: Try Alice Waters' Rhubarb Compote from Chez Panisse Fruit. Start with one pound of rhubarb, peeled. Trim ends and discard leaves. Cut lengthwise into thirds, then into two-inch pieces. You should have about six cups. Grate the zest of one orange into a 10-inch non-reactive baking dish, squeeze in three tablespoons of juice from your orange. Add rhubarb and a half-cup of sugar, toss till the rhubarb is well-coated. Cover and bake at 350° for 25 minutes. Remove cover and bake five or 10 more minutes, till tender. Try it with a little sweetened cream for dessert or even as a side dish with pork.