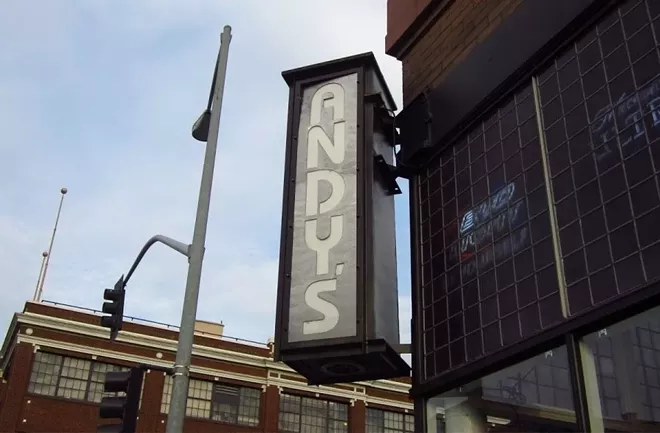 E
ven though Andy's Bar and Grill is closed
, owner Nate Tronrud finds his life even more hectic than normal with the extra free time.
Andy's is a smaller, cozy establishment on the western end of downtown Spokane, a place where the staff and clientele are tight, literally in the bar and figuratively as friends. It seats 15 people at the bar as well as 14 at the tables and serves your standard bar food — chicken tenders, nachos and burgers — though right now, the beer taps are dry and the kitchen doesn't smell of fried food. The bar is shut down, bringing in no income, as Tronrud simply doesn't see the value in offering takeout.
"Doing takeaway isn't cost-effective for me and my staff," Tronrud says. "My employees make more money on unemployment than to-go sales. I also don't have time to do it with raising four boys at home."
With the bar not in operation, Tronrud keeps himself busy with work in other areas of his life. Besides the four kids, he helps with his girlfriend's pizza company in Leavenworth that hasn't skipped a beat in business with customers ordering delivery.
"Between that and being a handyman, doing projects, working on cabinets and tables at home, I actually have more work than usual," Tronrud said.
While COVID-19 has introduced uncertainty to many businesses including Tronrud's, he's staying optimistic because of Andy's regulars and support he's gotten from friends. Tronrud still has to pay the bills, though, and this crisis is testing his confidence in the business.
"I'm a positive person by nature. Shutting down has affected me pretty hard, but I just can't let it get to me," Tronrud says. "Life has got its ups and downs. The highs will be there and the lows will be there. You just have to wait for it to get back up. I'm a survivor."
Under Phase 2 of Washington Gov. Jay Inslee's "Safe Start" plan, Tronrud still doesn't think he'll reopen, given that half of his seating is bar seating, which is still prohibited. As the bar is often filled with local regulars, Tronrud also doesn't want to take away from the community experience of Andy's.
"I have such a loyal following, I can't accept five or 10 people without accepting anyone else," Tronrud said.
One of the hardest aspects of shutting down for Tronrud doesn't concern money, but rather not being able to see his usual clientele that he's grown close to. Andy's is popular in the neighborhood and he's used to seeing familiar faces at the bar counter.
Regardless, Tronrud will wait to open when he feels it is right for the bar, which is more likely to be during Phase 3.
"Andy's has got a great following. I know that as soon as I'm opening up, we're gonna be fine. We're like one big family."