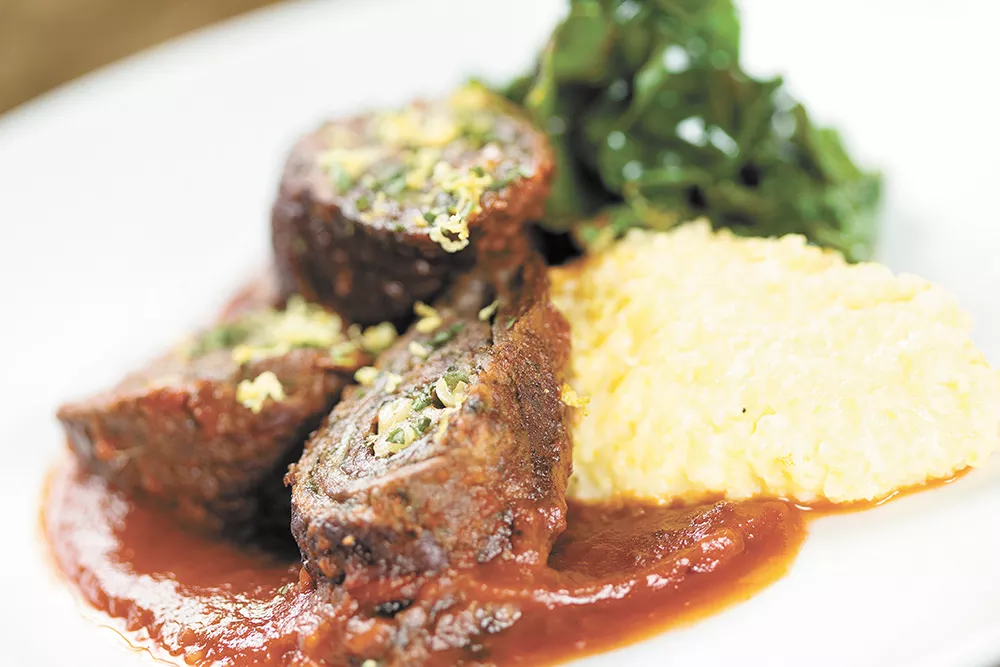 At Italia Trattoria, tucked among the little grouping of eateries encircling the roundabout in Browne's Addition, Anna Vogel brings Italy and the Inland Northwest together in her cuisine. The Italian dishes of housemade pastas, sustainable fish, naturally raised meats, fresh produce and desserts are regionally inspired, with lots of locally sourced ingredients. Vogel has worked in Washington the past 12 years as a chef for Tom Douglas in Seattle and Luna in Spokane before opening Italia Trattoria with co-owner Bethe Bowman in 2010. Raised in Vevey, Switzerland, she has also cooked in cities including Sydney, Boston and New York.
You're from Switzerland and have cooked in cities around the world and the U.S. So what brought you to cook in Spokane?
VOGEL: The opportunity to bring something new and different to Spokane.
How do you go about creating a regionally inspired Italian menu at Italia Trattoria?
I am inspired by the seasons in Eastern Washington.
What seasonal ingredients do you like to use?
I like to use ingredients that are in season because it keeps the food fresh, and food always tastes best when it is at its peak. During the summer months I like to use different varieties of peppers from my garden for grilling for antipasti and pickles for pâtés. In winter I like to use the more bitter vegetables like endive for braising and salads. In the spring I like the Northwest morel mushrooms and sweet peas. The early fall brings the best heirloom tomatoes from a local grower. In the late fall I like to use the Washington chestnuts for Northern Italian regional dishes.
What are some of your favorite flavors to play with and incorporate into dishes?
I have so many favorite flavors. Let's just say it all depends on what is available. I like to keep my food fresh and flavorful. During the winter months I favor more smoky, wine-braised meats and wild mushroom cream sauces.
Why did you choose to participate in Inlander Restaurant Week?
To bring exposure to Italia Trattoria and show the people of Eastern Washington what we are doing, and why they should be dining with us.
What was your inspiration for creating your Restaurant Week menu?
To offer a menu that you wouldn't usually have available in other Italian restaurants in Spokane.
What are a few items you have planned for the menu? And what makes them different from other Italian restaurants?
The smoked pork rillettes are inspired from my European background. Pork is a big staple in Italy, and therefore should be well represented on our menu. The beef braciole is an authentic Italian comfort food dish that is good to have during the cold winter season. I like to add my own style to this dish. My version of the Italia tiramisu is very light and creamy, unlike the more heavy traditional ones.
What are your hopes for the people who come out and dine during Restaurant Week?
That they love our food, atmosphere and service and are inspired to dine with us many times. ♦