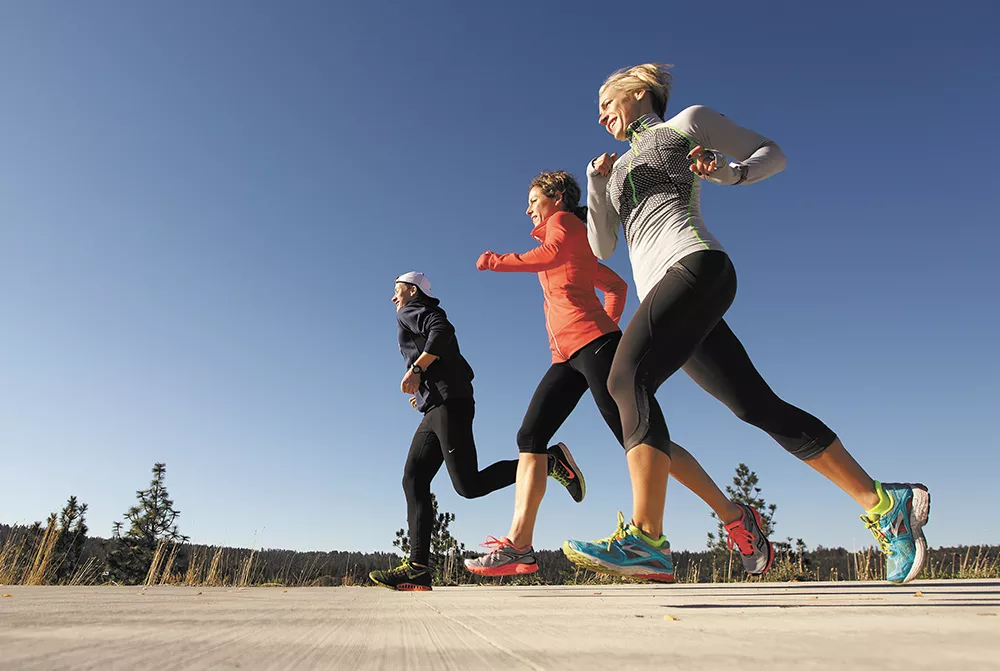 Carol Hunter is efficient. The attorney keeps herself and her family healthy with a seamless blend of modern technology and practical wisdom.
A longtime runner — she's completed 32 Bloomsdays and serves as the race's Corporate Cup Chair — Hunter says part of her success is due to e-health technology. More specifically, a love affair with her Garmin watch.
Hunter ran her first marathon in 1992, but first incorporated the watch into her routine while training for a race in 2002. The difference was phenomenal. "It was a question of being efficient." she says. "The Garmin made me feel like I was using every minute. I wasn't spinning my wheels or wasting any time. It was a revelation."
Since then, she's incorporated apps like MapMyRun to track her routes, MINDBODY Connect to find the nearest yoga studio, and Interval Timer to log box jumps, planks and kettlebell swings with her trainer. Although this technology helps improve her performance and dedication to training, Hunter is quick to say she doesn't rely on the tools. "It's really about creating a healthy balance," she says. "I'm big into health and nutrition for myself and my family, but there is a sense of needing, at some point, to step away from all of that... to listen to what our bodies are saying versus what a piece of technology is telling us."
Health experts and athletes alike say e-health apps and devices hold users more accountable for their food intake and exercise output, while social components add an element of fun and keep users engaged in healthy living routines. For a culture already obsessed with smartphones, these user-friendly tools are proving effective in everything from weight loss to marathon training to food management for people with diabetes.
Hunter is loyal to her Garmin, replacing worn-out versions with newer ones. She currently runs with the Garmin Forerunner 620. The high-resolution color screen tracks distance, pace and heart rate in addition to ground contact time and vertical oscillation. The watch features live tracking and social media sharing opportunities alongside free training programs. Hunter says the slim fit for females, high-resolution screen and smartphone display make it convenient.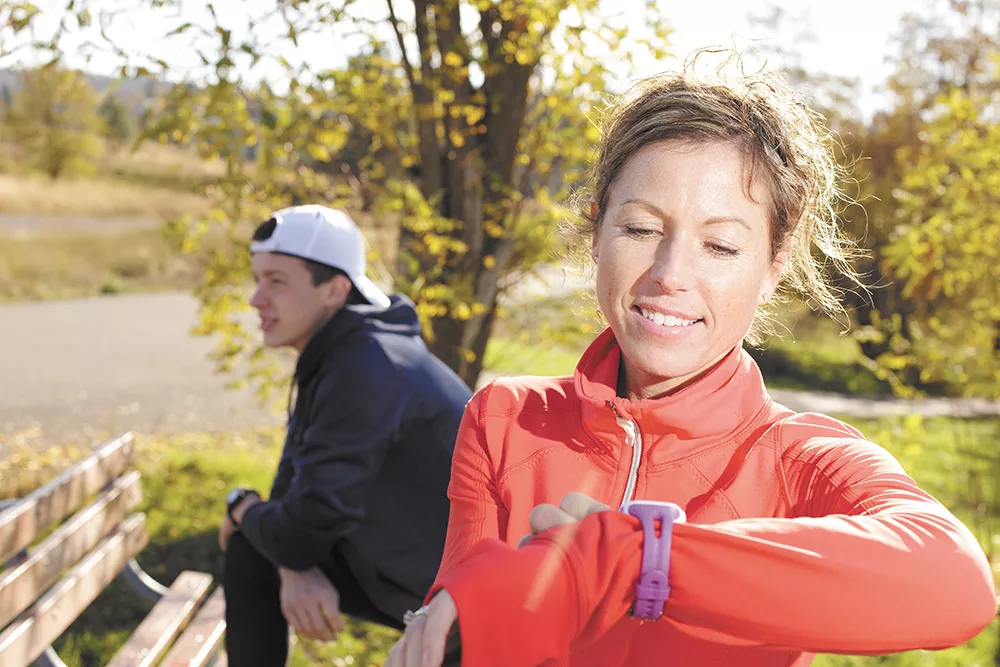 "I am definitely of the school of thought that I don't want to be a slave to my Garmin," she says. "I mostly wear it when I'm training for an event, because there comes a time when I need to let my own body be my guide."
Runner and cyclist Matt Bogue agrees. "I enjoy finding different activities and ways to be healthy," says Bogue, a creative director at Seven2 digital advertising agency who runs with the Nike+ Running app. The app tracks route, distance, pace, time and calories. Users can receive personalized coaching and real-time audio feedback, share photos, compare progress and get in-run cheers from friends.
"It's a really cool way to track your mileage," he says. "You set a goal for the week and because it's an app, it's right there, you can open it up and hold yourself more accountable and see all the statistics."
As a result, Bogue says he logs more miles on the pavement, and the social feature motivates his results. "It's kinda like a social network," he says. "You can see what your buddies are running, compete and even set up challenges with your friends."
Seven2 has even created its own in-house network. Each employee is given a Nike+ SportBand — a watch that tracks pace, distance, time and calories burned.
"One of the great things about Seven2 is how our bosses, Nick Murto and Tyler Lafferty, believe in a healthy and balanced culture," says Creative Director Jesse Pierpoint. "Each employee is given a pair of Nike running shoes, a wearable band to track progress, and a nice gym in the basement to use."
Pierpoint trains four to five times each week, balancing a mix of cardio and strength training.
"I started using the Nike+ Running app two years ago to monitor my exercise during rehab for a tough Achilles tear," he says. "I truly disliked running, but it really helped having this app to track everything and 'game-ified' the experience."
Pierpoint has also used Charity Miles — an app that donates money to charity for every mile run or biked — and Couch-to-5K, a training program that helps beginning runners train for their first race. He says while the apps are simple and intuitive, the key is to actually use them.
"They [apps] are a nice mix of accountability, monitoring distance and time, tracking my friends' runs and knowing when to update my running gear based on usage," he says. "I appreciate some of the tips and information they provide to help me live healthier."
Luke Lollis has seen it all. He's seen heart rate monitors, Fitbit trackers (clip-on devices that track steps, distance and calories burned with goal setting and social components), Jawbone trackers (advanced sensors that capture how you move, sleep and even vibrate when you've been sitting too long) and the BodyBugg, a device that measures exercise, food logging, sleep efficiency and more.
The certified personal trainer had worked for big gym chains since 1995. Last November, he opened a strength training and conditioning gym called The Lab.
"I saw a need for more hands-on help than what people were getting at bigger gyms," Lollis says. "Our mission is to empower people through foundational strength. To train them in a way that is natural; to run, jump, crawl and climb."
Although body monitors are getting more popular, his clients primarily use nutritional apps. His team at The Lab recommends MyFitnessPal, a free calorie-counting and food-tracking app that boasts nutritional information on more than 3 million types of food. Users can search the massive database for everything from brand-name foods to scratch-made items like "homemade chocolate milkshake," scan barcodes or upload their own unique food and calorie information. The app tracks daily calories, as well as protein, fat and carbohydrates, and progress toward a weight goal.
More than 65 million people have used the app to achieve their weight loss goals, manage conditions like Celiac disease and share online testimonials.
Why is monitoring what you eat so important? "It's about creating awareness, knowing yourself and knowing your body, and asking, 'How does this food make me feel, and how does this help me perform?'" Lollis says.
MyFitnessPal is recommended by more than just fitness professionals. Dietitian Kara Roberts uses the app as a tool with clients who need to lose weight, manage diabetes and maintain a healthy lifestyle.
"Studies show that people who track their food intake are more successful in losing weight," Roberts says. "They are more mindful of what they're eating, more accurate in counting calories and balancing proteins, carbohydrates and fats."
Roberts is a registered dietitian nutritionist, certified diabetes educator and diabetes technology clinician with Columbia Medical Associates. She is also a board member of the Greater Spokane Dietetic Association, a nonprofit organization that helps increase nutritional awareness through community outreach programs. Roberts has used MyFitnessPal with her clients for four years.
"For most of my clients, the app is an easy, free tool to use that's more accurate than pen and paper," Roberts says. "Clients can create calorie guidelines that correspond with their weight loss goals, add food that isn't already logged into the database and log exercise routines which help keep people on track."
MyFitnessPal also allows users to share their food logs and communicate on message boards instantaneously, which helps keeps people motivated.
"Apps and smartphones are already part of our daily routines," Roberts says. "This allows us to seamlessly adopt nutritional technology into that routine ... as technology gets better and less expensive, these sorts of e-health applications will continue to have broader and broader appeal."
Michelle Neill ran the race of a lifetime this year — the 2014 Boston Marathon. After the tragic bombing in 2013 near the marathon's finish line took three lives and injured hundreds of others, Neill says this year's race was an inspiration. "It was amazing, one of those experiences you can never repeat," she says. "There were over one million spectators — it was like running 26 miles through a rock concert. It was that loud, and people were cheering the entire way."
Now a stay-at-home mom of three, Neill ran her first marathon in 1999. She now organizes the Marmot March, the children's race held at Bloomsday, and runs Soles4Youth, a nonprofit that provides running shoes for Spokane-area kids in running programs.
Neill says finding time to train while caring for three young kids is difficult, but she manages to juggle volunteer work, home life and running with help from MapMyRun and MyFitnessPal.
"I started using MapMyRun on my phone because my watch quit, and now I love it," she says, laughing. "I like that I can go back and see the actual mapping, and the convenience of having it on my phone because I always have it with me."
MapMyRun records workout details, including duration, distance, pace, speed, elevation change, calories burned and route traveled on an interactive map that can be uploaded and shared with others. Neill recently began synchronizing her MapMyRun workouts with her food log-in on MyFitnessPal.
"I like that I have a record, that I can see the full picture of distance, pace, and calories burned, and then gauge if I'm getting enough or too much food," she says. "I like seeing those two connected together. And it's easy."
Despite her love of the technological tools, Neill says she doesn't use them every day. "For some people, logging their food and exercise really becomes an addiction," she says. "I don't want to be like that. I love them, they work great for me, but I remind myself it's just a tool."
---
SWEET DREAM DEVICES
E-health apps can do more than track your fitness — they can also monitor your sleep. "It's not a very accurate form of measurement from an academic perspective, but I'm not saying it's not useful," says Greg Belenky, research professor with the Sleep and Performance Research Center at Washington State University.
Movement and motion tools like ActiGraph, used in the academic community for 20 years, now are finding applicability at home. These personal biometric monitors are placed on your wrist or bed to provide a rough indication of how well you're sleeping.
That information can then be used in performance prediction models — available as open source software — to track sleep/wake history. Once this information is tracked, individuals may adjust their routines to increase quality of sleep.
"The people who use these devices swear by them," Belenky says. "Of course, the placebo effect can be very strong. I mean, you just don't know. Most of the systematic studies that have been done on these apps have been sponsored by the companies themselves."
Despite the current devices' shortcomings, Belenky says using this type of personal health monitoring has a bright future. "Biometric status monitoring systems are going to be astronomical," he says. "It's going to happen quickly, and it already has to a degree. It's going to blow the top off chronic conditions like diabetes, hypertension and insomnia."
— Jordy Byrd
---
The new iPhone 6 has a much-touted emphasis on health tracking. From sleep to diet to exercise, it allows you to monitor yourself with your phone. If a new iPhone isn't on your list, here's are some other popular new health and fitness gadgets and apps that do many of the same things:
WAHOO FITNESS: A Bluetooth-powered running, cycling and fitness tracker with GPS and workout plans.
MISFIT: A variety of apps tied to an activity tracker that provide sleep monitoring, step, calories and distance tracking, and a daily photo food journal.
HEALTH MATE: Apps that track everyday activity and heart rate using sensors in your iPhone that challenge you to move more.
TRX FORCE: A 12-week conditioning program used by athletes and in all branches of the U.S. military.
STRONGLIFTS: A simple workout consisting of three exercises, three times a week, for 45 minutes, to build muscle or lose weight.
SPRINTTIMER: An advanced sports timer featuring video finishes.
JAWBONE: Fitness trackers that measure resting heartbeat as well as sleep. They also learn as you go, distinguishing different activities and automatically recording them.
COUCH TO 5K: Features virtual coaches to push you through different workouts; includes GPS functionality and workout storage.
NIKE+ FUELBAND: Transcribes the energy you expend doing activities into Nike Fuel, a standard metric to measure your progress based on age, weight or gender.
NIKE+ RUNNING: An app that tracks the distance, pace and time of your runs and allows you to share and compare with others.
FIT BIT: A line of activity trackers that provides you with fitness stats, sleep tracking, and syncs wirelessly with your phone to play music or notify you about phone calls.
MAP MY RUN: A route-mapping, activity-tracking, food-logging, friend-sharing fitness app.
GARMIN: GPS-enabled fitness watches that track calories burned and include metrics for swimming.