Soft red tones and warm alderwood furniture, complemented by the smell of freshly roasted beans, gives the newly opened Arctos Coffee & Roasting Co. an inviting atmosphere. Located in the site of a former auto shop, the cafe in the heart of Spokane's Logan Neighborhood feels unfamiliar, but nonetheless charming.
"I want people to walk in and feel like they're having an out-of-town experience," says Arctos owner and roaster Jason Everman. "I like that feeling."
Everman, a local science teacher, officially opened Arctos' doors on March 19, a full year after purchasing the building and putting everything in place for both the retail portion and the on-site roasting facility. The cafe's espresso offerings revolve around Everman's signature Arctos Espresso Blend, a mild roast of Central American, Brazilian and African coffee beans.
"All my time and energy is spent on mastering this one blend of coffee," he says.
Arctos Coffee also offers a white coffee roast, dubbed the Ghost Bear Blend —"just a real nice, nutty white coffee," Everman notes, and one that's also higher in caffeine — as well as a decaf blend.
Arctos' drink menu includes all the classics: mochas, lattes, Americanos, macchiatos, espresso con panna and nine flavors of tea, among other drinks. The cafe also sells baked goods from Common Crumb, as well as its signature sandwich, "the Hammy," a bagel filled with layers of ham and melted cheddar cheese ($4). Everman sells his Arctos Espresso Blend exclusively at the cafe in 12-ounce bags for $12, although larger purchases can be arranged online, he says.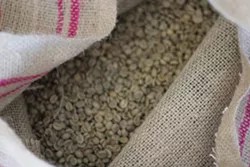 The coffee purveyor got his start roasting beans in a small backyard garden shed a few years ago, using a home coffee roaster. He's been a coffee lover all of his life, and has owned Grind Central Espresso on Trent Avenue for the past five years.
When the commercial space on Hamilton became available last year, Everman knew that an Arctos storefront was his next step. He purchased the site and a commercial coffee roaster from Diedrich Roasters in Ponderay, Idaho, and got to work.
Perhaps the most difficult part of visiting Arctos is deciding whether or not you want to spend the rest of your day within its cozy confines, and which of its many nooks to settle into. A bright red vintage couch offers a full view of the meticulously decorated cafe. Cacti are centered on each table. Burlap coffee sacks cover the ceiling. A countertop is made of repurposed plywood. Natural light pours in from the former auto shop's garage doors, which will open when the weather warms up, Everman says. Beautifully finished wood trim decorates almost every wall. Everman credits his father, Jim, a master woodworker, for much of the help. His daughter Courtnee Everman also helps manage the shop.
Everman, an avid outdoorsman, named the cafe after the scientific name for grizzly bear, Ursus arctos, or just arctos for short. He hasn't spent much time marketing the cafe yet, but says his customer base is likely largely comprised of students from Gonzaga, as well as neighborhood locals.
"My hope is that Arctos coffee is successful enough where I can start giving back to my community," Everman says. ♦
Arctos Coffee & Roasting Co. • 1923 N. Hamilton • Open Mon-Fri from 6 am-7 pm, Sat from 6 am-6 pm and Sun 7 am-6 pm • arctoscoffee.com • 863-5908