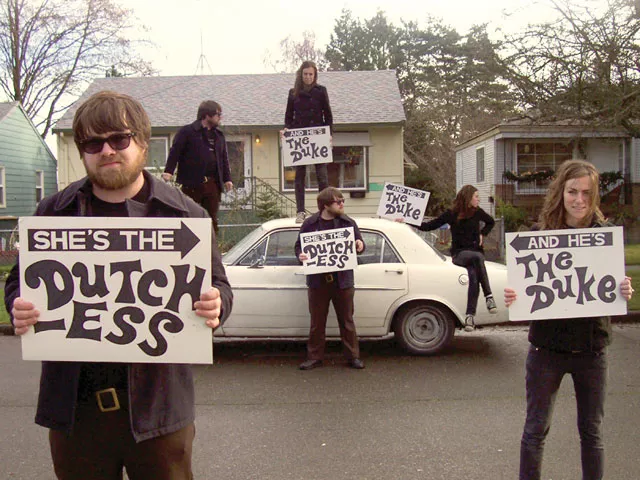 On the other end of the phone, a man sits with a crying baby. The man tells the baby everything is going to be all right. But it's a lie. Nothing about this man's distant voice sounds like he believes a word he's saying — even to his baby.
It's the story told in the Dutchess and the Duke's song "Out of Time":
"I remember when I was just a baby, when somebody told me everything was all right," they sing. And then: "Ain't you sick of hearing things are gonna work out? Well, ain't you sick of hearing, things are gonna be all right? Well, somebody lied."
By all accounts, Jess Lortz, lyricist, guitarist and lead singer of the Dutchess and the Duke should be happy. He and fellow vocalist and guitarist Kimberly Morrison signed with Sub Pop's spinoff imprint, Hardly Art, before their band had learned all of their material. Their 2008 debut album, She's the Dutchess, He's the Duke was widely received (8.2 on Pitchfork). And their sophomore album, Sunset/Sunrise, is making the duo the fast darlings of the Seattle scene.
The trouble is, all of this success was welled from Lortz's misery. They are a band whose success and undeniable appeal comes from their sordid, lovely pain.
"I wouldn't really want to listen to the words over and over again myself," Lortz says. "But people like watching car crashes."
Lyrically, the songs are brutally honest and deal with domestic imprisonment, ghosts and death.
"I'm a pretty sad person right now," Lortz says. "Sometimes it's a burden to play the music that I play and live with what I've said in my songs.
"Maybe I can sing things that I can't say." The band's sound is retro, yet modern, and is often compared to '60s rock. Lortz's voice and songs like "Reservoir Park" are a dead match to early Rolling Stones. Songs like "The River" revive Lou Reed and the Velvet Underground.
Together, Lortz and Morrison create beautiful dread, twisting and intertwining their voices in harmony and sorrow. When Lortz is defeated, Morrison echoes his words, countering him with a twangy, detached sound. The vocals are gritty, loud and haunting. There's a great weight on this band's chest.
Lortz says he's surprised his friends and family have so easily dismissed the dark content of his music. "I'm a really strong person, and I can take a lot of shit," he says. "But sometimes it would be nice to have someone say, 'Are you OK? I'm really sorry.'" Until things get better, Lortz will sing honestly, but lie to himself and his baby.

The Dutchess and the Duke play with the Cave Singers at the Empyrean on Thursday, Feb. 25, at 6:30 pm. Tickets: $9-$12. All-ages. Call 838-9819.