When it comes to the region's casino resorts, it's a mistake to think if you've seen one you've seen them all.
All Have Unique Attributes, And Recently They've Worked To Expand Their Entertainment, Dining, Shopping And Gaming Options To Appeal To As Wide An Audience As Possible. Sometimes That Evolution Comes With Changes To Their Existing Space, And Sometimes It Means Breaking New Ground, Literally. Here's A Look At What The Region's Casino Resorts Have Done Lately:
Northern Quest Resort & Casino
You don't even have to go inside the doors at Northern Quest to know there are exciting things afoot in Airway Heights. A year ago, a new building housing M&D, a movie-and-dinner spot, opened and the resort's outdoor summer concert area got a facelift with an expanded stage and grandstand that raised the capacity to 5,000. That, in turn, led to the resort's biggest slate of summer concerts ever in 2019. This year also featured the opening of the Northern Quest RV Resort, where 67 RV spots and diminutive cottages entice visitors to stop by and stay a while.
The changes don't stop outside, though; recent years have seen significant renovations inside, including a $20 million project that helped introduce a food court expansion and arrival of the Windfall store, as well as the Kids Quest and Cyber Quest venues that appeal to families with an array of arcade games and child care options. Elsewhere, the Riverbank Taphouse arrived with a massive slate of craft beers, high-end cocktails and food.
"You've got to stay relevant, and you have to continue to give people new reasons to show up," says Brandon Haugen, the general manager of Kalispel Development for real estate. "Our gaming operation has been operating for almost 20 years. They've done a fantastic job of becoming the premiere gaming resort in the region. Our goal is to find other entertainment attractions and other things that will continue to bring people to the site and give them a new reason to show up and hang out and have a good time."
The Kalispel Tribe has about 400 acres surrounding Northern Quest, and while there is no specific project next up, Haugen says he's constantly evaluating the situation.
"We know we need to continue to add more entertainment, more destination-driven venues around Northern Quest and in Northern Quest," Haugen says. "We're going to continue to evaluate all the options and what's the next best one."
Coeur d'Alene Casino
Worley, Idaho, based Coeur d'Alene Casino and its resort hotel have rarely paused in their 25 years of growing into a North Idaho oasis for gaming, dining, entertainment and recreation. Their most recent project, though, may have been their most dramatic one yet.
In the spring of 2019, the Coeur d'Alene Casino put the finishing touches on a massive $15 million renovation covering more than 65,000 square feet of its gaming and event space. The result is a stunning environment for both longtime visitors and new travelers to enjoy expanded gaming options and a higher level of nationally touring entertainers on the resort's stage.
"We're very pleased with the final result, and we've heard great things from customers, employees and tribal members," said Laura Stensgar, director of public relations-cultural tourism. "We're really heightened and brightened," in regard to both the gaming area and entertainment venue.
Not only did the event center get a new series of hi-resolution video screens, a new bar and upgraded seating — the stage itself also doubled in size. It all makes for a better experience for both audience and performing artist, and the first summer since the upgrades led to concerts by noteworthy artists like Nitty Gritty Dirt Band and Lee Brice, and a September 2019 show by Scotty McCreery.
There are also plans in the works to expand the Nighthawk Lounge into a 200-capacity spot where more featured entertainment can happen. And at the resort's award-winning Circling Raven Golf Club, which just celebrated its 15th full season, director of golf Dave Christenson says they've tapped course architect Gene Bates to explore renovating bunkers, putting greens and tee-box surfaces, and potentially adding nine holes down the line.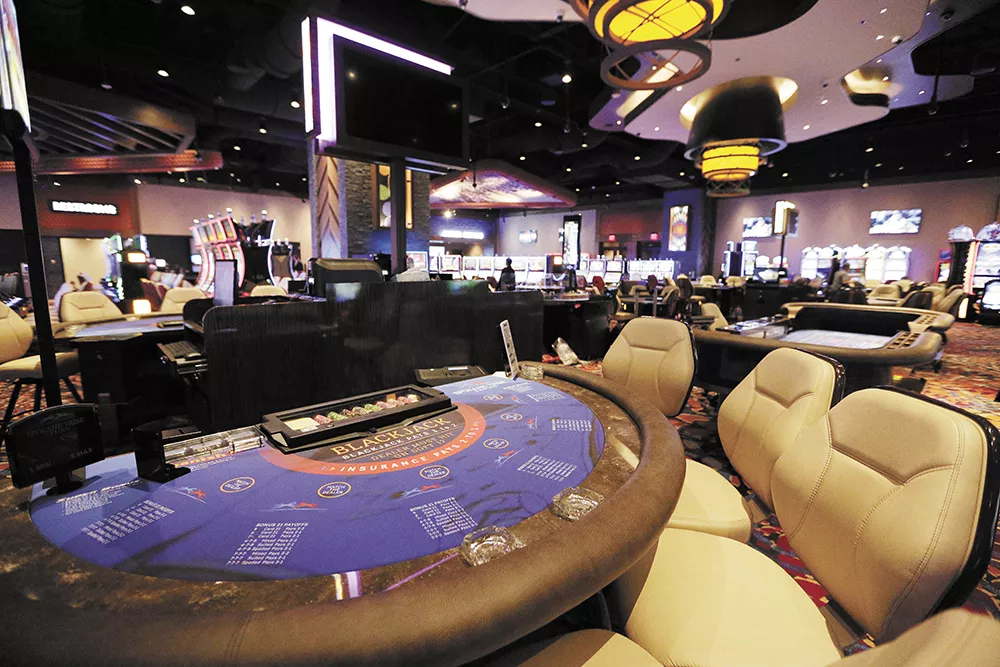 Spokane Tribal Casino
For the Spokane Tribe Casino, just getting open in 2018 was a major feat, the result of years of work by Spokane tribal leaders to deliver an economic engine that will benefit tribal members for years to come.
The West Plains spot has already made a name for itself in the region's dining scene with Three Peaks Kitchen & Bar's elevated casual fare, in addition to the gaming space. But the original master plan showcases a big vision for the 145-acre site. A hotel, entertainment venue, retail shops and cultural center are all in the long-term plans for what will ultimately be a $400 million casino resort.