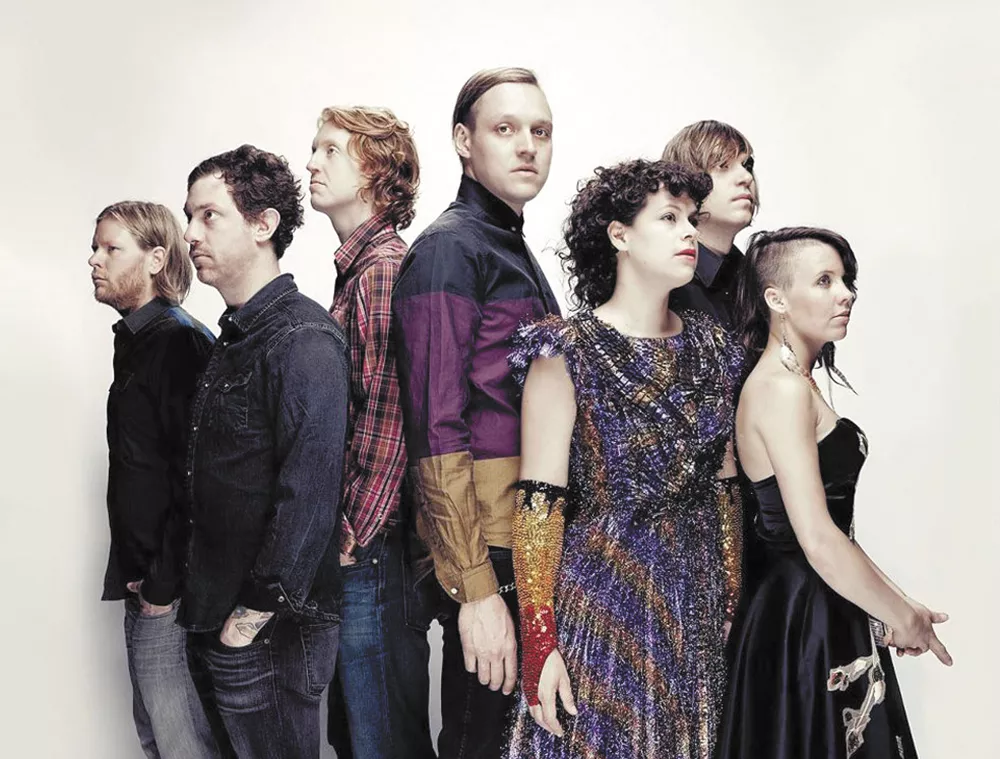 Arcade Fire's marathon tour behind its Reflektor album has been a sort of grandiose venture full of confetti, papier-mâché masks and arena-sized dance parties that we've come to expect from this band. At this point in the band's decade-long career, you'd be a bit let down if there wasn't something utterly bizarre at an Arcade Fire show. What do you expect from a band that has requested fans arrive to the show in costume?
This summer, though, Win Butler and his motley troupe of Canadian multi-instrumentalists have been doing something that's weird, even for Arcade Fire — they've been playing cover songs. A lot of them, too.
Playing other peoples' songs is hardly innovative or new, but the way in which Arcade Fire has gone about it for this tour's American shows has been worth noting. The band has been rolling out regionally relevant covers nearly every show, breaking up a set list that's stayed mostly static from city to city.
In Kansas City, they played "Dust in the Wind," by the band Kansas (yeah, K.C. is in Missouri, but forgive the band, they're Canadian). In Atlanta, they ripped through a take on "Radio Free Europe," paying tribute to the Georgia boys in R.E.M. When they played in Columbus, Ohio, they dished out "Uncontrollable Urge" by Devo, which formed in nearby Akron. Two recent shows at the Forum in Los Angeles saw the band pay tribute to a couple of L.A. heavyweights from days gone by with "Been Caught Stealing" by Jane's Addiction and a tease of Guns N' Roses' "Sweet Child o' Mine" one night, then a sloppy take on "Axel F," better known as the theme to Beverly Hills Cop. Perhaps the best cover so far was when Arcade Fire evoked the spirit of Creedence Clearwater Revival in the Bay Area with a dead-on rendition of "Hey Tonight."
A lot of tours have gimmicks like this, but it's a decent one, and it's leaving plenty of Arcade Fire fans wondering what cover will come out of the sure-to-be-outrageous show at the Gorge Amphitheatre on Friday night. Obviously, it's going to be something from a Seattle band. A Nirvana tune seems too expected, but maybe a Soundgarden or Pearl Jam cut? Or Win Butler could drop some rhymes with a Macklemore and Ryan Lewis track. Sir Mix-a-Lot, maybe? A selection from Heart's catalogue? Or maybe something like "Louie, Louie," which once was almost the official song of the state of Washington?
Whatever happens, it's going to be excellently weird. You can count on that.♦
Arcade Fire with The Antlers, Dan Deacon • Fri, Aug. 8, at 7:30 pm • $39-$85 (fees included) • Gorge Amphitheatre • 754 Silica Road NW, George, Wash. • livenation.com • 785-6262