Ric Gendron has had a crappy couple of days and it's all Pete Carroll's fault. With 26 seconds left, Coach Carroll's star quarterback, Russell Wilson, threw a slant pass on second-and-goal from the half-yard line. That was a mistake. The ball was promptly intercepted by the New England Patriots, and the game was over. The Seahawks lost Super Bowl XLIX, 28 to 24, and Gendron was devastated. He dashed off a new Facebook status update from his phone: "Still aint no greater team...we ain't no fair weather fans...love the Seahawks...love the 12s!...the ONLY team!!!" If only Seattle had given Marshawn Lynch the ball.
But loss is good for Gendron. It's good for his work. Two days later, Gendron is back in his chaotic studio behind his house in Peaceful Valley just south of the Spokane River, painting at his easel beneath a row of hanging ceiling lamps and blasting Tom Waits' "Earth Died Screaming" on his pawnshop CD player. It's about 5 past 10 in the morning and he's been at this since a quarter to 8, after dropping his granddaughter off at basketball practice, stopping only to switch out Frank Zappa for Waits.
Gendron, who is 60, is a big, barrel-chested, baby-faced man with sloping shoulders and wild, gray hair hanging like loose springs around his neck. He wears two silver hoops in his ears and an Adidas sweatshirt with a green and blue print — Seahawks colors, just like his tennis shoes — under a paint-splattered apron. People often think he's some kind of stoner — maybe it's his hair, his artwork or his rascally sense of humor — but he's been sober and drug-free for 32 years.
He's busy. Right now, he's working on his fifth new painting for an upcoming show at the Art Spirit Gallery in Coeur d'Alene. But he doesn't mind talking while he works. Proof of this is buried somewhere in a stack of news articles he hasn't read, written by reporters who sat next to him in his studio on a rocking chair by an exceptionally hot space heater. It's fine as long as his music plays. As long as you don't ask dumb questions. "Why do you paint?" is the worst.
If you must know, however, it's because that's what Gendron does, every day, from sunup to well into the night. That's how he ekes out a living. That's what he's knows how to do. Twenty-some years ago, he said to hell with his job on the rez in northeast Washington and dedicated his life to painting as a single father. It was one of the easiest and hardest decisions of his life.
Painting is a solitary pursuit. Gendron knows this better than anyone. About three weeks ago, Rattlebone, the largest exhibition ever organized of Gendron's works, debuted at Gonzaga University's Jundt Art Museum, the last stop in its five-city tour. He went to the opening reception on the second to last Friday night in January, attended by well over 200 people, in a No. 54 Bobby Wagner Seahawks jersey. Even surrounded by his many friends, family members and fans, there's rarely a moment when Gendron's not thinking, "I wish I was in the studio painting."
He refers to his studio as his "cave," the Hunchback's "bell tower," Ramses' "tomb." Really, it's a small, unheated, teal garage with graffitied walls that he's painted over in bold designs and vibrant colors in the primitive style of Jean-Michel Basquiat. With his music on and incense burning, Gendron paints feverishly — often in thick, unbridled strokes — but also with intense and unrelenting precision. On a 24-by-36-inch canvas, he etches a paisley design in orange acrylic on a stone-faced Indian man's shirt. As he works, he sings softly to himself the lyrics of Waits' "Dirt in the Ground."
And we're all gonna be, yeah, yeah. We're all gonna be, yeah, yeah. I said we're all gonna be, yeah, yeah. We're all gonna be just dirt in the ground.
"Pretty exciting life, huh?"
With his hand on his chin, Gendron rolls his chair back a few feet to study his work. He runs his fingers through his hair and stares. He rolls back up, wipes his brush on his apron and starts painting again.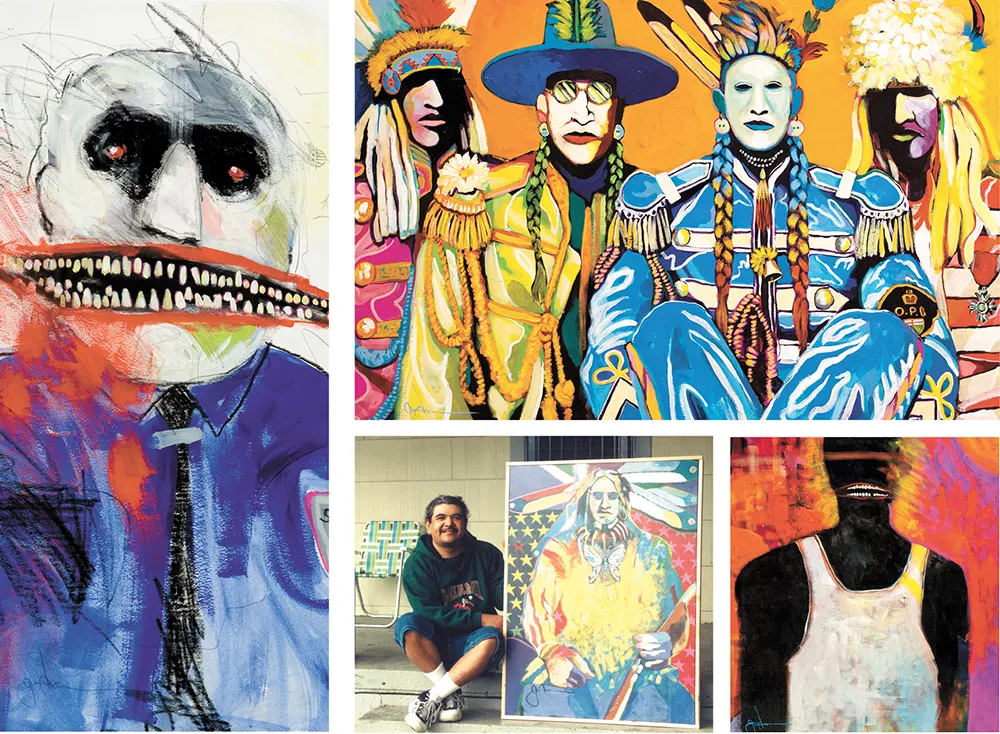 In a way, Gendron says, he has never grown up. He was always drawing, always creating, even as a kid. He was born in 1954 on the Confederated Tribes of the Colville Reservation in northeast Washington. Gendron (pronounced "zhan-dreau") is a French-Canadian name, forced on his family centuries ago when European fur trappers from the Hudson's Bay Company erected a trading post at Fort Colville in Kettle Falls.
When he was little, his family moved off the reservation to Grand Coulee, on the western side of the Columbia River. His dad worked in road construction while his mom was a "domestic goddess," as his sister Luana Gendron puts it. They raised 10 children of their own, plus five Native foster kids, in a tiny three-bedroom house.
The Columbia River Plateau was Gendron's playground. He knew every sagebrush, scrub brush, jackrabbit and rattlesnake in the steppe. He went swimming and fishing and followed, like a lost puppy, big brother Larry, who bought him his first guitar — a used $13 Stella — when he was 12. He climbed on top of a lot of rooftops. He read a lot of comic books. He imagined he was a superhero.
Gendron wasn't a very good student, but he loved to make art. He painted a psychedelic mural — with his parents' permission — in the hallway of their house. He sold his first piece of artwork in a seventh-grade poster contest at Center Elementary. He drew a picture of a tiger cub, the school mascot, in a retro leather football helmet, knocked out on a field with tiny birds twittering around its head. He won $5 and a gift certificate for a free milkshake at the Tee Pee Drive-In.
When he was a teenager, his family moved to Spokane. He describes himself then as "150 percent" hippie. He smoked a lot of pot and made pipes in ceramics class. Senior year, he went to one government class and never returned. He didn't even know where his economics classroom was. By some miracle, he graduated from North Central High School.
He was 17 and only lasted one quarter at Spokane Falls Community College before he stopped showing up. Gendron moved briefly to Southern California, where his brother Larry, recently discharged from Vietnam, finished his military service. He bounced around, doing odd jobs in Idaho, Montana and Spokane. This was the early '70s, at the height of the Vietnam War and American Indian Movement. Gendron lived on the edge — smoking, drinking, playing guitar and getting into a small bit of trouble. He was thrown into jail for a few nights for beating up a cop.
Gendron doesn't like cops and he doesn't care who knows it. Growing up in Grand Coulee, where the Gendrons were one of three Native families in the small town of roughly 1,000 people, Gendron says the police used to park across the street from their house and wait for his big brother to leave so they could follow him all over town. In 2007, his friend Shonto Pete was shot in the back of the head by a drunk off-duty Spokane police officer. The officer was acquitted of assault and reckless endangerment charges. One of Gendron's most gripping paintings in the Rattlebone exhibit shows a monstrous-looking officer with an SPD badge, red, beady eyes and a giant, toothy mouth that unfolds across the portrait. In his art, he frequently incorporates themes that might make people, particularly his white audience, uncomfortable: racial and social injustice, violence, poverty. "That's their problem," he says. "I never apologize."
His 1985 baby-blue Ford Econoline van shakes and trembles as he speeds through a yellow light on Lincoln Street, after taking his 16-year-old grandson to Lewis and Clark High School at 11:30 on a Tuesday morning. His cellphone rings. He stares for a moment at the unknown number.
"Please don't be someone I hate," he moans, half-joking. "Hello?" he says, in a low, gruff voice, manipulated to convince strangers they dialed the wrong number. "Oh, hey!"
It's his longtime friend Vicky Cavin, another artist, who works with pastels. He visits Vicky every Tuesday at the Manic Moon and More art gallery. The "Maniac Moon," as Gendron likes to call it, hosts a guild for about 40 local artists to showcase their work. Gendron was invited to join the guild, but he declined. People are always asking him to be "a part of things." Gendron would rather not.
On his way to Manic Moon, Gendron stops by Spokane Art Supply to pick up a couple of 24-by-36-inch canvases. He's been coming to this store for 30 years. "I'm gonna raise hell with these people for a few minutes," he says with a devilish smile, "'cause their prices are too high. They're the only game in town." He pulls into the parking lot, taking up two spaces, and walks into the back door marked "no entry." A pretty red-headed store clerk greets him from the front of the store: "Hey you!"
He bought his van for $1,000 last summer. He starts up the engine with a screwdriver that he keeps on the dash because he lost the keys. Gendron has never owned a new car. He got health insurance for the first time last year through Obamacare. He sometimes wonders how his life might be different if he'd started his professional painting career in the early '80s, when rich people were snatching up artwork around the world. Back then, he was a student, having returned to Spokane Falls Community College. He later studied at Seattle's Cornish College of the Arts, after he met his first wife.
At SFCC, he sold his first major painting to a doctor for $500. That was a lot of money back then. Now his paintings go for $3,200 for larger ones, and $1,500 to $1,800 for smaller ones. It's a struggle, especially since Gendron shies away from self-promotion. But he's doing better this year than he did the year before, and the year before that. He's not trying to be famous; he's just trying to survive. "The whole game is a crapshoot," he says. "It's not like selling gas where people actually need this to live. But even if I wasn't making a dime, I would still have to paint.
"I actually never expected that I was going to live this long in the first place."
Rattlebone almost didn't happen. Three years ago, Gendron's first major museum exhibition was scheduled to debut at the Northwest Museum of Arts and Culture in Spokane. The paintings were ready to hang when Gendron got a strange call while he was walking out of a casino: The MAC's senior art curator, Ben Mitchell, who planned the exhibit, had been laid off. The show was canceled.
But Mitchell, now an independent art curator splitting his time between Michigan and Idaho, felt the show had to be saved. In Gendron's 25-year career as a professional artist, Mitchell felt he had never been celebrated or recognized as fully as he should have been. He felt it was Gendron's time. So Mitchell rallied the artist's biggest patrons and supporters and within months raised thousands of dollars to create a traveling exhibition of his work. Rattlebone, a homage to Canadian rocker Robbie Robertson's song of the same name, opened in the fall of 2012 at the Missoula Art Museum.
The paintings on display in Rattlebone represent a cross-section of Gendron's work that would surprise anyone familiar with his commercial pieces. When Mitchell first met Gendron, he was making commissioned work for River Park Square and summer art fairs, like Art on the Green. Then he visited Gendron in his studio and saw paintings that excited him in a way his others never had. "I began to see a whole different, deeper, more intentional body of work that Ric has been making for 25 years and not many have seen," Mitchell says.
Many of Gendron's pieces in Rattlebone are beautiful, detailed works — often inspired by his favorite songs or tribal heritage — replete with Native iconography, lush flora and brilliant colors. Then there are the more expressive works. In these, the action of painting is more important to Gendron than the finished product itself. He always starts on a black surface. Then he squirts paint straight from the tube onto his paper palette pad and blends his colors on the canvas. He doesn't plan ahead. He just works. His hands move quicker than his mind.
The exhibit's titular painting, Rattlebone, is a kind of emotional self-portrait. Raw, abstract and bursting with color, it shows a well-muscled figure, attempting, it appears, to claw its way out of the frame. "The painting itself," Gendron explains, "it's just the way I feel personally, moving through my daily life as a father, a grandfather, a painter, a musician, and holding onto those cultural values and just sort of moving in a very chaotic way."
Splashes of color. Heady brushstrokes. He paints himself with exaggerated hands, rubbed-out eyes and grimacing, oversized mouthfuls of teeth.
Those horrifying, gravestone-like teeth.
Gendron finds inspiration in the works of many artists — musicians and poets included. Francis Bacon. The Beatles. Charles Bukowski. And Mauricio Lasansky, the Brazilian printmaker behind the Nazi Drawings: A series of huge works on newsprint that portrayed Nazi soldiers in helmets made of human skulls and uniforms wrapped in teeth and skin. Gendron saw the drawings when he was a student at SFCC on a trip to the Cheney Cowles Museum. He went to see the exhibit a dozen more times. Twenty years later, as in the portrait of the Spokane police officer, he started painting red, gaping mouths. Gendron often quotes Picasso: "Good artists copy, great artists steal."
"Every single time I saw that image it was powerful and intriguing," Mitchell says. "One of the things that is most important about art is that it offers us questions. Art is a mystery about the mystery of the world. Easy art, decorative art, pretty art doesn't really interest me at all. It's art that makes us ask questions, that leads us on journeys, that moves us."
"Hi! You're just in time to save me from my chores!"
When Vicky Cavin opens the door with a broom in hand, a bell chime rings and a Yorkie in the back room barks. A pot of coffee is brewing in the kitchen. Manic Moon is a whimsical little gallery in a quaint blue house just off North Monroe Street. It's the kind of place where you can get a private palm reading upstairs and buy a handmade tie-dye T-shirt for your dog in the room across the hall. Gendron asks about the work on display in the main showroom. They're acrylics by a local artist, full of twee, multicolored flowers, birds, polka dots and hearts.
"You like 'em?" Cavin asks.
Gendron doesn't answer.
"Corndogs," he finally says, pointing to an abstract painting of some kind of columnar plant.
Like Mitchell, Gendron doesn't like pretty art. Sunshiny fields. Fairy-tale scenery. Still lifes of bowls of fruit. "Flowers and rainbows and unicorns and dolphins," he says later, laughing. "That shit just bores me." He'd rather paint the way he feels, straight from the heart. Usually, for Gendron, it's sadness, and it's a feeling he uses to his advantage in his haunting and grotesque self-portraits. Gendron divorced his first wife after 10 years and raised their three children on his own. He fell in love again and got another divorce two years later.
"This stuff," he says when he returns to his painting, "gets in the way of relationships." Painting consumes Gendron. He's upfront about this with the women in his life. They say they love his passion. They say they want to watch him paint. But two or three months down the road, they're tired of sitting in his dark, dank studio, listening to classic rock and blues, as he puts brush to canvas for hours. "All you ever f---ing do is paint," they say. And so they leave. But it's for the best, Gendron thinks. "If you love someone, you don't want to make them go through this, you know," he says softly, chuckling.
He had something good going with a woman recently, but that's over now. And he says he's tired of trying. Around his studio, he's inscribed those sentiments in paint on the walls: "F--- love" with a backwards "e." "Quasimoto," who died clutching Esmeralda's corpse. And the word "bamboozled" skewering a bright red heart down the middle. A few weeks ago, Gendron saw a movie with a friend at the mall. As they headed toward the elevator, they walked behind an old couple holding hands. "I hate them people," he said out loud.
"It doesn't matter," he says. "Other than my family, my kids, my grandkids, to hell with everything — to hell with everything else. I've got friends. I've got good friends, but... " His voice trails off. "I don't long for nothin'."
It's starting to get dark outside. He pulls Patti Smith from his collection of CDs scattered on a table near the latch-locked door. He puts a new black canvas on his easel, grips his brush in his mouth and squeezes his favorite color, cadmium red, on his palette pad. In a broad stroke, he paints the profile of a raven's head while Smith croons: Thick heart of stone. My sins my own. They belong to me, me. He doesn't know if the raven will stay. Later in the night, it might turn into something else entirely new, different and strange. ♦
Ric Gendron: Rattlebone runs at Gonzaga University's Jundt Art Museum at 200 E. Desmet Ave. through April 2. A second exhibition of Gendron's new work opens at the Art Spirit Gallery at 415 Sherman Ave. in Coeur d'Alene on March 13 and runs through April 4. Both exhibits are free and open to the public.