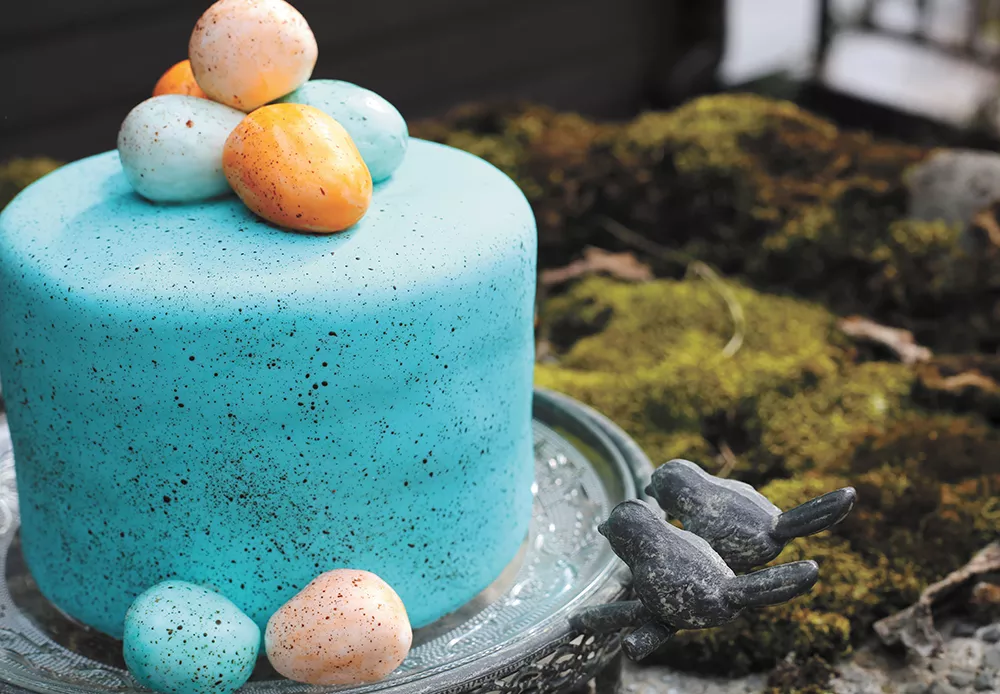 A turning point came in the form of a four-tier Tinkerbell cake — complete with fairies flying through the air — that Kelly Burkhart made for her granddaughter's birthday last year. She'd long been the go-to person for family birthdays and celebrations, creating the type of cakes that made people say: "Wow, you should be doing this for a living." And that time she started thinking: Maybe I should.
"I've always had a love for baking and a love for art," says Burkhart, who describes herself as an "artsy-craftsy" person who's always had some type of project in the works. Burkhart brings an artist's eye for detail to her broad range of cakes, from the elegantly simple to the elaborately tiered and decorated.
Her business, BUTTER Cake Art & Design, exclusively does custom orders for now, though she plans to eventually open a shop. Working around her day job means many nights when she's still up baking or sculpting sugar in the kitchen at 1 am — but happily, because each new request is a new artistic challenge.
"I love it when my clients will call and say: 'The theme of our party is... pirates,'" she says, using an example. "And they just say: Go for it. And then I'm free to create, whether it be a pirate ship or a pirate bust with a parrot on its shoulder."
A recent cake celebrating Miss Spokane Interstate Rodeo's coronation included a diamond-studded high-heel shoe and jeweled belt — all edible, right down to the spur on the mud-splattered cowboy boot. And the "oooh" and "ahh" factor is more than surface deep — another recent cake was leopard print on the outside, but zebra print on the inside. Customization extends to cake flavors, which have included Mexican spice chocolate, pistachio, espresso, root beer float and orange creamsicle.
On average, the cakes cost between $75 to $100, and Burkhart enjoys finding creative solutions to fit clients' budgets. For brides willing to go nontraditional, she's suggested trendy "naked" cakes that still look stunning without any frosting, or stacked sugar cookies decorated with royal icing to look like miniature layer cakes.
Burkhart doesn't mind that her work is ephemeral, with each masterpiece disappearing soon after she adds the final touches. She still personally delivers and sets up each cake, so she gets to see the delight and surprise when people first see the cake or cut into it. And that's what makes the late nights worthwhile.
"Regardless of how busy I get, I never want to get too busy to not be able to see that reaction," she says. ♦
BUTTER Cake Art & Design • Facebook: Butter Cake Art & Design • 953-6232