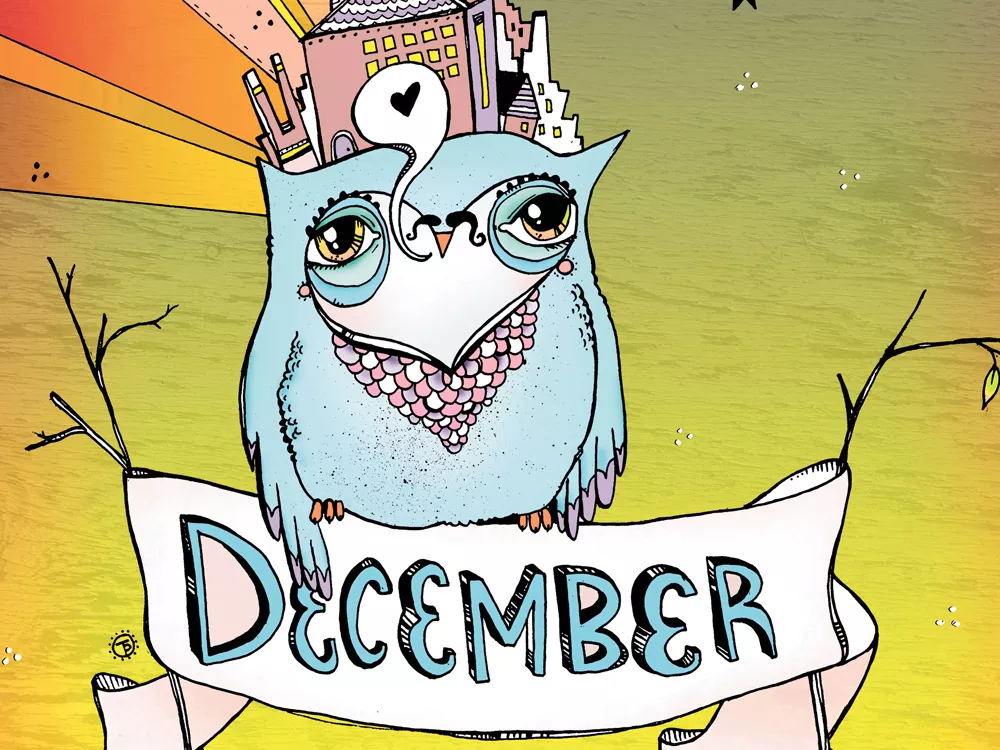 Music
Bela Fleck and the Flecktones
You never really know what you're going to get when Bela Fleck comes to town. After all, the banjo guru has earned more Grammy nominations in more diverse categories — classical, pop, world, country, bluegrass — than any musician in history.
So will he show up with the Flecktones and play their brand of bluegrass-inflected progressive jazz? Will he share new music from his second edition of the Africa Project, in which he traced the roots of the banjo through Uganda, Tanzania, Mali and the Gambia, playing with local legends and eventually producing the award-winning documentary Throw Down Your Heart? Or will he instead bring along double-bass great Edgar Meyer and tabla legend Zakir Hussain? The trio toured much of Europe earlier this year (earning yet another Grammy nom).
In fact, Fleck will bring to Spokane his Holiday Tour and the music of his (yes, Grammy-nominated) Jingle All the Way album. But, as could be expected, this is no normal Christmas cruise, as he and the Flecktones will also feature a Tuvan throat-singing ensemble called Alash.
Just as you'd never heard prog-jazz played on a banjo before Bela Fleck, you've never seen a holiday show like this. Dec. 3 | Bing Crosby Theater, price and time TBA — JOEL SMITH
Food
Mobius Kids Breakfast with Santa
On the last day of November, Christmas Tree Elegance will open at the Davenport and the already ornate hotel will be decked out in holiday gear. The beautifully designed and decorated trees will coat the mezzanine and the gold-plated opulence of the historic hotel will shine.
When children step inside the Davenport Hotel on Dec. 4, they will instantly be transported to a magical world all about Christmas. The highlight will be a pudgy man dressed in red with a long white beard; he'll be the one in the Grand Pennington Ballroom, eating pastries.
At a special breakfast with Santa hosted by Mobius Kids, the little tykes can make holiday crafts, gorge themselves on pancakes and hot cocoa, and get their turns with Old St. Nick.
Children's holiday hopes and dreams will come true during this Santa-fied benefit breakfast. Dec. 4 | Davenport Hotel, $25, 8:30-10:30 am — TAMMY MARSHALL
Music
Music in Historic Homes
Seriously, the fancy people of yesteryear really knew how to party — and in retrospect, we're gonna pretend that the legal, widespread recreational use of cocaine played only a small role. No, what they really had down was the art of entertainment — a sophisticated treat that Allegro Baroque is replicating for you with its Music in Historic Homes series. Join other music-lovers in the Cliff/Cannon neighborhood's Jasper-Nuzum House for an intimate chamber music performance, followed by a tour of the gorgeous, Tudoresque abode. After the concert — and a nosy promenade around a house bigger and much better-appointed than yours — enjoy munching on "seasonal refreshments" (ice cream?) while you eloquently discuss what a vastly underappreciated instrument the bassoon is. Dec. 7-8 | Jasper-Nuzum House, $25, 3 pm, 4:30 pm, 6 pm, and 7:30 pm. — TIFFANY HARMS
Dance
The Nutcracker
The holidays are all about tradition. It's these familiar gatherings and performances that are supposed to make Christmas such a jolly, special season. And regardless whether the trimming of the tree or the icing of the cookies is steeped in religion or family, there's one activity everyone can enjoy. The Nutcracker is a timeless ballet production. What's not to like about dancing sugarplumb fairies and a nutcracker who comes to life? Who could resist furry, dancing mice? The innocent and magical world of Tchaikovsky's Nutcracker has delighted families since 1892 and become one of the most popular ballets. The Ballet Memphis, supported by a lineup of local dancers, will share the tradition with you this holiday season. Dec. 17-19 | INB Performing Arts Center; $22-$39 adult, $14 child; 2 pm and 7:30 pm. — JORDY BYRD
Opera
Diamonds and Divas
It's always nice when a splurge of indulgence can be written off as a charitable donation. At least, that's what attendees of the Spokane Opera's 10th annual fundraiser can ease their minds with as they treat themselves to this year's black-tie gala, boasting a "Passport to Barcelona" theme. The program for the evening centers around the culture of Spain, which those in attendance will get to experience through live music and specially made cuisine. The fundraiser also features an auction of local fine wines and a midnight champagne toast under the glistening chandeliers of the Davenport Hotel. Last year's event raised over $25,000, all of which went to the support of Spokane's ever-struggling, yet ever-persevering opera and artistic community. Dec. 31 | The Davenport Hotel, cost TBA, 5:30 pm. — TIFFANY HARMS
Film
SpIFF & MAC: Wednesday Night at the Museum
Don't worry – Wednesday Night at the Museum isn't the latest sequel to the Night at the Museum vehicles starring Ben Stiller. For the benefit of all the art geeks and snobs out there, it's a lot more cerebral than that.
Wednesday Night at the Museum is new series of events at the Northwest Museum of Arts & Culture featuring guest speakers, artists and films on as many Wednesday nights as possible. Every second Wednesday is devoted to a film sponsored by the Spokane International Film Festival.
The films for September and October are both documentaries about artists: Jack Smith and Destruction of Atlantis and Painters Painting: The New York Art Scene: 1940-1970. But having grown out of last year's Humanities Series at the Magic Lantern, some later films will cover various humanities-related topics. Oct. 6 - Dec. 28 | The Northwest Museum of Arts & Culture, $5; 6:30 pm. — CAREY JACKSON
Film
SpIFF Professor Film Series
On Wednesday nights when you're not at the MAC, go to the Magic Lantern for SpIFF's Professor Series. Started last fall, the Professor Series is designed "to give people who wanted to do more than go to the movies something to do," according to SpIFF Director Dr. Pete Porter.
Most of the films on tap will be classics of one form or another. The first up, Director Alfonso Cuaron's catalytic Children of Men — discussion by Gonzaga's Brian Clayton — is a classic of contemporary sci-fi action. Not to be missed on the big screen.
Local professors choose a film to screen — something not often shown or something they think audience members should consider in a different way — and then host a Q-and-A session following the movie. Porter describes most of the discussions as "pretty darn good." Sept. 29 - Dec. 1 | Magic Lantern Theatre, $10, $5 for students; 7 pm — CAREY JACKSON