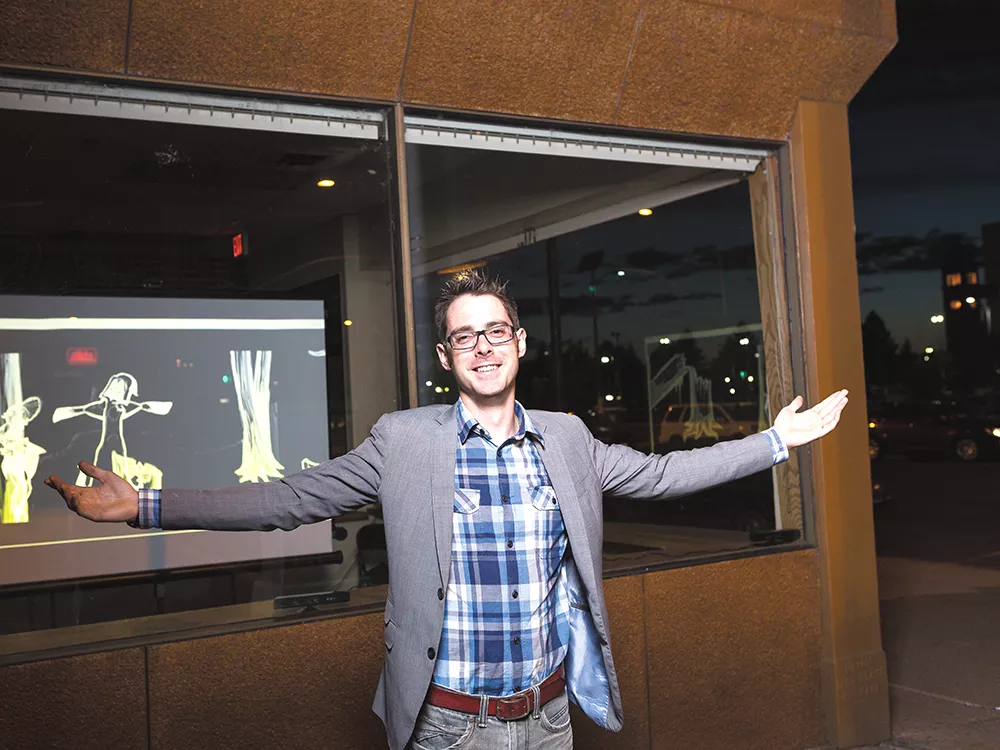 Alan Chatham — or just Chatham as most know him — can do a lot of things. He can make an actual guitar work as a Guitar Hero controller. He can explain complex economic theories. He can instruct a computer to interact with humans. He can't, however, make a pretty painting.
"Making stuff happen is easy for me, but I can't make beautiful things," says Chatham, a lean 28-year-old who on this particular morning, like many others, has his laptop and sketch pad sprawled across a table at Boots Bakery, the Main Avenue café that doubles as a de facto hub for Spokane's creative class.
Chatham wants to collaborate with artists, hoping to bring together the city's different creative camps, combining artists and thinkers with people who have the specific technical skills to get ideas or projects off the ground. That's the plan for this weekend's first-ever Art Up Weekend. A variation of Startup Weekend, an entrepreneurial conference in which teams pitch business ideas and work to create a business plan, Art Up Weekend's ostensible objective during its 21-hour time frame is to have groups of artists and "makers" — people who, as that buzzword suggests, make things in the physical realm — come together to create interactive pieces to be displayed at this fall's Terrain art event.
But organizers say there's another, perhaps more lofty goal.
"We want to get different people from different walks of life in the same room and see what happens," says Luke Baumgarten, a local advertising copywriter, former Inlander staff writer and co-founder of Terrain, which is also one of the organizers, along with participants from Startup Weekend, Chatham and others.
He says the two-day event, held at the new Merlyn's comic book store space, will allow local creative types to break up into teams. By Saturday evening, the hope is for those teams to have produced a proposal, or working prototype for a Terrain exhibit. But along the way, Baumgarten says they want to help different camps of artists or programmers or designers get to know each other.
"A lot of groups in Spokane tend to self-segregate. Just getting people in the room is half the battle," says Baumgarten.
On one side, Chatham, explains, you have visual artists: painters, sculptors, illustrators, animators. On the other, there are computer programmers, designers and other skilled technicians. If you put these two groups and their tools together, the thought goes, they should be able to execute something amazing.
Chatham is a native Spokanite who joined the Army out of high school in 2003 and eventually landed at Pomona University in Southern California, where he earned a degree in economics. It was his minor in computer science, however, that led him to his current pursuit, a Master's degree in human-computer interaction from Carnegie Mellon University.
In January, though, he decided to take some time off. He came back to Spokane, unsure of what he'd find. Soon, he dove into the city's art scene, eventually opening his own "laboratory" on Main Avenue where he debuted his first piece, a collaborative exhibit he created with Vanessa Halls called "001: Not Drunk Enough to Dance."
Essentially, the artwork is a drawing that mimics the movements of the viewer. Even the most uptight onlooker will at least wave their arms or do some reluctant public dancing. This is the sort of interactive art this weekend of thinking and doing aims to come up with.
Spokane, Chatham says, already loves interactive art, even if they might not know it.
"In Spokane, what's the favorite piece of public art? It's the garbage goat, because that's interactive," says Chatham.
Art Up Weekend • Fri, July 19 at 9 pm through Sat, July 20 at 7 pm • Merlyn's • 17 W. Main Ave. • Free, but registration required at artupspokane.eventbrite.com