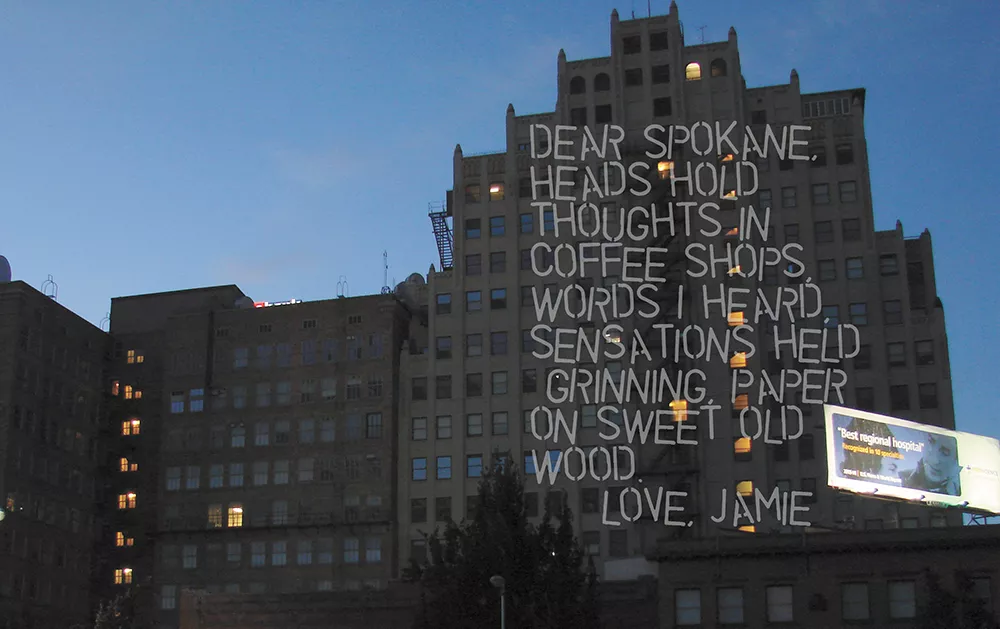 there are things you want to tell your city, and perhaps you should write it a letter. It could be a love note, or maybe it includes some constructive criticism of how Spokane could do better.
Whatever you want to say, Spokane Arts wants to hear about it for their Spokane Throw project, which takes handwritten letters from residents and projects an artistic rendering of them on the side of downtown buildings during the month of October, which has been dedicated as Spokane Arts Month. Austin Stiegemeier, the program manager for Spokane Arts, says you should think of it as having your very own billboard, all for your own thoughts.
"The idea is for this to be about sharing public space and promoting accessible forms of communication," says Stiegemeier.
Submissions are due by Sept. 26. Then a team of five local visual artists and five writers will select the 10 most "most creative, poignant, and heartfelt submissions" and use those as source material for the light projections, which are created on steel-cut stencils.
The submissions must be handwritten and shouldn't exceed 25 words. They must be begin with "Dear Spokane" but the rest is totally up to you. You can either photograph your submission or mail in a physical copy. ♦
Spokane Throw submission period is Sept. 2-26 • Send physical letters to Spokane Arts, P.O. Box 978, Spokane, WA 99210 • Send a photo of your letter to spokanethrow@gmail.com • If you want to sponsor a light, visit spokanethrow.com