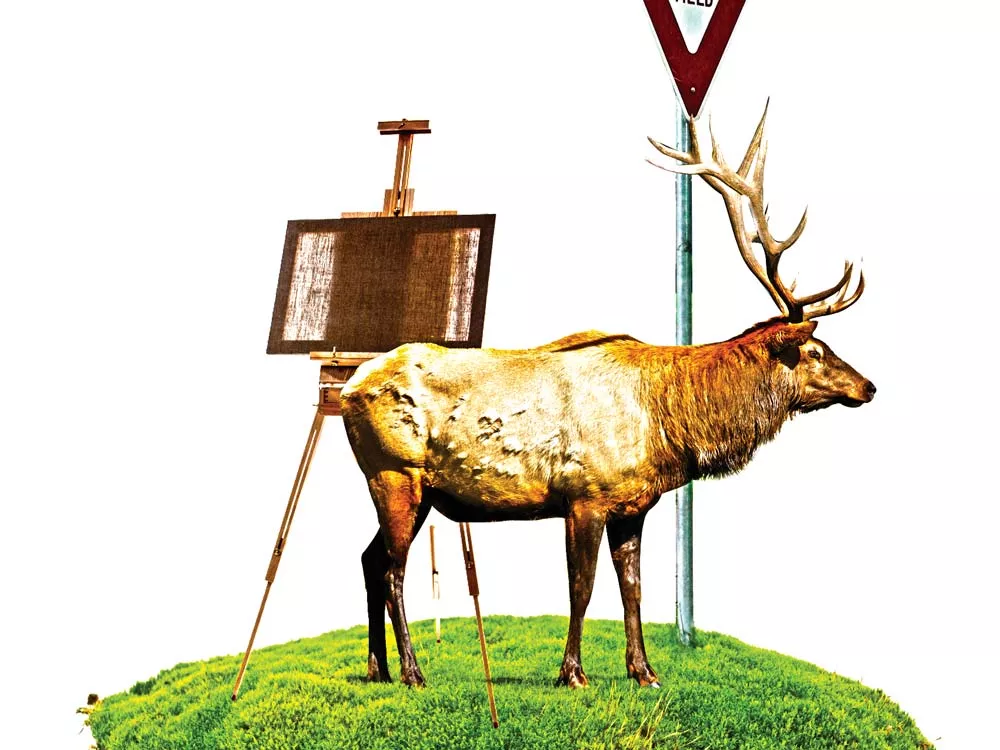 It's like an annual coming-out party — an end-of-winter debutante ball for Browne's Addition, showing off pretty spring colors and drawing massive crowds of arts patrons. But the event, put on by the Museum of Arts and Culture, is especially sweet this year, with the news that the museum's funding will not be slashed from Washington's state budget. If that wasn't enough, this weekend also marks the first days of the long-anticipated Leonardo da Vinci exhibit at the museum.
Here are a few other things to look for as you celebrate.
Two Dogs Studio
Is Eileen Sorg's artwork fantasy or magical realism? The details of her colored-pencil drawings are sharp and concrete — the plumage of a sparrow is perfect and almost photographically realistic. Yet that little bird sits in a tea cup. And that tea cup is riding on the back of a raven.
This playful departure from reality is fitting for Two Dogs Studio. Sorg started out as a biologist with the Washington Department of Fish and Wildlife because it seemed practical, secure. But when she lost her job in 2008, she found a new one in a shoebox full of Crayolas.
The vibrant hues that she achieves in her work put Photoshop's filters to shame. Her crisp, realistic drawings have accidentally been placed amongst photography exhibits.
"The colored-pencil medium is changing and gaining respect," she says. "But it's still work on paper, versus work on canvas. And if it's made on canvas, it's basically gold."
Sorg's subject matter is unpredictable. Her work, which started out as realistic cat and dog portraits, has started to manifest itself as frogs anchored on top of children's blocks that read "prince," and birds perched below Annie Lennox cassette tapes.
"The images aren't so out there that you don't know what you're looking at, but it's a break from the whole grind of life," she says. "It's something that makes you happy."
Bottlecap Fish
"'One man's garbage is another man's treasure' has been overdone," says artist Rik Nelson. "I'm about recycling, repurposing and upcycling."
For five years, Nelson has been manipulating cookie tins, bottle caps, aluminum bottles and plastics to create original and inventive fish sculptures with a green twist. Some of his pieces use over 200 bottle caps and take days to complete. He has a variety of "species" to choose from, but if you're looking for a more personalized piece of art he is up for the challenge of custom pieces, too, he says. Some people look through Nelson's bottle caps and bring in their own materials (e.g. license plates) and give him a general idea of what they're looking for. Nelson says he has the final say, because he "won't do anything that doesn't look good."
Nelson just finished a piece for a woman whose "husband fishes for red fish in the Florida Gulf," Nelson says. "Back in 1982, him and his son were camping when their camper caught on fire, the two barely escaping. After the fire had died down, her husband was able to peel off a piece of aluminum with a part of the licensing on it. He held on to this piece of debris since 1982." Nelson has immortalized it by including it in a reproduction of a red fish.
Rik Nelson puts materials — things we often throw away — into a new context that gives them new life. He's not digging through garbage heaps searching for treasures, but instead using post-consumed materials to affect the planet in a positive and personal way.
Colorstory Designs
Turning old magazines into functional modern art sounds like a real undertaking. But Amy Gibson and Andrea Read have taken the task head-on and succeeded with flair and elegance that's worthy of a recycling merit award. Colorstory Designs has built a business around making mirrors, chalkboards, earrings, shadowboxes — really almost anything — out of recycled materials. They are unveiling new necklaces and summer-themed shadowboxes at ArtFest this year.
Shreveart
Chris Shreve often asked his mother as a child, "What can I draw?" Her response was always the same: "Draw a bed and climb in it."
"When I think of these words now," he says, "I'm struck with the profundity and power they can hold. … We literally have the ability to pull from the invisible and shape the visible. … Painting has allowed me to conceive a thing and watch it grow flesh."
Otherworldly flesh drips and folds into the dark creases of Shreve's oil-on-canvas work. He's not painting the human form, but his vibrant colors and surrealist subject matter maintain a sense of humanity — mortality, even — in an otherwise vast and isolated landscape.
"My dad died in January, so I think some of my creative process is dealing with this and wrestling through work," he says. "There are a lot of themes of decay and bloom in my work." He's comfortable with a paintbrush, but Shreve says he maintains more freedom drawing in graphite.
His latest collection of creatures, pop-surrealist black-and-white sketches, encompass both the whimsical and nightmarish. He describes the collection as "otherworldly alien meets wood and bark." But just as this invisible landscape is shaped into the visible — when alien flesh grows on paper — the realms of reality become blurred.
"It's difficult to explain, because I have a hard time understanding the creatures themselves," he says. "They are kind of a different life form and I'm still wrapping my head around it."
Cinderella Lucinda
The jewelry of Cinderella Lucinda combines the mechanical gears and steam-punk aesthetic of a mad scientist. Necklace chain links drip with images of Aphrodite and black ravens. Earrings are studded with Geisha girls peering from behind vintage Japanese stamps. Even Dorothy and other pop-culture icons make their way into the bizarre and beautiful pieces here.
"We scoured antique stores and just find things on the ground," says Cindia Carrere, half of the husband/wife business duo. "It's all collage and bricolage jewelry. We create our own pieces or elements from scratch and combine it with found pieces."
ArtFest Music
The ArtFest stage this year features a healthy variety of local folk, bluegrass and jazz sounds from the likes of PRAIRIE FLYER and BACK ADIT, who you can catch on Friday from noon to 3 pm. Also make a point to be around on Saturday at 3:30 pm for vocal classics from SPARE PARTS and at 5 pm to see SOUL PROPRIETOR, the massive nine-piece funk group. Sunday, Inlander reader favorite SAMMY EUBANKS will be hitting the stage at 1:30 pm.
ArtFest Grub
There's nothing like noshing on a sloppy burger while checking out high-brow art. For that, ArtFest has you covered. Check Mary Lou's Milk Bottle and Ice Cream, the retro purveyor of burgers, sandwiches and fries. No frills, just good diner-style food. Oh, and sinfully good homemade ice cream. Baja Babes Tacos is also a favorite. Typically located at the corner of Francis and Monroe, the food cart serves a variety of Mexican dishes and bomb shrimp tacos.
The fest will also include Pizza Rita, Huli Huli Chicken, SideWork Asian Café, Island Noodles, Azar's, Berry-Ka-Bob, Old Fashioned Country Kettle Corn and — perhaps most appropriately for this weekend — Leonardo's Bistro.