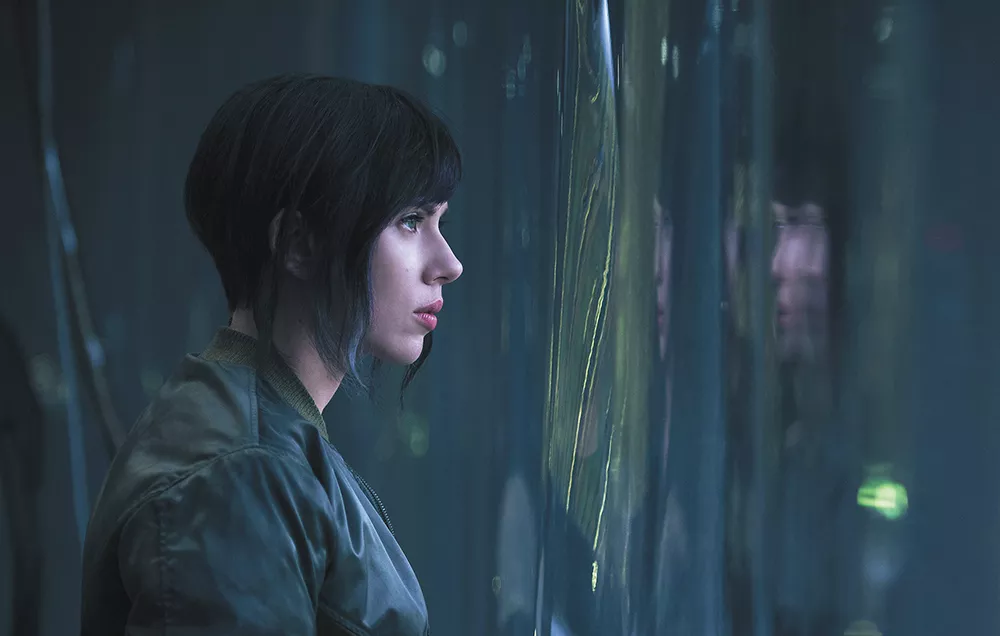 A mind is a terrible thing to waste, even if it's been surgically implanted in a fully synthetic, military-grade body. So, too, is a good premise, especially one that previously anchored a landmark sci-fi film and has now been listlessly recycled into a tiresome, dead-eyed blockbuster.
Such is the case with Ghost in the Shell, a live-action remake of a revered anime feature that, since its release in 1995, has been copied many times over: Steven Spielberg, James Cameron and Joss Whedon have willfully borrowed elements from its story, and the Wachowskis have been especially vocal about its influence on The Matrix. A tricky, twisty, cerebral meditation on consciousness and identity, it still holds up on its own.
This version, by comparison, is a dull Hollywood product, and it feels even less like a flesh-and-blood creation than its animated forebear. It also exhibits about as much personality as its protagonist, the ruthless, stoop-shouldered Major, a half-human, half-cyborg mercenary played by a brooding Scarlett Johansson.
As the film opens, Major is awoken, so to speak, and is briefed about her situation by Dr. Ouelet, a Mother Frankenstein type played by the great Juliette Binoche. Major's brain is supposedly that of a refugee who died in a cyberterrorist attack, and it now resides within a body that is, Ouelet explains, "a synthetic shell. But your mind — your ghost — is still there." (The screenplay is overloaded with horribly clunky dialogue like this.)
With that unnecessary exposition out of the way, the story leaps forward a year, and Major is now the primary killing machine for what can best be described as a futuristic police squad. She and her human colleagues, all boasting varying degrees of cyber-enhancements, are investigating a plot to destroy the world's leading robotic manufacturing conglomeration, and they find themselves chasing a mysterious cloaked figure who's hacking into people's brains and using them as avatars in his violent scheme.
Ghost in the Shell is the second feature from director Rupert Sanders — his debut was the forgettable Snow White and the Huntsman — and because his background is in TV commercials, it's not much of a surprise that he offers up some striking imagery here. His vision of a futuristic metropolis, bathed in neon and covered in holographic billboards, is hardly original (Blade Runner, anyone?), but it's hard to deny that it pops off the screen. And some of the film's robotic creations are spectacular and horrifying, particularly the machines with the double-jointed legs that allow them to scale walls like mechanical arachnids.
As for those accusations of whitewashing you've been hearing about: They're not unwarranted. The film does address Major's ethnicity — to discuss any more would probably give too much away — but it doesn't have the guts to address the murky sociopolitical questions it raises (perhaps unintentionally). A thoughtful, provocative film could have been made from this material, even with Scarlett Johansson at its center.
But that kind of thoughtfulness would require the movie to have anything on its mind other than bloodless gunfights, car chases, explosions and lots of slo-mo hand-to-hand combat. Considering its source, Ghost in the Shell is a disappointingly standard action spectacle, but it's boring spectacle, the kind you've seen dozens of times before. It turns out to be something of an empty shell itself. ♦