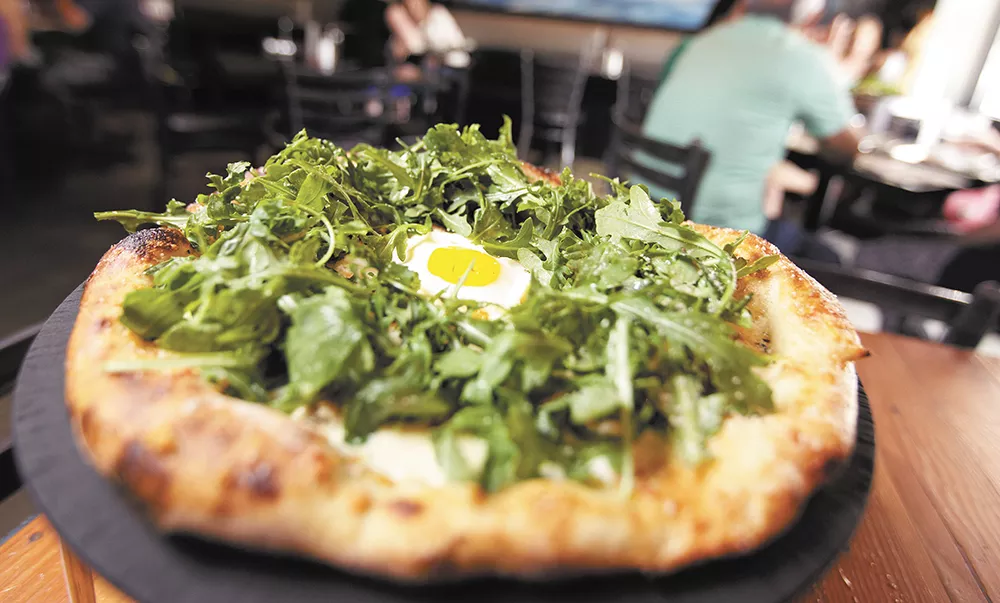 I wouldn't call myself a pizza expert, but I've certainly eaten more than my fair share. My first job was in a pizza shop, and having lived in New York City the better part of my adult life and Italy for two years, I can safely say I've eaten some of the best pizza on the planet. That said, I am happy to acknowledge that there are remarkable artisan pizza shops in the Inland Empire.
If an artisan is defined as "one that produces something in limited quantities often using traditional methods," then FERRANTE'S MARKETPLACE CAFE (4516 S. Regal St.) and VERACI PIZZA (1333 Summit Pkwy.) were the intrepid leaders of the local artisan pizza movement. SOUTH PERRY PIZZA (1011 S. Perry St.) and THE FLYING GOAT (3318 W. Northwest Blvd.) soon followed.
In 2013, FIRE PIZZA, already in Coeur d'Alene (517 E. Sherman Ave.), came to downtown Spokane (816 W Sprague Ave.) while, THE BOILER ROOM (6501 N. Cedar St.) brought artisan pies to the Northside.
So what defines artisan pizza? High-quality cheeses, cured meats and local, preferably seasonal vegetables make for a diverse, imaginative choice of toppings. Wood-fired or high-heat gas ovens produce cracker-thin or chewy crust with a slightly charred cornicione (the raised crust on the pizza's rim), all based on the distinct balance of the yeast, water and flour in the dough, the elusive guest at the party.
"Our dough is the owner's grandmother's recipe. The recipe comes from Bari, but is Neapolitan-style, thin-crust pizza," says Tony Traver, manager of Ferrante's.
Each shop uses a special balance of flour to obtain a signature dough. South Perry Pizza prepares their dough using local flour from Shepherd's Grain in a particular fermentation process that uses less water to start the rising process and results in a more flavorful crust. Veraci mixes each batch of dough by hand; The Flying Goat's dough-making method is so specific that it's an actual mathematic equation.
"Sometimes we think of dishes we've done in other restaurants and turn it into a pizza, but we also like to stick with the classics," says the Flying Goat's kitchen manager, Darrin Gleason.
Veraci Pizza has the added advantage of having worked with farmers markets for years.
"Some of our veggies are marinated, but we generally like to use fresh, seasonal vegetables when possible from farmers markets. We know what's in season next because we work alongside the farmers," explains owner Seth Carey.
The artisan pizza trend shows no signs of slowing down. With Veraci Pizza putting down roots in Kendall Yards and the Flying Goat planning to open a South Hill location, Republic Pi, we — and our stomachs — are waiting. ♦