Daniel Lopez is leaving his mark across Spokane.
The full-time muralist's luminous, soft-edged paintings adorn prominent buildings, traffic underpasses, back alleys and restaurant patios. Chances are high you've passed by one of Lopez's pieces, whether you knew it or not.
The artist's work fans out from the Garland District, an epicenter of creativity where he both lives and has completed around a dozen murals on the sides of local businesses and along the district's unofficial "art alley," between Monroe and Post streets on Garland Avenue's south side.
Marilyn Monroe, Salvador Dali, Batman and other figures are all realized there in spray paint via Lopez's careful hand. Post-impressionist master Vincent Van Gogh joins them, peeking out from the alley's west end as drivers zip past southbound on Monroe.
Most of these smaller works Lopez has painted freely, with permission from business and property owners. Commissions and large public arts projects, however, have allowed him to solely focus on this creative calling for the past several years.
"I've been fortunate enough to have so much going on that I can do this full time, and I'm starting to get paid more," he says.
Lopez recently completed a highly visible commissioned mural in downtown Spokane, on the east-facing side of a brick building on Second Avenue near Division Street. American Jesus depicts the Christian figure's face obscured by a pixelated pattern. The artist knew the piece would be polarizing to audiences on all sides, but also acknowledges that's the point.
"The American Jesus one was not a crowd pleaser," he reflects. "It wasn't meant to be, it was meant to cause people to think and react. You can tell I'm saying something and I'm not showing something — that's the takeaway. It's hard to get that across, so it's not always easy to get stuff up like that."
Lopez's path to becoming a well-recognized artist in Spokane has been relatively quick, though not without some stumbles along the way.
The artist doesn't like to elaborate on the personal "hell" he says he went through before finding artistic success, preferring to focus on the positive connections and moments that have led him to the present.
Lopez grew up in Southern California, raised by his grandmother. He dropped out of high school at 17 and got his first job at a tattoo shop. He's been interested in art since childhood and took an advanced placement art class before dropping out, dabbling in street graffiti on the side. The now 36-year-old remembers the exact date he arrived in Spokane, on Sept. 22, 2013.
"It was the scariest time of my life. I didn't know a soul, and I didn't know what was going to happen in my life," he recalls.
Lopez says his artistic talent stayed "mostly dormant" until moving to Spokane, and that he was "making art more or less as a cry for help." Yet, not long after arriving here, he painted an indoor mural for his first local employer, Indaba Coffee Roasters, at its Broadway location. Soon after, he was asked to paint a series down the side of Youth For Christ Spokane's building on Ash Street. Then he was introduced to fellow muralist and former Spokane Arts Program Director Ellen Picken, who helped him land a commision for a Spokane history-themed mural at Boulevard Mercantile, the vintage home goods shop on North Monroe.
"That was the first big one I did up here, and it just escalated from there," Lopez recalls.
Subsequent murals went up around town, at the nonprofit ministry Cup of Cool Water, on two sides of the Antiquarian's downtown building on Division and a huge piece depicting birds in flight on a sky-blue background beneath the Interstate 90 overpass at Altamont Street. Lopez also helped paint the wide, gazing eyes along the Maple Street retaining wall, a project overseen by prominent mural artists and brothers Cain and Todd Benson.
"I don't remember how I stumbled upon [the Bensons] on social media, but Todd and I began messaging, and he was very encouraging," Lopez recalls. "I'd done my first mural around that time, and nobody knew who I was. I thought, 'Wow, this guy is talking to me; they're doing these big murals.'"
When he's not using urban infrastructure as his canvas, Lopez fills the pages of Moleskine brand sketchbooks with full-color drawings, sketches and other deeply personal artistic expressions in pen, ink, pencil and paint. Only a fraction of this art leaves these pages.
"You have to be open to getting knocked down," he says. "Not everyone likes everything that's been painted — everyone has an opinion, and that's a tough one for artists to take."
Despite this lingering sense of self-doubt, it's clear that Lopez has established a well-respected image for himself and his art. He gets messages from friends and family who tell them they take visitors to Spokane out to see Lopez's art. Property owners seek him out for paid commissions. Other local businesses have agreed to purchase supplies and let Lopez paint a design of his choosing on the side of their buildings, like a piece titled Staycation at Quick's Barbershop at Monroe and Maxwell. Paint supplies alone, depending on the size of the piece, can cost upwards of $700.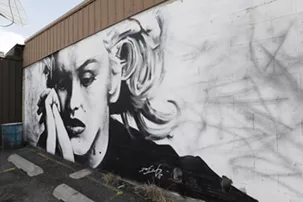 As of this writing, the artist is still waiting to get the greenlight on a few murals he's hoping to paint next. He ticks off a list of buildings around the downtown core he'd love to paint on if he could get permission; the Hutton Building, Andy's Bar, Metro Eclectic furniture.
While none of his public pieces contain artist self-portraits, people sometimes recognize Lopez on the street.
"Excuse me, are you Daniel?" says a man stopping on the sidewalk outside the Rocket Bakery in Garland one August afternoon. "I've been keeping tabs on your work. You gonna paint the rest of the town, too?"
"We'll see if they let me," Lopez says, laughing.
"Well, good job. I just want to meet you," the man replies.
Lopez is humbled.
"One thing about my street art is that it's not for me," he says. "I don't do it so I can go look at this stuff all the time — it's for the public, and it's not something I try and hold captive, you know. It's my life and it's my story as an artist, but the street art is for everyone. I don't own it anymore." ♦
Follow Daniel Lopez's art online, at godffiti.com and on Instagram, @godffiti.
Find Daniel Lopez's art around Spokane
Spokane Dream Center, 29 W. Second Ave.

The Engraver, 3817 N. Monroe St.

Quick's Barbershop, 1429 N. Monroe St.

The Antiquarian, 12 W. Sprague Ave.

I-90 underpass, at Altamont Street

Ferguson's Cafe/Brown Derby (patio), 804 W. Garland Ave.

Fresh Soul, 3029 E. Fifth Ave

River City Tattoo, 1528 W. Northwest Blvd.

Boulevard Mercantile, 1905 N. Monroe St.

Northeast Community Center (with Gonzaga Art Dept.), 4001 N. Cook St.

YFC Spokane, 1309 N. Ash St.